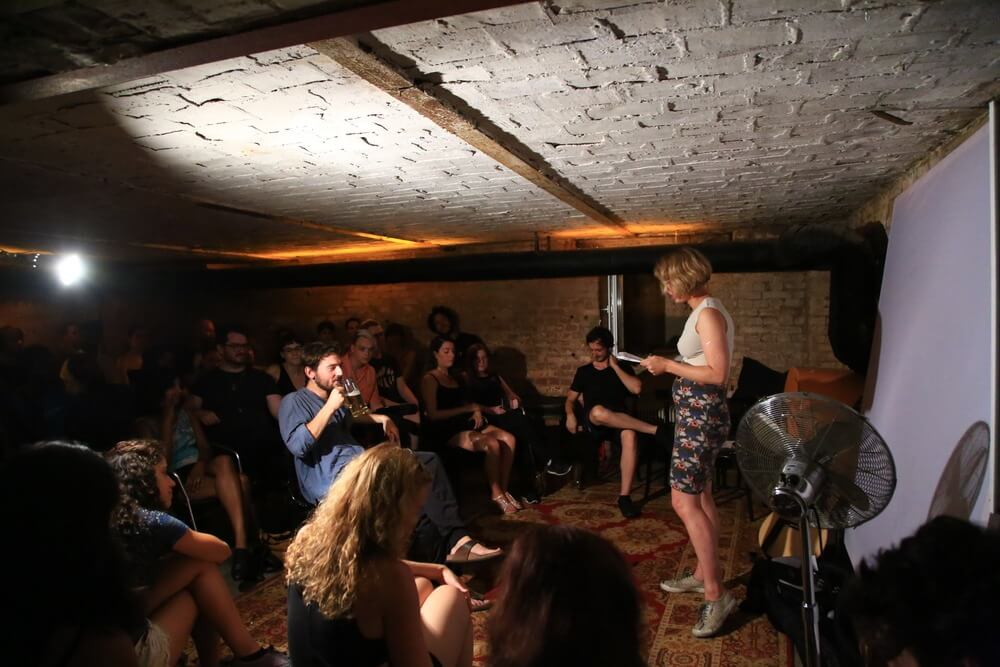 Do you go out on auditions, involve yourself in theater, film, and TV productions every chance you get and are still looking for more opportunities to perform before audiences? If so, you might consider participating at open mic events held in countless cafes, bars, restaurants, classrooms, libraries—even stadiums—across the country. Whether it's performing poetry or other styles of the spoken word, talented individuals have a chance to share their unique voice, storytelling abilities, improvisational skills, rhyme, rhythm, repetition, and wordplay with audiences who crave live artistic experiences. And if you're interested in poetry competitions, poetry slams might be right up your alley.
Performing at spoken-word events can benefit actors in several ways. By stepping up to the mic for about two to three minutes, whether performing your own work or someone else's written word, it can be worthwhile for the following reasons.
Exercise your memory muscle
Although some people choose to read the poetry from a book or sheet of paper, those who wish to enhance their connection with the audience through eye contact, posture, gestures, or even dance will likely want to memorize the passage. Actors can keep their minds sharp with their habit of memorizing paragraphs, if not pages, and can experiment with memorization strategies that work most efficiently for them.
Solitary and unique personal expression
In the theater or on screen, actors portray characters, and an ensemble of talented individuals share the space, interacting with one another. But, when you step up to an open mic, typically it's you and you alone. Your interaction is with the audience, and you stand before them, all lit up with stage lights, with just a microphone in hand. There's a level of intimacy and a sense of vulnerability that some performers find challenging even before opening up their mouths. For this reason, you might want to start out performing another person's written words before graduating to sharing your own personal passages—pouring out your heart as it relates to events, people, or things in your life, your imagination, personal feelings, and points of view. Without the use of a set, props, or a costume, you can grow as an artist by bravely sharing your own poem, and punctuating it with your tone of voice, pacing, and body language. You may choose to attend improv classes or even spoken word workshops to help each of your performances feel fresh and unique.
Inspire, get inspired, and network
Many participants at open mic events have experience in the theater. After all, spoken-word events are a great place to see what other creative types are up to, to influence and be influenced by others. Also, agents and casting directors are known to pay visits to these venues in search of new standouts. So, put yourself out there, make connections, be noticed by others. Who knows? You may form your own creative ensemble with others with whom you share an aesthetic kinship.
Practice recovering from mistakes
Many open mics are weekly events with regulars taking advantage of the safe space to iron out their performance kinks. After all, when it comes to live performances, it's inevitable that people make mistakes here and there—maybe forget a line or mispronounce a word. You might receive feedback that you need to project your voice more, or perhaps you need a little practice holding the mic in such a way that you don't blast people's ears off. Whatever it is, audiences appreciate the risks you take, and they're on your side as you perform. As you learn to be more comfortable improvising and moving along within the art piece, despite mistakes, you're sure to become more graceful and confident onstage.
Indeed, some spoken-word artists have used their momentum to move forward in their acting careers or as stand-up comics, poets, or political pundits. For instance, Rudy Francisco is one of the most recognizable spoken-word poets these days. He's won several poetry slams and is the founder and current coach of the San Diego Poetry Slam Team which won the 2017 National Poetry Slam Championship. He's authored four books featuring his poetry, and he uses social media platforms to put his art out into the world. This has enabled him to pursue his career as a poet full time. He even appeared on The Tonight Show Starring Jimmy Fallon where he performed his poem entitled "Complainers."
And the Black Flag singer, Henry Rollins, immersed himself in spoken-word events for several years, even winning a Grammy for Best Spoken Word Recording back in 1994. He's toured all over the world dishing up a serving of stand-up comedy as he recounts personal experiences and gives commentaries about society. Rollins is also an outspoken human rights activist as well as an award-winning voice-over performer.
Have you ever performed at a spoken-word event?
Want to get your acting career started? Sign up or login to Casting Frontier and start auditioning today!
Related articles:
Elizabeth Olsen on Why She Loves to Audition
Fitness Trainer Jason Walsh on Preparing Actors for Movies
Lady Gaga: From Fear of Auditioning to Award-Winning Acting Career