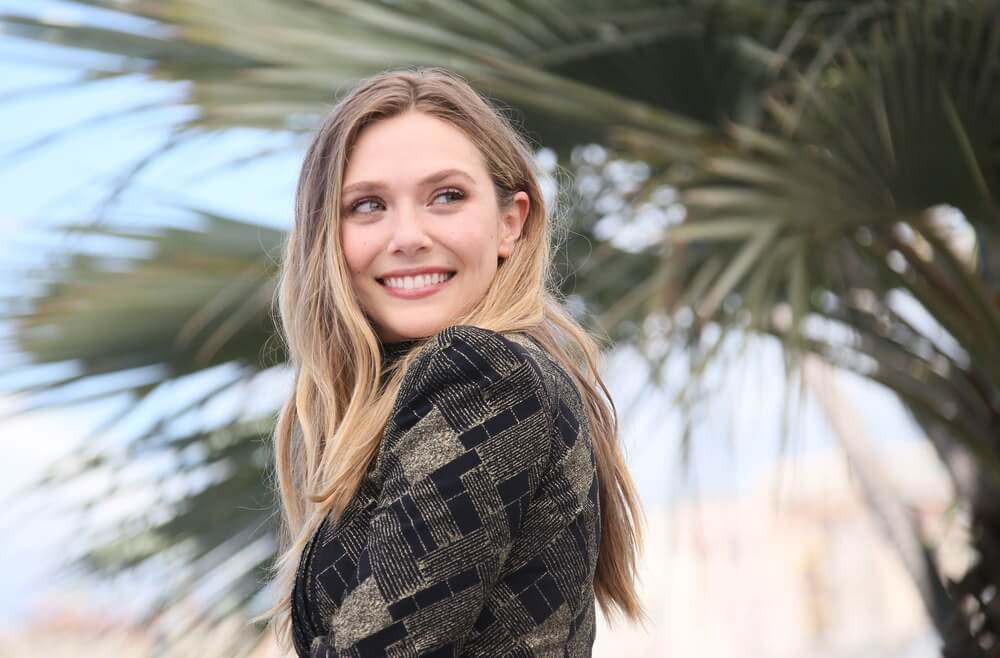 For many actors, auditioning is an unpleasant but necessary part of the business; they tolerate the judgmental ambiance and hopefully master the art of auditioning in the quest of landing desirable jobs. And then there's Elizabeth Olsen, who simply loves to audition.
The 34-year-old actress says auditioning, for her, "is like meditation." During an interview with The Off Camera Show's Sam Jones, the WandaVision actress continued, "You're focusing on something that has nothing to do with the ninety-nine percent of recycled thoughts that happens in the day-to-day." Other phrases she uses to describe the opportunity to audition are "it's such a break to me" and "being in the zone."
Any thoughts of self-doubt seem to take a backseat thanks to Olsen's mindset about control. A self-described type-A personality, Olson says, "As a control freak, I know the things that I can control and the things I can't control, and being okay with the things I can't control. I can't control how many noes I get; I can't control if someone likes what I do; I can't control the edit … but you can control how prepared you are on set; you can control the decisions and choices you make as an actor; you can control saying 'no.' I just try to forget all the things that are out of my control."
For this reason, she makes sure to come prepared with the material and her creative decisions and then allows the chips to fall where they may.
Born in Sherman Oaks, California, Elizabeth is the younger sister of the fashion designers and former child actresses Mary-Kate and Ashley Olsen—often referred to as the Olsen Twins—whose acting debut started in their infancy, sharing the role of Michelle Tanner in the popular sitcom Full House. In turn, Elizabeth often acted in her famous sisters' subsequent productions starting at the age of four. When she was in fourth grade, Elizabeth began to branch out, auditioning for other projects. Her first audition was for the role of the daughter in Spy Kids for which she received a callback.
But her breakthrough came in 2011 with her portrayal of the ex-cult member Martha in the award-winning independent thriller Martha Marcy May Marlene. From there, Olsen nabbed starring roles in films including Silent House, Very Good Girls, Godzilla and Ingrid Goes West. She played Hank Williams's wife, manager, and duet partner in the 2015 biopic film I Saw the Light opposite Tom Hiddleston as Hank Williams. And Olsen's performance as a rookie FBI agent in the chilling thriller Wind River received much praise. But she became most known to audiences across the globe when she appeared in several films from the Marvel Cinematic Universe as Wanda Maximoff / Scarlet Witch. Olsen has also worked both behind and in front of the camera, producing and starring in the Facebook Watch show Sorry for Your Loss. The ten-episode series explores various aspects of grief.
Olsen is used to hearing people tell her, "And you're so lucky!" especially because she grew up in a Hollywood household with her sisters' success paving the way to her acting career. Hoping to move beyond accusations of nepotism, Elizabeth knew she needed to dedicate herself to learning the craft of acting and so diligently studied at New York University's Tisch School of the Arts. "I always had this need to prove myself to myself and to everyone around me that I work really hard. I think it's just the fear was that 'you don't earn or deserve the things you work for because of who you're naturally associated with.'" Certainly, her hard work is paying off.
Want to get your acting career started? Sign up or login to Casting Frontier and start auditioning today!
Related articles:
Fitness Trainer Jason Walsh on Preparing Actors for Movies
Lady Gaga: From Fear of Auditioning to Award-Winning Acting Career
Tips to Improve Audition-Day Acne