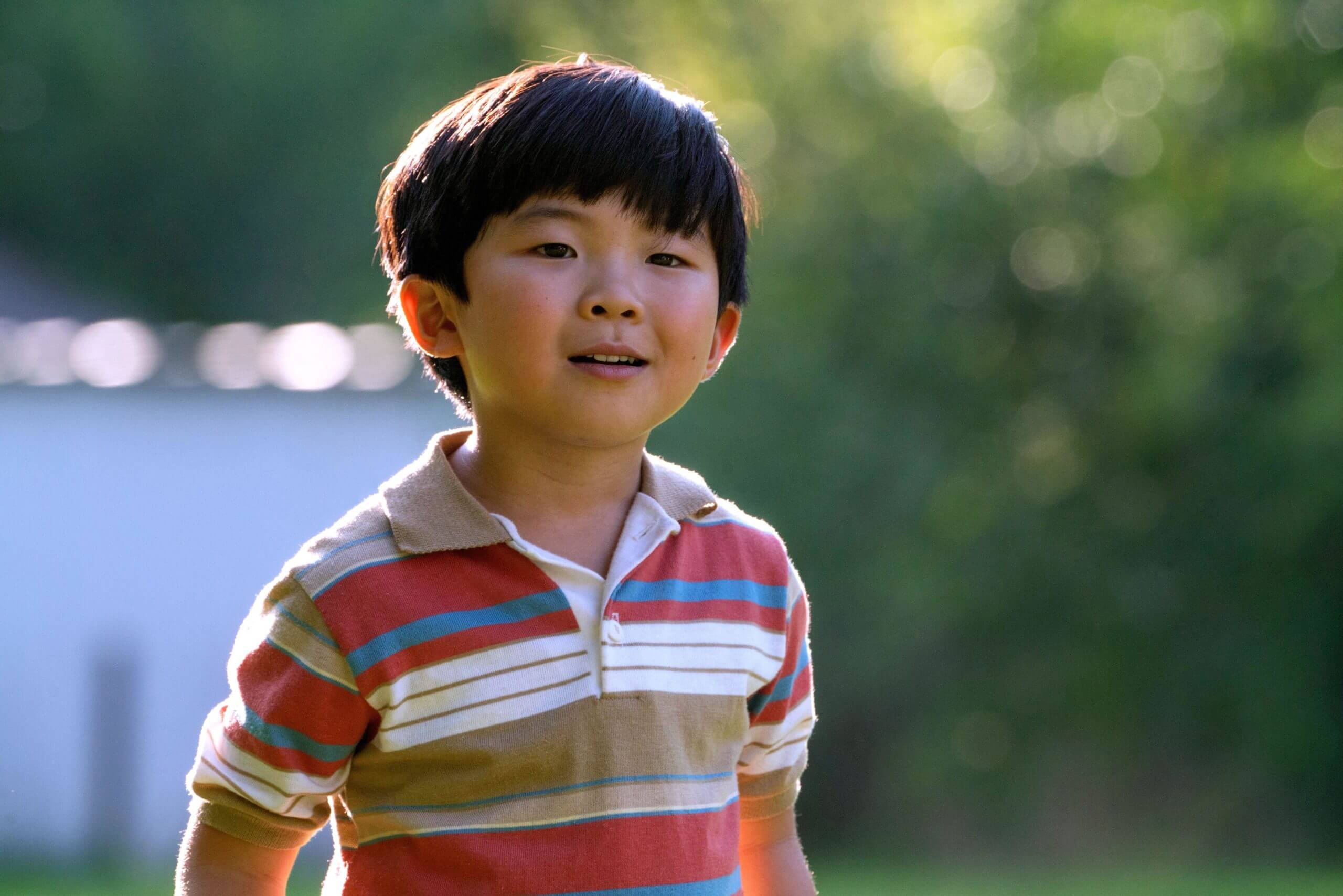 People are falling in love with eight-year-old acting sensation Alan S. Kim. During the summer before entering second grade, Alan portrayed the Mountain Dew-drinking, cowboy boot-adorned David Yi, the son of an immigrant farmer in Lee Isaac Chung's Minari. The film is based on the real-life experiences of director-writer Chung's childhood as a first-generation Korean American living in rural 1980's Arkansas. 
Premiering at Sundance, the movie won both the Grand Jury Prize and the Audience Award. Subsequently, Alan's performance was met with the 2021 Critics' Choice Award for Best Young Actor. He also captured the hearts of viewers when he cried tears of joy while giving his heartfelt acceptance speech. "Is this a dream?" he asked as he pinched his cheeks. To celebrate the night, he had a pizza party, and his family purchased a red carpet. "I'm like, 'I know what a red carpet is, but what is it for?" the breakout star said on The Ellen Show.
Minari won the Golden Globe for Best Foreign Language Film even though it is an American-made film featuring a South Korean-American family and shot in Oklahoma. It was controversially categorized as a foreign film because over 40-percent of the film's dialog is spoken in Korean. Minari has also been nominated for six Academy Awards including Best Picture, Best Director, Best Actor (Steven Yeun), and Best Supporting Actress (Yuh-Jung Youn). 
Casting Alan as "David"
Alan's older sister, Alyssa Kim, is a theater actress who played Young Elsa on the national tour of Disney's Frozen musical before COVID interrupted the production. But Alan was not interested in acting in school plays or at local theaters. He did, however, work in print advertisements for Pottery Barn Kids. Minari's casting director sought to fill the role of David with a young actor who was fluent in both English and Korean and who could convincingly play the mischievous yet adorable character. In his audition tape, Alan gave an over-the-top reaction when pretending to take bad-tasting medicine. It was then the director realized there was something about him that was compelling and charismatic. Once it was discovered he could take direction quite well and give an honest performance, he was hired. 
Preparing for the Role of David Yi
To prepare for the role, Alan shared, "I had my mom to work with me and help me memorize my lines." She created hand gestures to help him remember certain words of his dialogue. For emotional scenes, his technique was to "Just think of the saddest film that you had and try to envision it as the thing you're doing." 
Alan's Experiences On Set
During the shoot, Alan recalls being so tired that he dozed off with cameras rolling. "In one scene where we had to drive, I was so tired that I actually fell asleep," he explained. When he woke up, he was confused about his whereabouts, and they kept that part in the movie. Alan's mom encouraged him to say his words slowly so the scene wouldn't need to be reshot. And Chung told the Los Angeles Times, "After a couple of days, we set a rule that no one baby talks to [Alan] or overly celebrates when he does a great take or something. Treat him like a pro, and he's going to act like a pro."
Adjusting to Fame
"I wanted to get a chance to just to be famous and just be on video and be on a big screen," Alan told Variety. He desires to be in all movies "except romance movies" and horror movies which are "too scary." However, he admits he didn't know his acting career "was going to go this far." The young talent feels remarkably comfortable in front of cameras which is helpful with all the virtual interviews he's been doing. He's also enjoying his first experiences with signing autographs. 
Alan's Favorite Things 
Alan currently resides in Irvine, California with his family. His favorite subjects in school are Math and Science. He loves playing with his rescue dog, Cream; building with Legos; riding bikes and his hoverboard; and making paper creations. He also earned a purple belt in Taekwondo. Alan's favorite movie is "Harry Potter" and his favorite songs are Maroon 5's "Sugar"—but he calls the band "Macaroon 5"—and "Blinding Lights" from The Weekend. And his preferred ice cream dessert? Vanilla ice cream with chocolate syrup and rainbow sprinkles. 
Alan's advice for aspiring talent is: "Be yourself—never to be someone you're not. And try your best."
You can catch his next performance in the upcoming independent film, a dark comedy called Latchkey Kids.