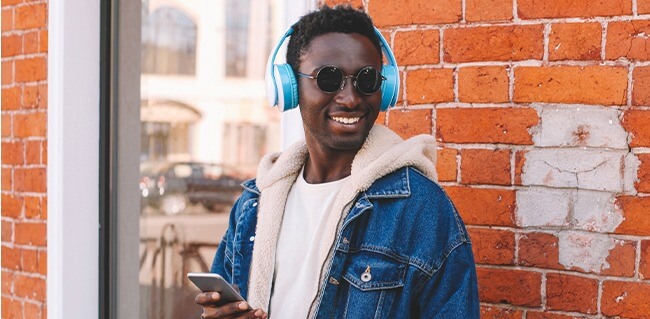 Listening is considered one of the greatest skills an actor can master. When we are truly listening, we are surrendering our full attention to a stimulus and allowing it to affect us. For this reason, podcasts are a wonderful resource for actors to mine. Not to mention, they help pass the time while you are exercising or tidying up around the house.
From inspired conversations between industry luminaries to more mindset-focused series, here are ten podcasts to subscribe to right now:
Hosted by Broadway veteran Analisa Leaming, each episode of A Balancing Act is an inspiring journey. From candid conversations with Tony winners like Jessie Mueller to picking the brains of highly-esteemed casting professionals, this podcast is a healthy dose for the actor's soul. In fact, it is especially effective to listen to before an audition or performance, as Leaming reminds us all that we are on this rollercoaster ride together. 
Celebrate "the messiness of being human" with Dax Shepard and his Emmy-nominated pal Monica Padman. In this podcast, the dynamic duo takes a psychological approach to their interviews. They have even interviewed Ashton Kutcher, Elizabeth Banks, Emilia Clarke, Salma Hayek, and, of course, Dax's superstar wife Kristen Bell. They pepper in timely talks with experts from other industries as well, giving subscribers a well-rounded selection with life-changing notions.
Working actress Audrey Moore wants to help you! Her podcast comes from a desire to demystify this crazy business and empower fellow actors. Moore gives transparent, succinct and, actionable advice that you can apply to your own journey. 
"Where were you born and raised, and what did you folks do for a living?" is how host Scott Feinberg begins each of his episodes. As you may assume from the title, The Hollywood Reporter columnist offers a lauded list of guests. His in-depth interviews dissect the lives and careers of some of the most accomplished people in show business. Interviewees are often dazzled by Scott's unparalleled research, which produces top-notch questions as he guides them through their lives.
David Tennant certainly needs no introduction. It is a delight to find the BAFTA-winning performer in audio form, as he converses with talented friends like Olivia Coleman and industry icons like Whoopi Goldberg. He excitedly asks how artists got their start, unveiling truths from his own bright brain along the way.
Actor Michael Rosenbau‪m, most known for Smallville, gets inside the heads of performers, touching on their flaws and insecurities. Presented with a psychological lens, his heart-to-hearts dive deep down into the hard stuff.
Broadway's Ilana Levine treats listeners to intimate and honest chats with world-renowned artists. Levine's episodes never fail to engage and empower, especially for performers. Exuding a down-to-earth demeanor, Levine is a heavenly host as she marvels at her guests right alongside the audience. 
Whether you are already a member or looking to earn your card, the official SAG-AFTRA podcast is a wonderful resource. SAG-AFTRA President Gabrielle Carteris and National Executive Director David White aim to give listeners a healthy perspective on the current state of entertainment and the union.
Hosted by a trifecta of talent, this fairly new podcast puts Jason Bateman, Sean Hayes, and Will Arnett behind the mic. Although listening to these three shoot the breeze would be more than enough, in each episode one of them reveals an A-list mystery guest to the other two. 
Despite being a lighter listen, with many LOL moments, Smartless never fails to deliver thoughtful dialogue. Since each host and majority of the guests are Hollywood staples, they also gleam nuggets of wonderful advice. For example, a recent chat with Reese Witherspoon dove into techniques for line memorization.
An early adopter of the podcast medium, Marc Maron has received glowing reviews for his weekly audio show. In addition to insightful interviews with internationally acclaimed actors, Marc himself has started to act in dramatic projects in recent years, including Netflix's GLOW. The result is that he tirelessly asks guests about the inner workings of their craft – a topic rarely touched upon in the celebrity interview circuit. He wants all the gritty details, too – which makes this necessary listening for actors!
---
Written by Robert Peterpaul
Robert Peterpaul is a writer and actor, who can be seen in James Franco's film King Cobra, T-Mobile ad campaigns, and Amazon Prime's New Dogs, Old Tricks. Other career highlights include: working on NBC's Access Hollywood and America's Got Talent, BUILD Series, writing for the Huffington Post, and his family's nonprofit the Thomas Peterpaul Foundation, which aims to end pediatric cancer. Robert currently serves as the Weekend Editor for HOLA! USA and writes for publications like Backstage. He's studied at the Barrow Group, Lee Strasberg Theatre and Film Institute, UCB and earned a B.A. from Marist College (go, red foxes!). Robert thanks you for reading and hopes you'll follow your bliss! www.robertpeterpaul.com