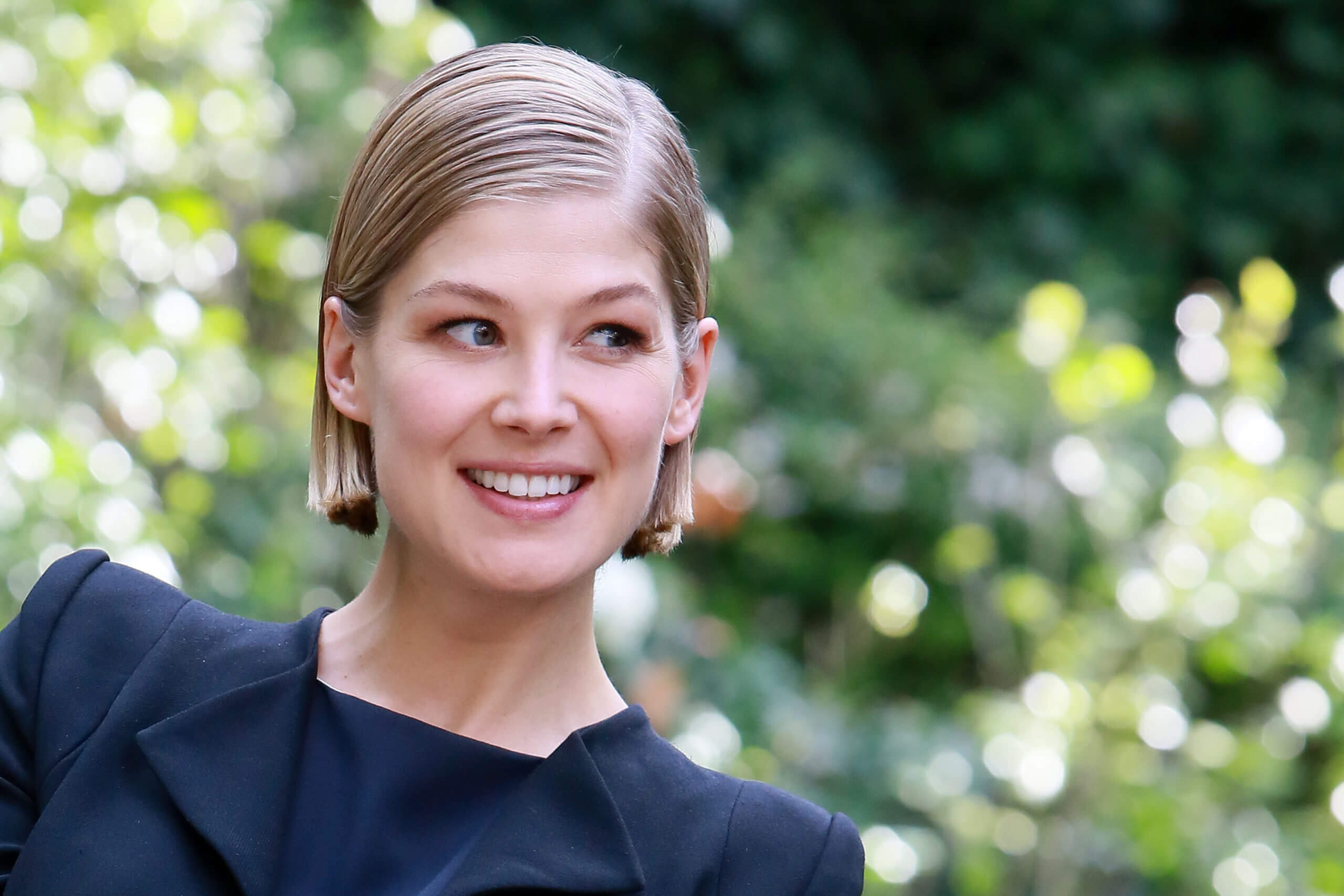 Rosamund Pike's role in I Care a Lot has earned her a Golden Globe Award for Best Actress in a Motion Picture—Musical or Comedy. In the dark comedy, Rosamund convincingly plays Marla Grayson. Grayson is a Massachusetts con artist who steals the assets of vulnerable elderly individuals by becoming their legal guardian. 
"I thought, 'This is just fantastic material.' I mean the audacity of this woman's plan. How deplorable it is, and yet how utterly watchable. I just thought this was just the most fantastic character I'd read in ages," Pike recalled about the initial read.
Behind the Character
The actress was so excited to dig into such a wicked and layered character.
According to Rolling Stone, Marla had everything Pike was looking for in a character. She couldn't wait to get inside of Marla's head, "to speak her lines, to kind of own her mission to own her hunger, her appetites, her predatory nature, her wit, her sort of seeming charm, her kind of intelligence."
Additionally, Director and screenwriter J Blakeson really delved into certain scenes of the film. In turn, the movie featured long, involved dialogue—even 10-page scenes capturing strong-willed characters as they battle out their differences.
The Research Behind the Role
While researching her character, Rosamund read "horrendous" stories about cases of guardianship abuse targeting the health and finances of elderly and vulnerable populations. After all, Pike insists the loopholes in the American legal and healthcare system play a huge role in her character.
 Pikes explains, "Obviously we didn't know when we made the film how much the health system… would come to the fore of people's minds during the year of a pandemic. That's given it a new unsettling relevance that we weren't expecting."
However, I Care a Lot has raised awareness about guardianship and conservatorship abuse in the U.S.
Becoming Marla
Marla Grayson's predatory nature is disguised by her smile and her put-together, approachable appearance. She often dresses in vibrant, cheerful colors to conceal her selfish and greedy intentions. Likewise, Rosamund uses a vape pen as a prop to effectively give Marla the look of a fire-breathing dragon. 
The Win
This was Pike's second time being honored at the Golden Globes. In 2018, her starring role as journalist Marie Colvin in A Private War earned her a nomination for Best Actress. Also, she previously earned an Oscar nod for Best Actress for her 2014 performance in Gone Girl and an Emmy for her portrayal of Louise in State of the Union.
The Future
What's next for Rosamund? Pike will portray Moiraine Damodred in the upcoming epic fantasy series The Wheel of Time.
Comments
comments