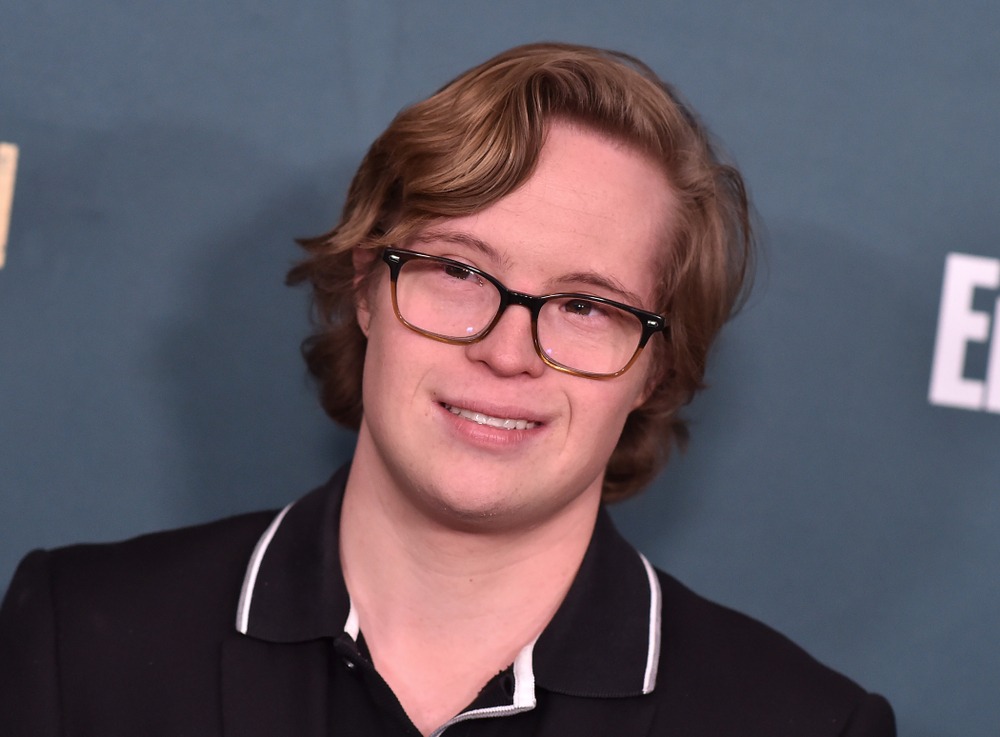 Cole Sibus, an actor with Down syndrome, is an inspirational force. Currently on ABC's Stumptown, Cole is doing something creative and living life to its fullest, which is very encouraging.
Being an actor is not an easy task. Sheesh – being a HUMAN isn't easy! So with the entertainment industry becoming more and more open to diversity, it's important to fill roles with underrepresented groups.
Stumptown does just that. Cole's character, Ansel, also has Down syndrome. Ansel is an important part of the storyline, being the brother of the main character, Dex, played by How I Met Your Mother's Cobie Smulders. Cole has a big role with big responsibilities and he pulls it off fabulously.
Cole Sibus successfully accomplishes what all actors want to do: he convinces the audience that the character is real. He draws the audience into his world.
You won the role of Ansel in ABC's Stumptown. Tell us about your audition. How did you hear about it? Did they send you a script in advance with lines to learn? Did you memorize the lines for your audition or read from the script? Who was in the room with you?
I heard about the role through my awesome agent Gail Williamson. They sent me the script in advance and I had to quickly memorize the lines. Memorizing is challenging for me, but now that I am acting more it is getting much easier, and I have learned techniques such as going back and forth with one line over and over with my acting coach. This has helped me so much. I also have a great acting coach, Natalie Wilson, and she is amazing and helps me with memorization, movement and direction. I had about four auditions for the part. There was the casting director, some of her associates, and then James Griffiths (aka Grif), the director of the first few episodes couldn't be there in person, but he was on a computer screen. I was nervous, but also knew I could do it, so I did.
What was your first official day like playing Ansel? Did you have a trailer? Did anything funny happen on your first day of work? Do you do all of your scenes in one day or do you go back multiple times during the week?
My first official day playing Ansel actually happened in Canada where we shot the pilot, I was nervous and excited all at the same time. Mostly I was excited to meet all my new costars and create friendships. I loved acting with Cobie Smulders, and she was incredible and so talented. My first official day on set happened at Quixote Studios in Studio City — that is where we film our episodes. I also learned I would get a trailer, I was stoked, and couldn't believe it! Cobie was so sweet and even got me a basket of all my favorite snacks and Mountain Dew (my favorite soda…but I don't drink it too much. Ha-ha I am working on some abs). A funny thing that happened my first day was I kept messing up a line, and everyone just laughed, it was so funny. Depending on how many lines I have in a script will depend on how many days they need me. Sometimes I work the whole week until very late, and other times I will only work a couple days. I love my job!
Before filming for Stumptown began, you and the cast went to San Diego Comic Con for promotion. What was that like for you? Tell us the story from beginning to end.
Yes! My sister traveled with me, as it is easier if I travel with someone to help me with things. Omg it was the coolest thing. We got picked up in a very nice car, then we were dropped off at the hotel, and in my room I got a survival kit of snacks to get me through the weekend from ABC. The next day we traveled as a group and went to various press junkets and interviews — the first stop was signing autographs at the ABC booth for Stumptown. It was my first time signing autographs, best day ever! It was so fun going behind the scenes and hanging out to get to know my cast members better. One of my favorite things was a pop up Pizza Hut experience where we took portraits and enjoyed pizza. There were fun places to take pictures too. I also liked going on the IMDB Yacht. That was a fun interview with Kevin Smith – he is really fun! The weekend ended with a party put on by ABC and I was able to meet the guys from The Goldbergs, one of my favorite shows that I watch with my sister. It was a wonderful and busy weekend!!
For Born This Way, Spare Room and Stumptown, how did / does wardrobe work? Were there wardrobe people on all three productions? Did you have a fitting? Do you wear your own clothes or the production provides it?
BORN THIS WAY: Since Born This Way was a reality series, we wore our own clothes, however we were asked not to wear brands, busy patterns, stripes or the color white or black, as it doesn't film well. No fittings.
SPARE ROOM: Since Spare Room was a small independent film, the amazing costume designer had to get creative, so we were asked to bring some of our own clothes if we could and they provided the rest. I loved Johnny Cash so I mostly wore black with black Converse shoes, and then some cool vintage bowling or western shirts. I didn't have a fitting. I just gave them sizing and then I brought my own clothes in.
STUMPTOWN: Stumptown was the most elaborate of the three. I had a full costume fitting when I went to Canada and then I have my whole own wardrobe. Ansel likes the timbers in Portland so I were sportswear, and then I like being casual with T-shirts and jeans. One day the costume team liked my shirt so much, I was able to wear it on set, they said it was like Ansel, and I am like Ansel so it makes sense ☺
Your Stumptown character, Ansel, has Down syndrome. How does it make you feel to represent a character with a disability?
He does, however his story doesn't focus on that, it's about his life, how he likes sports (just like me), his love for his sister, working at the bar and much more. I think it is so cool that the story focuses on his life not his disability. It's about what he can do, and not what he can't. It makes me feel proud to represent someone with Down syndrome, because that means that I can inspire others to follow their dreams whatever they are! You can do almost anything if you set your mind to it. I work hard every day to become a better actor.
Which type of Down syndrome do you have? Tell us what it's like living on a day to day basis.
I have not been tested as to what specific type of Down syndrome I have. I think its Trisomy 21. For the most part my life is like everyone else's – some things take me a little longer to understand. I am still working on becoming a better reader and writer, and one day I would love to drive, but might never happen for me, so instead I ride golf carts around our back yard, and enjoy riding quads and go carts. At first it made me sad, but I know I have a lot of things to be be thankful for. Things that come easy to me are being funny — I can make people laugh and that makes me so happy. Being kind also is an important thing to me. More people need to be kind to people that are different than them. If you are you may just learn something you never knew. We can all learn from each other every day.
Tell us about the National Special Olympics at Princeton University.
I was selected from a lottery of 4,000 people to be able to swim on the team. I was put in the lottery by getting three gold medals in a row. I felt so lucky to be selected. We flew on a private plane, which was donated to the Special Olympics. We then got to stay in the dorms at Princeton which was so exciting. I swam and won a gold, silver and bronze! My parents also came to watch. It was great to make new friends and meet new people, and do one of the things I love the most, swimming!
You love sports, cooking and even play guitar. Give us some details on why you love these things.
I love sports because you get to work as a team. It's awesome to be able to share your wins and losses together. On a yearly basis I play softball, swim and play basketball. All of these things keep me active which is really important for me. I also love cooking, that is why my sister helped me start and run the cooking channel "Cole and Lo". We have cooking how too's as well as fun adventures that we go on. I think cooking healthy things are important. It is also important to know how to cook and cook for yourself. I want to show others with disabilities how to cook and why it's important in staying healthy. You can learn about our show at https://www.facebook.com/coleandlo .
Are you still with your girlfriend April? How is she handling your busy job schedule?
We broke up but we remain friends, and still are in the same acting class at Down Syndrome Association of Orange County together. My girlfriend, Theresa and I have been together for about two months but were friends before that. She supports me in my acting, and thinks it's great. I also support her in her career. She is a DJ (aka DJbdiamond), she is awesome, and whenever I am able to go to one of her gigs I make sure to, if my schedule lets me. We love listening and dancing to music together. Wwe are great dancers, not so much singers. Haha!
What do your family and friends think about your choice to be an actor?
They are so excited for me, and love joining me at events. They are very proud and excited to see what the future has in store for me.
Anything else you'd like to say?
My mom, Kristi, Dad, Tim, sister, Lauren and brother-in-law, John are so supportive of my career. They help encourage me and I love them so much. I am also so thankful for my cast and crew of Spare Room. They really helped launch my career in acting. My HUGE goal this year is to become the first Calvin Klein underwear model with Down syndrome! I am working hard towards this goal. I have an awesome personal trainer who helps me stay focused! I know 2020 is going to be a great year!
*******************************
You can read more about Down syndrome here: https://www.ndss.org/about-down-syndrome/down-syndrome/
COLE SIBUS BIO:
Cole Sibus has appeared in various film, television and theater productions. He began his career on the A&E Emmy® Award-winning docuseries "Born This Way." In 2019, he won the Upstream Spotlight award at the Riverbend Film Festival for his work as Arrow in "Spare Room." Following "Spare Room," Sibus was cast in ABC's new fall drama "Stumptown," alongside Cobie Smulders of "How I Met Your Mother" and Jake Johnson of "New Girl."
Sibus enjoys honing his skills at drama therapy class through the Down Syndrome Association of Orange County. A native of Southern California, he loves to hit up the beaches, surf, participate in Special Olympics and travel. In addition to acting, he enjoys creating content with his sister for their YouTube channel, "Cole and Lo."
Want to get your acting career started? Sign up or login to Casting Frontier and start auditioning today!
Related articles:
5 Instagram Tips for Actors
Jonathan Majors on How He Landed His Breakthrough Role in 'The Last Black Man in San Francisco'
Top Audition Tips from Casting Directors
Comments
comments
---
Written by Ilana Rapp
Ilana Rapp is s a former (child) actress with Broadway, film and television credits. She has written for The Huffington Post and writes entertainment pieces for Casting Frontier, NYCastings and New Jersey Stage. She is a huge fan of the television show V. Ask her why her favorite number is 22. Follow Ilana on Twitter @LizardLadyNJ