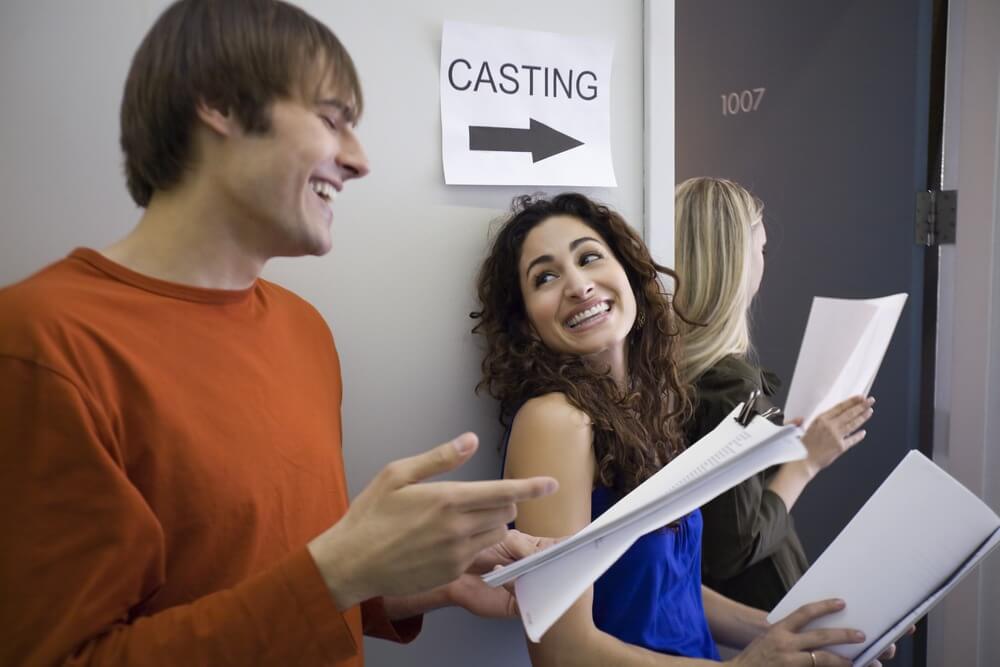 For commercial casting director and acting coach Killian McHugh, teaching is not only a profession, but a calling.
"I remember talking to a casting director about winning the Oscar," he recalls. "I said something about if I won I'd never do another acting workshop again. She looked at me for a moment, and then said Killian, you're full of crap. If you won the Oscar tonight, you would not cancel class tomorrow. And I thought, yeah, you're right. I wouldn't cancel class. For me, I just don't feel comfortable when I'm not teaching and helping actors."
This passion for teaching led Killian to create his own commercial acting studio called  Killian's Workshop.   
Now, don't let the simplicity of the name fool you. Since its founding, the acting workshop has educated and landed acting jobs for hundreds of students. It has also made Killian a trusted acting coach in the commercial casting industry. His memorable appearance on The Conan O'Brien Show hilariously explores how even the most challenged actors can benefit from Killian's methods.
Recently, we had a chance to see Killian's approach to the acting workshop up close and personal. As part of our Inside Circle seminar, Killian, along with fellow commercial acting coach Jenny Schmidt, delivered a wide-ranging talk addressing some of the most important questions relating to commercial auditions and casting calls.
Here's what we learned:
Avoid Self-Directing During Commercial Auditions
To say an audition is intimidating, is an understatement. Yes, even the most seasoned performers grow nervous as they prepare to deliver their lines. With all these emotions swirling about an actor's head, it's inevitable that a performance will occasionally suffer from a mistake.  
The first instinct is to admit fault and start over. For Killian though, this approach is misguided. By stopping to direct yourself, you risk interrupting the emotional connection to the character; both for yourself and the casting director.  
"If you do that, you're not acting. Instead, you're directing in your head and that's not why we brought you in," Killian says. "Remember, everybody in the casting session has the term director in their name, except you. We should do our job, and you should do yours."
However, Killian admits there are exceptions. If you're tongue-tied and can't get a line out, you are allowed to say, "I'm going to take that back."
But for the most part, it's important to remain present in the moment. When you stop and apologize during commercial auditions, you suddenly enter a strange headspace. The mistake lingers in your mind and refuses to dissipate. Something no actor wants to contend with.
The Truth About Managers and Commercial Acting Jobs
One of the common questions commercial actors tend to ask is do I need a manager? Well, the answer is no.
According to Killian, managers can play an influential role in an actor's career. But, more often than not, they are the first step in securing an agent, the individual who will have a greater impact on a commercial actor's success. This is especially true when it comes to negotiating contracts.
"Managers can be helpful when you're first starting out because they can assist in getting you an agent," Killian says. "Typically, unlike theatrical agents, they don't have a large client roster. A manager will pitch more and try to get you in the door, as opposed to an agent. However, manager's cannot negotiate contracts. Only agents can. That's why, in the commercial world, we very rarely deal with managers."
Actor Postcards Aren't Just For Casting Directors
Traditionally, postcards have been a common way to get your headshot in front of a casting director. Unfortunately, because of the amount of material casting directors receive, postcards tend to wind up at the bottom of a trash bin.
So, how does one hold the attention of a casting director? According to Killian and Jenny, the answer is a familiar one: be creative.
"Think outside the box when it comes to postcards," Jenny says. "You can do more than just the headshot. The fact is, you have to be creative. Honestly, sky's the limit. You need to do whatever will help you stand out. And if you get one callback out of 50 then the postcard was worth it."
For Killian, the casting director is not the only individual you should send postcards to. Assistants and production company personnel also play a vital role. More often than not, they possess the necessary influence to move your material forward.
Besides postcards, Killian also recommends sending thank you letters. These unexpected items lend a personal touch, and afford an actor more ways to stand out after casting calls.
"It's also good to send a thank you note once you get an audition or call back," Killian says. "It's unexpected and can make a big impression. Also, it tends to catch the individual off guard. Here, they're expecting a standard letter and instead they also have your headshot. It's a practice that's always worth pursuing."
Do Not Put Commercials On Your Acting Resume
For many actors, the dilemma of whether or not to include commercial work on a demo reel or resume is constant. After all, one wants to showcase their best performances, so why not include them?
Unfortunately, this is not the correct approach. Commercials should never be listed on an acting resume. This includes infomercials and industrial videos.
Instead, as Killian points out, use the phrase, "Conflicts available upon request."
"Conflicts" is a term used when an actor has a commercial running that prevents them from doing other commercials in that product category. If the actor has commercial experience, but no current conflicts, the phrase "Commercial list available upon request" can be utilized.
When it comes to acting demo reels though, there are exceptions. As Killian and Jenny point out, an actor can use commercial footage, but they need to be selective about it.
"If you have enough to put together a demo reel, then I say do it," Jenny says. "It's good to have and adds that extra level of professionalism. But, make sure to choose scenes that don't feature the product the commercial is promoting. Leave the product out as much as possible."
Also, like the format itself, Killian advises that commercial demo reels need to be concise.
"The tricky thing is, commercials are about volume," Killian says. "We as commercial casting directors do not have the time to look through each reel for an extended amount of time. They need to grab our attention right away."
The Rules of Self-Submitting for Acting Jobs
For some time now, there's been much debate about self-submitting. Should I, or should I not self-submit for acting roles?
According to Killian, it depends on where an actor is in their career.
"If you have an agent, you don't need to self-submit for commercial auditions," Killian says. "Yes, self-submissions are worth it. But, do not self-submit if your agent already has. That makes a commercial casting director very angry. We only have so much time, and to take it up with multiple submissions is irritating."
Like many aspects of the acting profession, communication is key. In order to make the partnership between actor and agent work, and to land more acting jobs, there needs to be a clear dialog amongst the two.
"Always communicate with your agent," Killian continues. "Because if you self-submit and get acting roles, the bookings will have to go through your agent. You will still owe your agent commission on all your acting jobs. So, making sure that each of you is on the same page is key."
How Important is Social Media for Commercial Bookings?
With online casting becoming more and more influential, many actors wonder how important is the role of social media in regards to commercial auditions. Should a commercial actor invest heavily in social media? And perhaps more importantly, how should they portray themselves?
In Killian's experience, social media interest tends to come more from the client than the commercial casting director.
"Clients will typically look at an actor's social media channels, but a commercial casting director will not," Killian says. "With that in mind, keep your social media relatively inoffensive. Don't post anything political, and certainly not a bunch of pictures of you drinking. The big question is, who do you want them to think you are? Post that on your social media. Yes, pot may be legal. But, a lot of the corporations paying for the productions are conservative. You have to be mindful of that."
Wrapping Up Commercial Auditions and Casting calls
For Killian, there's a quote by naturalist John Burroughs that he holds dear: "Leap, and the net will appear."
Like any acting pursuit, commercial auditions and casting calls are both challenging and intimidating. Although there's not one answer to succeed in the commercial arena, following Killian and Jenny's advice will undoubtedly lead one in the right direction.
As Killian says, to learn and grow within the commercial casting industry, one cannot sit back and be cautious. To gain the acting jobs you desire, you must take the plunge.  
Want to get your acting career started? Sign up or login to Casting Frontier and start auditioning today!
Related articles:
5 Actors Share Their Auditions Gone Bad
Reap the Benefits of Poetry Slams and Spoken-Word Events
Elizabeth Olsen on Why She Loves to Audition
Comments
comments