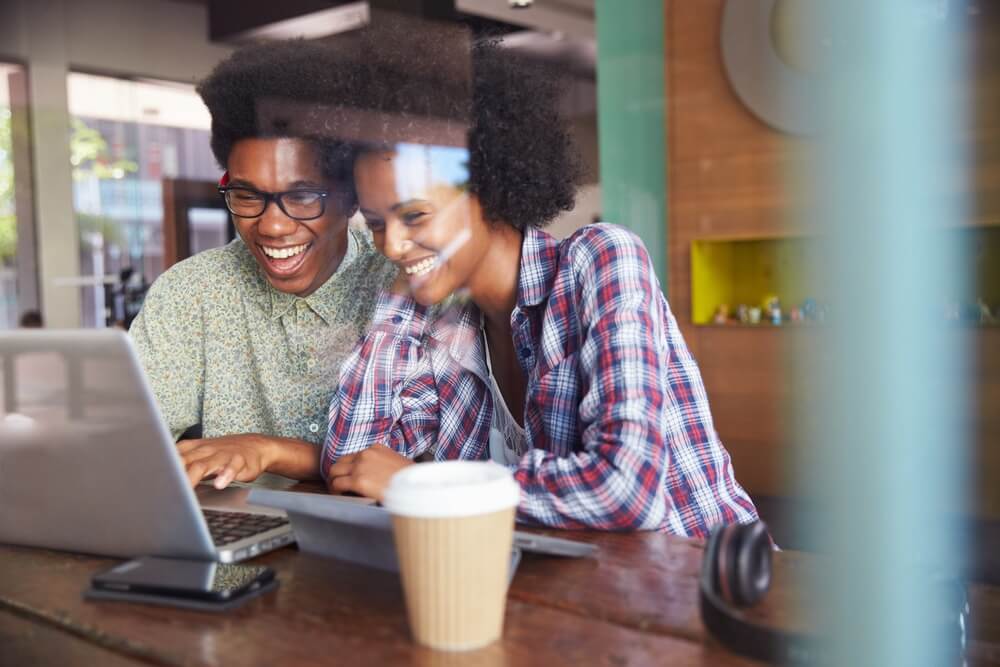 Whether you're an actor looking for an agent or a talent representative seeking fresh faces for your roster, you can find it within Casting Frontier. When you click into your profiles, you'll find our Agent Finder and Talent Finder tools. These features are here to help talent and agents to find each other without leaving Casting Frontier as we continue to find innovative ways to help simplify and streamline your workflow.
How does the Agent Finder tool work?
Performers can activate the Agent Finder tool by clicking the toggle switch "on" in the Representation page of your profile. You can also add any notes for agents to see, such as the ability to play guitar or ride a skateboard. Once that's done, click on save, and any talent representative using the Talent Finder tool will be able to contact you if they think you're a great fit for their roster.

Keep in mind, the Agent Finder tool defaults to the "on" setting when you sign up for Casting Frontier, so if you're looking for representation, there may not be anything you need to do.
If you've previously turned the Agent Finder tool off and would like to take the next step in your acting career, you can head to the Representation page to switch it on. Or if you don't think that you're ready for an agent yet, you can go to your profile and turn the Agent Finder off.
How do I use the Talent Finder tool?
If you're a talent representative, there are a few more steps to using the Talent Finder tool, but it's just as easy. When you log into Casting Frontier, go to your profile and click on the the "Talent Finder" section. You'll then be taken to a page where you can search for actors by name, age ranges, ethnicity, union affiliation and any other qualities you're looking for.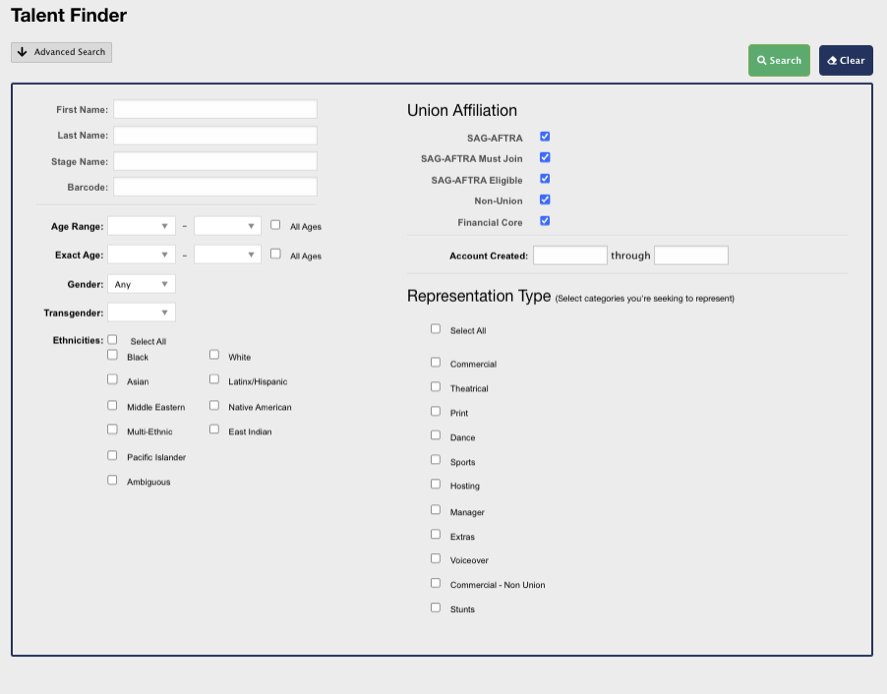 If you're looking for someone specific, click the "Advanced Search" button to conduct a broader search for talent by region, nationality, hair color and length and even glove size. Once you've checked all the boxes and filled out your search terms, click the "Search" button. If you want to start over, just click the "Clear" button.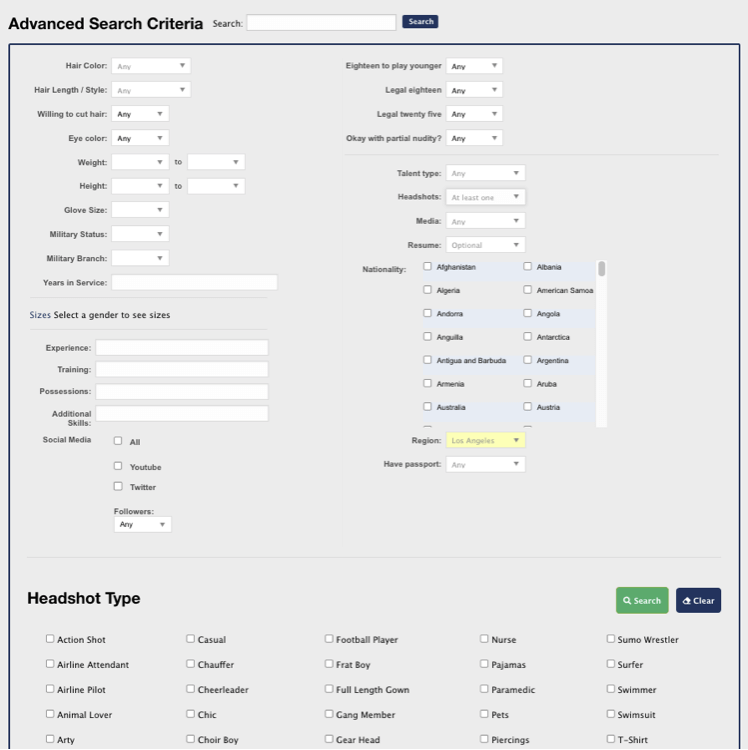 When searching for talent, make sure you search for actors that have at least one headshot. When you click "search," it will show you all the actors that have turned on their Agent Finder tool and match the credentials of your search query. You can sort them by first or last name.
Remember, if you've signed an actor to your roster on Casting Frontier, be sure to add them to your roster on our sister site Casting Networks if they have a profile there.
When you're on the acting or representation side of the entertainment business, Casting Frontier's Agent Finder and Talent Finder tools are here to bridge the gap between both worlds. Both tools can be accessed via your profile pages to help each of you meet your goals quickly and efficiently.
Give it a try! Sign up or log in to Casting Frontier and get yourself an agent or add new talent to your roster today!
Related articles:
How to Get an Acting Agent
Ways to Get a Theatrical Agent When You Only Have a Commercial Agent (and Vice Versa)
Ask a Former Hollywood Agent Anything on Reddit