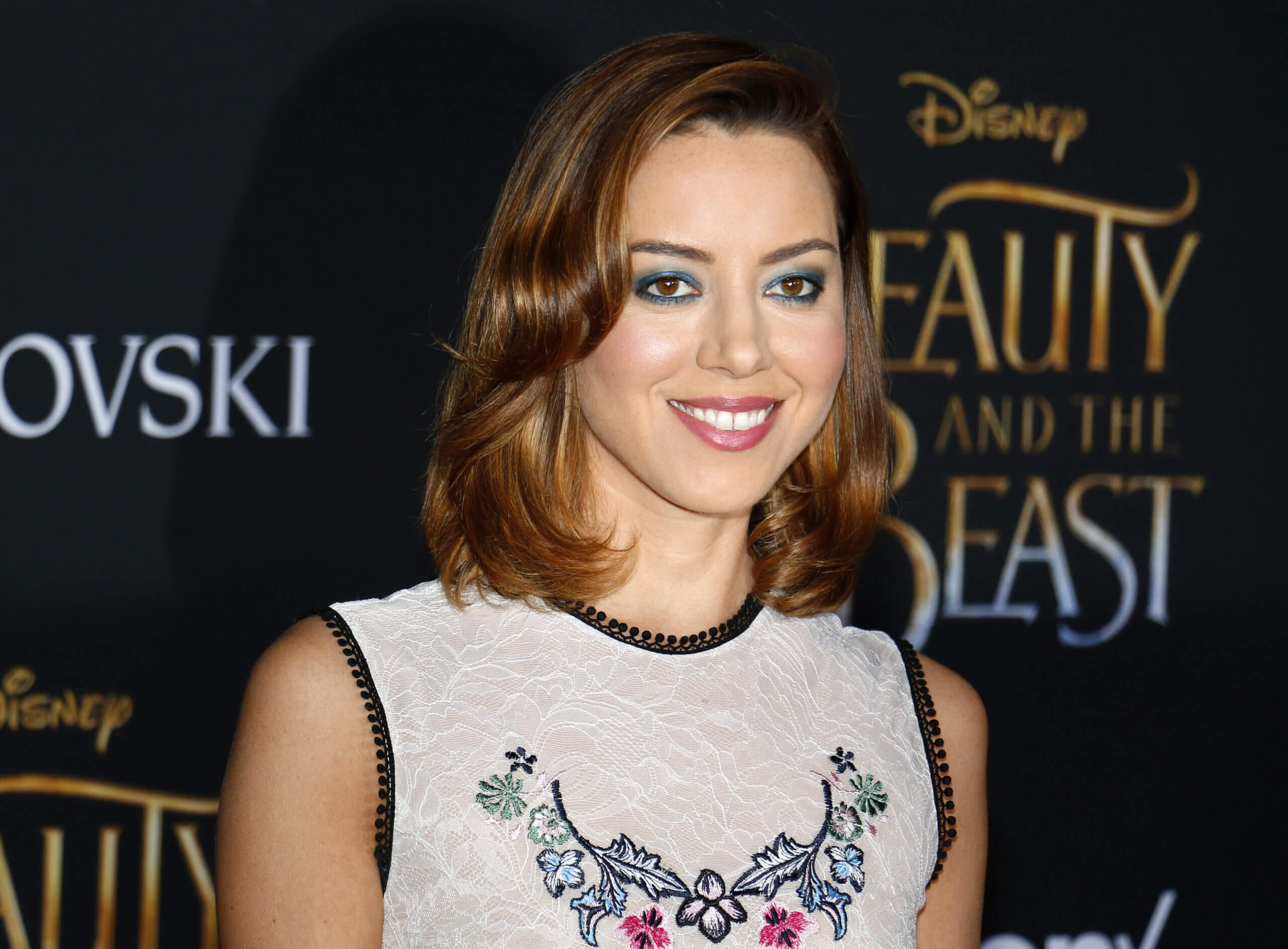 Aubrey Plaza in Black Bear
When writer-director Lawrence Michael Levine was penning the screenplay for the surrealist, disorienting film Black Bear, he wrote the lead character Allison, a filmmaker with writer's block, specifically for Aubrey Plaza. 
"I had Aubrey in mind when I wrote ['Black Bear']," Levine told the Sundance audience at the film's premiere in January. "We knew each other, but we kind of got to know each other a little better on the set of 'Easy,' the Joe Swanberg show which I acted in with her. And through those conversations we started talking about maybe working together, and so I had her in mind when I wrote it." 
The uniquely talented Plaza must be getting used to roles being written with her in mind. In fact, her Parks and Recreation role, the cynical intern April Ludgate, was tailor-made for her; Aubrey's Darius Britt character in Safety Not Guaranteed was designed for her; and in The To Do List, the part of the high school graduate Brandy Klark was created for Plaza.
For those interested in venturing to the cinema to see Plaza's latest role, Black Bear is scheduled to be released in theaters and digitally on December 4th. The unconventional thriller is currently rating 85% fresh on Rotten Tomatoes.
Aubrey is certainly not the only actor who's been fortunate enough to be offered tailor-made parts. There are plenty of other thespians who likewise have been invited to the front of the casting line, foregoing any need for auditioning. Here are four other actors who've enjoyed such an opportunity.
Ralph Fiennes in The Grand Budapest Hotel
When Wes Anderson wrote the poetry-reading, theatrical character Gustave H. in The Grand Budapest Hotel, he knew exactly which performer he wanted to fill the part—the Schindler's List actor Ralph Fiennes. However, Anderson did not share his hopes with the prolific English star; after all, the auteur believes, "One of the best ways to get actors to NOT want to be in your film is to offer them a [specific] part." He thinks performers often end up wishing they could be cast in a different role. So upon completing the script, Anderson asked Fiennes to pick any of the roles. According to Vulture, Fiennes remembered, "[Anderson] said, 'What part would you like to play?' And I said [pointing at Gustave H.], 'That one, please!'" Now that's a win-win! 
Sally Hawkins and Octavia Spencer in The Shape of Water
The Shape of Water, Guillermo del Toro's dark fairytale, starred the remarkable talents Sally Hawkins and Octavia Spencer. They were so perfectly cast in the unusual tale because Del Toro deliberately wrote the parts with both actresses in mind.
Initially, Guillermo called Hawkins to inform her of his plan to write a role just for her along with his writing partner Vanessa Taylor. Sally Hawkins was aware the celebrated filmmaker intended to create her role in the line of a silent film, and she'd be given a monologue as well as a song-and-dance number. 
"To be in his line of vision is more than I can say because it's a rare film," the actress recalled while holding back tears of gratitude. However, while shooting the one-of-a-kind film, there were times when Hawkins admits she doubted she was properly cast. "I'm sure he didn't mean me," she'd tell herself. As humble and confused as Hawkins felt about the role, she went on to receive an Oscar nod for Best Actress.
The Academy Award-winning actress Octavia Spencer likewise received a call from Guillermo; he let the Hidden Figures actress know he'd written an empowering role specifically for her as well. A huge fan of the famous director, Spencer couldn't have been more pleased. She plays Elisa's friend and coworker, Zelda Fuller, in the fantasy film. Her performance was celebrated with an Oscar nod for Best Supporting Actress. The film would go on to win an Oscar for Best Picture in 2017.
Bill Murray in Lost In Translation
When Sofia Coppola was writing the screenplay for the 2003 romantic comedy-drama Lost In Translation, she had one actor in mind to star in the film: Bill Murray. Indeed, she said she wouldn't have even made the movie without Bill playing Bob Harris, a fading American movie star. 
"I just knew he was the perfect person. There's just no one like him … He's this great combination of funny and sensitive and sincere," she said. After seeing Murray in Groundhog Day, Coppola was sure the funny man could pull off the subtleties of the role. So she pursued him with phone messages and letters for a year. Murray did agree to the role. However, he never signed a contract, and he fell out of contact with everyone involved in the production. 
Can you imagine the pressure Coppola felt, having spent a million dollars for a shoot in Japan? Wondering if the star of her movie was even going to show up? Thankfully, he did. The movie would go on to be nominated for an Academy Award for Best Picture, Best Director, and Best Actor. Additionally, Coppola took home the statue for Best Original Screenplay.  By the way, Sofia and Bill recently worked together on the Apple TV+ film On the Rocks. 
Have you ever had a role written with you in mind?
Want to get your acting career started? Sign up or login to Casting Frontier and start auditioning today!
Related articles:
Working in a Wheelchair: Actor Gerald Isaac Waters of Netflix's 'All Together Now' Weighs In
The Time a Member of the Paparazzi Shocked Jennifer Garner
Secrets of a Casting Director: Meet David Rapaport of 'The Matrix,' 'Riverdale,' 'DC's Legends of Tomorrow'