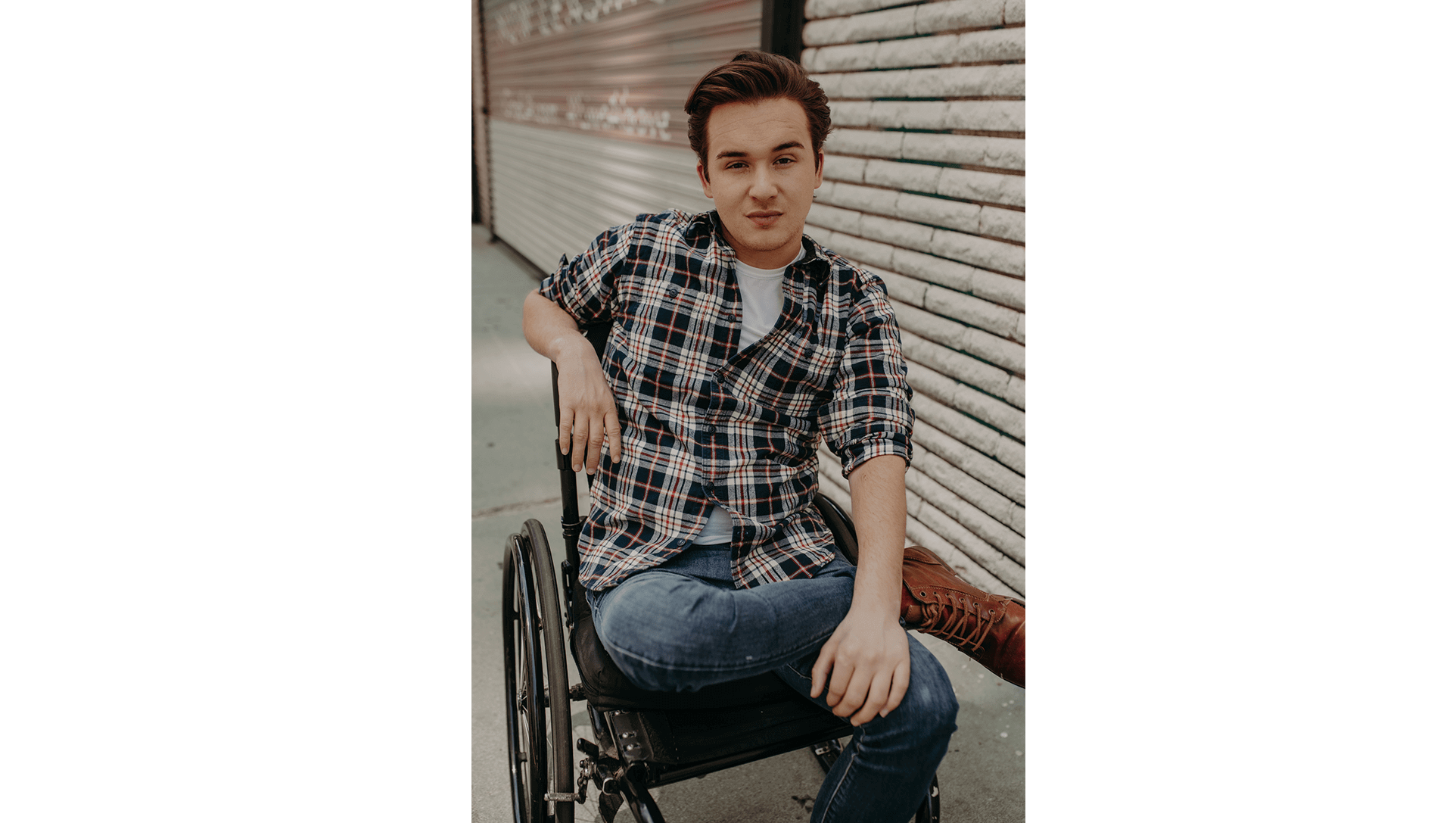 Life decided to throw actor Gerald Isaac Waters a challenge—to work in show business as a disabled person in a wheelchair. 
Gerald's stamina and support team lead him to focus on the task at hand, which landed him a job in Netflix's film "All Together Now."
We had a great discussion with Gerald, which resulted in us learning about his childhood dream to become an actor, the journey after the accident that left him paralyzed, and what he did to make his acting passion come true.
You play Chad Fox in "All Together Now," which was recently internationally released on Netflix. Tell us about your audition.
My audition process for "All Together Now" is one I'll remember for a lifetime. I was about 15 minutes late for my initial audition—LA traffic got the best of me. I should have left two hours prior. However, once I got in the room, the casting director was very understanding and put me at ease, and we started the audition. However, I was extremely early for my callback, because there was NO WAY I was letting that happen again. As I sat in the waiting room with every lucky piece of clothing I had on, I remember feeling a sense of peace come over me. I had prepared, I did all my homework, and now I had to trust the process. Walking into the callback, everyone was in the room: director, producer, casting—the whole lot of them. Brett Haley, our director, gave me his vision of Chad and we started in on the process of the audition. After leaving the room, I immediately called my agent and told her how great I felt about it, and that whether or not I got it, I was extremely proud of the work I had just delivered in the room!
You were in an accident that left you paralyzed. How did you emotionally handle things once you realized what had happened? What struggles did you go through because of the accident?
July 19, 2015 I suffered a fall from my balcony that was about 13 feet onto concrete. This was something I should not have survived, but what can I say, I'm a survivor. The next couple of years of my life were about to change drastically. Emotionally, I had to rely heavily on my family and friends to remain positive and keep moving forward. I've always been a positive person and look at the world as the glass is half full. I knew I had to dig deep and prove not only to myself, but also to the people in my life that this situation was no different; although not easy, but not impossible. Learning to remaster all the basic things in life again (i.e eating, bathing, dressing) was NO easy task, but with a massive support team I was able to do just that. It was my determination to continue my dream acting and getting back to the life I built in Los Angeles that helped fuel me in those physical therapy sessions. I remember doing those exercises and just mentally picturing myself working again, and a life I wanted to have.
Please share your typical on-set working day for "All Together Now."
A typical day on set started anywhere from 6 a.m. to about 8 a.m. The amazing thing about this project was how everyone worked together as a team, and did so with such joy—it was infectious. There was always someone willing to help me out, whether it was helping me push up a ramp, or help me just do a quick change so I didn't get lunch on my wardrobe. They made sure everything was accessible for me and if not, quickly found solutions to do so. It's something I'll be ever so grateful for, because it's the small details that have such a big impact for a person in my situation. The whole cast and crew went above and beyond, and for that I'm eternally grateful!
At what point did you decide to become an actor? What did your family and friends say?
I first knew I wanted to become an actor after my debut at the age of 12. It was a church Christmas play my mother was directing. My best friend's mother was playing the lead, and I played her son. I had a big solo right before intermission, and it was terrifying and exhilarating all in one. After the curtain closed on opening night and I heard everyone's applause for our cast, I knew I felt at home. Years later, when I told my parents I wanted to move to Los Angeles, they knew I was serious because I already sold my truck for rent. I had their full support. Little did I know my journey was just beginning, and I had no idea my journey was just beginning, or where life would take me. I wouldn't change a single thing.
You're SAG-AFTRA Eligible. Are you looking forward to joining the union or do you want to remain non-union for as long as possible? Why?
Becoming SAG-Eligible and obtaining my SAG card has been a journey in itself. In order to join the cast of the incredible "All Together Now" family, I had to get a loan from the SAG Credit Union. I'm blessed enough to have the support of my family and they were able to help me with half, and now I'm continually making payments to join this incredible union so I can continue to work and strive for my goals!! So…uhh…hire me please! 
Do you have a trick for memorizing your lines?
There are many tricks you can do to help you memorize lines, but what I have found that works for me is saying them out loud at various speeds and in various ways. I set my space up with some smooth jazz at a low volume, light my incense and start the work. My poor roommate probably wishes for a different process, but I try and maintain it in my room while doing so.
How did you connect with your agent?
That's a fun story. I had just decided to move back to Los Angeles and was ready to work. I had gotten an email from Central Casting about a rush call for actors with disabilities to work on the show, Speechless. It was going to be my first background gig since my accident. I was nervous about the logistics of being on a set without a friend there to help me out if need be, but I was determined to make it happen. So halfway through the shoot, I started to mingle and make friends. I met a young actress during lunch and we started talking all things acting. She had been acting in a chair most of her life and began telling me about her agent, Gail. She gave me Gail's information and said to drop her name and set up a meeting. I did, and the rest is history!
You grew up in Tennessee. What was going through your mind when you decided to move to LA? Who did you/do you live with, if anyone? How did you find your apartment? Where'd you get the money to make the move?
Growing up in a small town in Tennessee, I always knew I wanted to be in a big city. I had my eyes set on Nashville with an entirely different life plan set out. It wasn't until I met my now acting coach, who was doing a seminar in Atlanta, that Los Angeles became the new vision. He began telling me of an acting conservatory that was holding auditions as a way to start my life in LA. I flew out the following summer and started the audition process. I met some amazing people who have now become lifelong friends. That's where I met my now roommate and we've lived together ever since. Through highs and lows, we've managed to navigate the craziness that is an actor's life in LA, and have had a blast doing so!
After your accident five years ago, you needed to learn to live with a new normal. Now with COVID-19, you're learning another new normal. Compare five years ago with today regarding adapting to a new normal.
I have personally tackled the COVID new normal the same way as I did beginning my post-accident life. I take care of my mental health first and foremost. Listening to myself and knowing when to reach out and ask for help, and also lending an ear to my friends and family. I've tried my best to also maintain a balance of structure and routine, and also taking time to just breathe, and truly have some "me" time.
Anything else you'd like to say?
If I could leave any piece of advice here it would be this: trust yourself and know when you put your mind to anything the impossible turns possible. Don't let your inner saboteur control your life and dreams. Turn those negative thoughts into thoughts of "yes I can." Dreams CAN become reality when hard work and determination are applied. Life is beautiful and you've made it this far, Let's see how far you'll go!!
For more exclusive interviews with inspiring actors, make sure to check out the Casting Frontier blog.
---
Written by Ilana Rapp
Ilana Rapp is a media-savvy Generation Xer with instinctive wit, quick humor and a taste for deep human emotions. As a former (child) actress with Broadway, film and television credits, she is adept at, well, lots of things. She blogged on The Huffington Post and writes entertainment pieces for Casting Networks, Casting Frontier, NYCastings, Mupo Entertainment and New Jersey Stage. She is a huge fan of the television show "V." Ask her why her favorite number is 22. Follow Ilana on Twitter @LizardLadyNJ