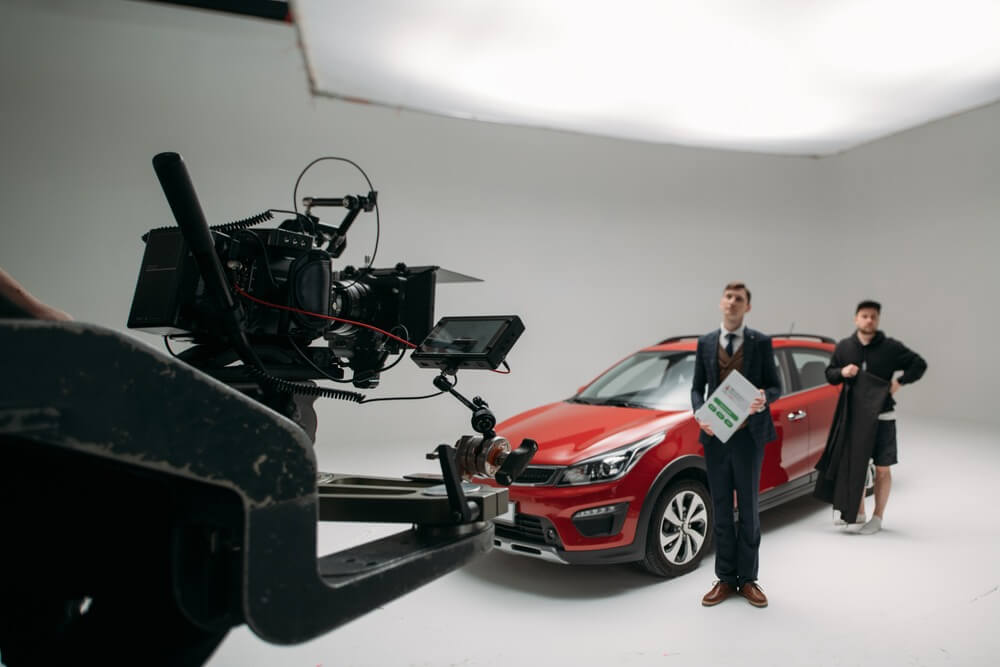 Commercials are a great way for actors to get their SAG-AFTRA card, earn health insurance and many actors support themselves by doing only commercials. They can be lucrative and fun and a way to make connections with casting and hone improvisation skills.
Achieving success in a commercial audition starts before you even step foot in the casting room. Being punctual, dressed appropriately and taking calculated risks when deciding what to submit on Casting Frontier will give you the edge in your audition. With these tools, you can make every moment your own and shine!
How to Get on a Commercial Casting Director's Radar
In your quest for commercial auditions, it is vital to have Headshots that represent how you currently look. The importance of a strong headshot cannot be overstated; your headshot and the variety of looks you present are essential for getting commercial auditions.
Take professional headshots and upload them to Casting Frontier according to the roles you want to be considered for. The more specific your headshots are for commercial submissions, the easier the casting director can envision you in the role and call you in.
Pay attention to the self-tape instructions. When self-taping for commercials, you will get a lot of instructions for how the tape should look, your full-body slate and your wardrobe. Follow these instructions to the best of your ability. Commercial casting directors want you to be successful, so have confidence that they have called you in because you are uniquely you!
Keep your profile up to date. Fill out your size cards and keep those up to date in your Casting portal. Casting directors look at your height, hair color and length, so ensure your profile matches your current "look."
Don't forget your special skills! Use the menu in Casting Frontier to select your special skills and rate your expertise. Whether you do Karate or play the Trombone, you never know what a casting director is looking for. You can attach media of your skill clips in your profile to show off via video.
Finding Casting Calls for Commercial Auditions
Casting Frontier posts both union and non-union commercials. Simply fill out your
profile with as much information as possible, upload your headshots and start submitting!
Whether logging in often or setting up notifications on your phone or email, there are commercials and print posted every day.
Take risks and step outside of your comfort zone. You may become a Casting Frontier success story as you find yourself doing Zumba with Jake from State Farm in a national commercial!
Preparing for a Commercial Audition
One of the best ways to prepare for a commercial audition is to research the brand and product and choose your wardrobe accordingly. If you are auditioning for the role of a Target Employee, check out what that employee wears! Pro tip – every September, school uniforms are on sale at big box stores where you can get deep discounts on those coveted polo shirts!
Watch commercials from the brand to see the style of ad they make. A great place to find commercials is iSpot, a centralized location where advertising agencies post commercials.
Don't just breeze through the script but take time to understand what is going on in the spot. Often, casting will send a storyboard along with the audition. If they send those valuable visual resources, take the time to look at them! Treat your commercial auditions with the same preparation as a theatrical audition and you can't go wrong!
Finally, taping your rehearsals is a great way to see what you are doing, and sometimes you can get the perfect "take" when you are relaxed and trying things out!
Making a Good Impression at the Commercial Audition
You've done the research and are wearing the clothes to match the role. The next (and most important step) is being on-time for your audition.
Whether in person or online, being on time for your audition and callback are necessary. It is polite and shows casting that you understand how to be punctual and can be trusted to show up on time when you are on set.
In-person is back, and you may have the chance to meet the casting director. Make them a fan by saying "Hi!" Don't shake hands unless they offer.
As important as the casting director is the session director. That's the person behind the camera giving you directions. They are often an actor as well as an employee of the casting company, so listen to them and be respectful. They can help you make your audition something truly special.
Respect the Non-Disclosure Agreement. NDAs are signed for almost every commercial. Sometimes you won't even know what the product is you are auditioning for. Make sure you read your NDA and follow it. This goes for social media posts too.
If you want to avoid some pitfalls in your commercial auditions, Casting Networks, our sister site, has some advice.
Standing Out from the Competition
Take risks and be fearless! Don't be afraid to "put a button" on your commercial audition. A button or tag at the end of a scene is a little extra improvised moment and can become a valuable tool in enhancing your creative energy and creating a memorable moment.
Remember, it is your audition, so it is your time to shine and stand out. Make the moment your own and be your authentic self. That is the best way to deliver a memorable audition.
Listen, listen, listen. A lot of information will come your way during an in-person commercial audition. Pay attention to the instructions; don't be afraid to ask if you need them repeated. The session director is your friend!
You've landed a callback! Stand out by being consistent. Make sure you wear the same wardrobe you auditioned in and perform exactly the same. You can refer to your self-tape to check out what you did!
After your stellar callback, move on to your next submission or audition. You may get an avail check (where casting checks your availability for the commercial); if you do, confirm it immediately.
Then, continue submitting yourself for more commercials. Don't limit yourself or your endless possibilities.
After the Audition
At this point, you have done your job. You've made yourself vulnerable by submitting for something out of your comfort zone, and they have asked to see more. Remember that commercials are often a "face lottery," and it isn't up to you.
Make sure you take care of yourself. Whatever that means, try implementing a routine for "after-audition care." Hiking, meditating, or hugging yourself can do wonders for your self-esteem.
Getting the audition is a "win," and every audition is the opportunity to grow the list of Casting Directors that love you (and read this helpful article on self-care).
Finally…
If you show up on time, in appropriate wardrobe and are willing to take risks in your auditions and when choosing what to submit for on Casting Frontier, you will make the moment your own and shine during your commercial auditions.
Bring yourself to every room you enter, and after your auditions, take time for self-care. You will nail those auditions and walk away feeling confident and satisfied that you did your job.
A final pro tip… if you are in Los Angeles, don't forget to pay attention to the parking signs and plan ahead. Add time to your drive to circle the block in Santa Monica!
Bookmark LADOT to help you on your Los Angeles parking journey.
Break a leg!
If you want to book more commercials, sign up or log in to Casting Frontier and get personalized notifications directly to your inbox!
Related articles:
Tips from Commercial Casting Directors
5 Commercial Acting Tips
Make the Most of Your Commercial Callbacks