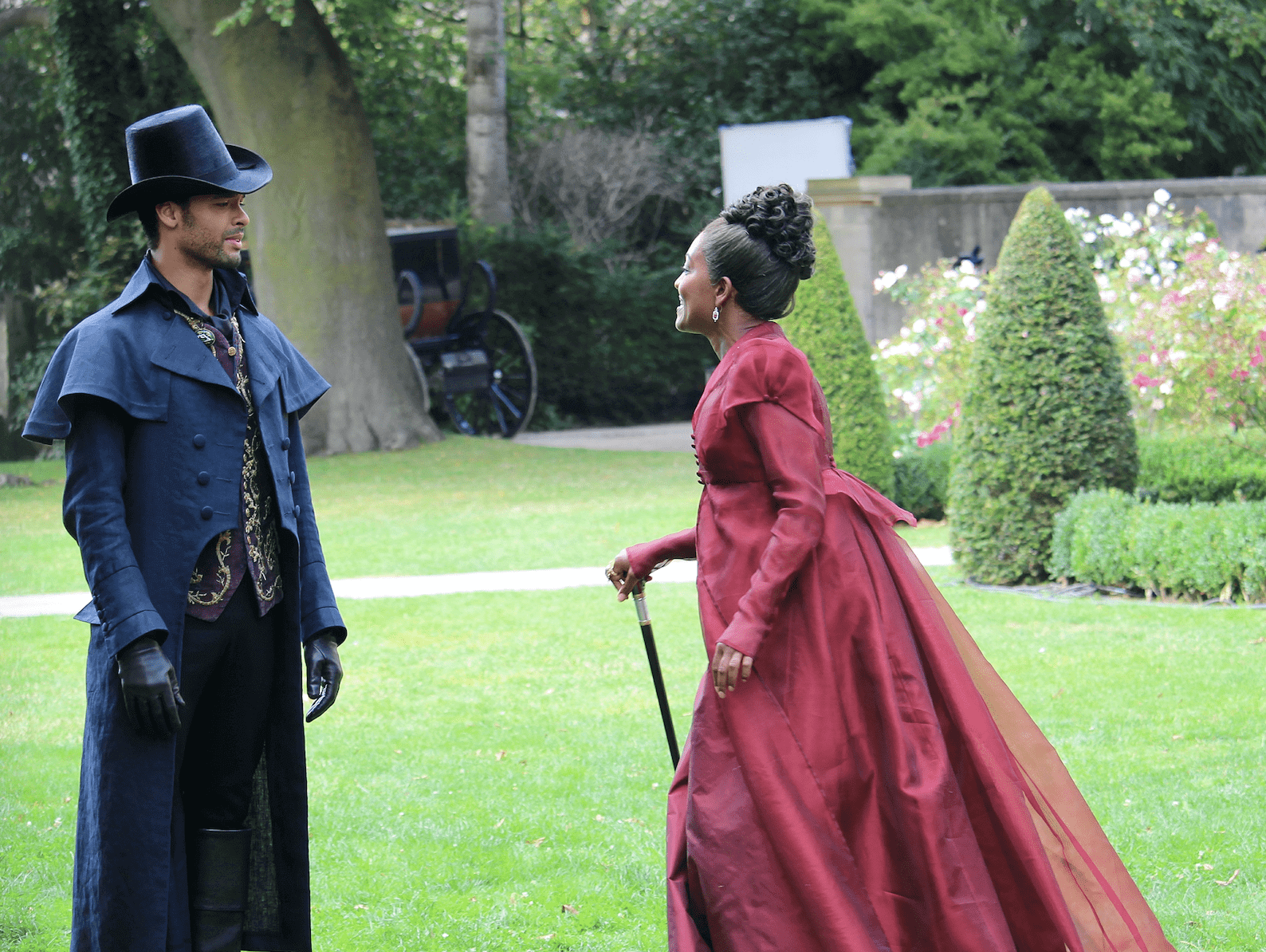 While 63 million viewers are binge-watching Bridgerton, the stars are likely recovering from all the training sessions they endured bringing the characters to life. 
Set in 1813 Regency London, siblings of a high-society family search for love in the romantic, provocative, fantasy series. 
Bridgerton is Shonda Rhimes's "epic" adaptation of Julia Quinn's popular book series where each novel covers a different love story. Shot in London, Bridgerton boasts a diverse cast from across the pond. Phoebe Dynevor stars as Daphne Bridgerton alongside Regé-Jean Page who portrays her love interest Simon, the Duke of Hastings.  
Preparation
Surprisingly, a whopping 232 costume-crew members created 7,500 costume pieces for the period drama. "I literally have a new dress for every scene," Dynevor told Harper's Bazaar. She also added that she was grateful to only have to wear a half corset rather than a full one.
As a requirement, each cast member read at least one of Julia Quinn's books to prepare for their roles. Likewise, Dynevor and Page attended dancing, voice, and etiquette lessons. Altogether, the duo learned how to talk, sit, eat, and walk like 1800's upper-class society. 
At the crack of dawn, Page would hit the gym. "There's a lot of physical activity involved, so I was on the full 'Rocky' regime for it," the 30-year-old actor told The Sun. "[My trainer] was horrible to me for an hour and a half every morning before the day started." Page also trained in pistols and had to take boxing lessons. Of the boxing scenes, he told Netflix, "They were some of the most challenging days in terms of doing many takes that were as close to the real thing as you're going to get, but we had some fantastic trainers. There's a very specific type of feeling of reward when you walk away from work physically exhausted at the end of the day, and knowing that it's going to look great."
 With all the dance, horseback riding, and general rehearsals, Page and Dynevor had plenty of time to bond. And, this bond helped them feel comfortable in regards to the sex scenes. However, they also were assigned an intimacy coordinator to prepare for the steamy bedroom scenes.
Intimacy
Bridgerton's intimacy coordinator Lizzy Talbot discussed her role on CBS Pittsburgh, saying, "My role is really as an advocate, a coordinator, and a choreographer … One of the things that we help implement is the closed-set procedures to make sure only people who absolutely desperately need to be there are involved with the actual shoot day … we try to get it down to bare bones and again there's a lot more privacy involved here."
She continued, "Just in the same way that a dance choreographer would choreograph the balls or a stunt coordinator would choreograph the fights, we choreograph the intimacy scenes. So we are there helping them with positioning and sort of breathwork as well the ability to maneuver physically together."
Dynevor recalled, "When we first met, we had the room with a bed in it, and [Talbot] just came in basically with a bag of things—and it was yoga balls and yoga mats and bits of cutout things and just all these tools that you can sort of use." Talbot uses these items to take the pressure off actors so they don't have to "rely on the good graces of their scene partner" during intimate scenes. She insists the key to approaching intimacy scenes is "good communication." Dynevor continued, "It really was like shooting a stunt; it looked real, but we've got padding on …  We felt super safe, and it just meant that when we got on set, we already knew exactly what we're doing. We'd blocked it all so specifically. I knew exactly where his hand was going to go at what point."
Season 2
After such an overwhelmingly positive reception, Bridgerton has been greenlit for a second season. But while the first season focused on Simon and Daphne's storyline, it's not clear which characters will next be showcased. However, rumor has it Anthony Bridgerton, played by Jonathan Bailey, will be at the center of season two.