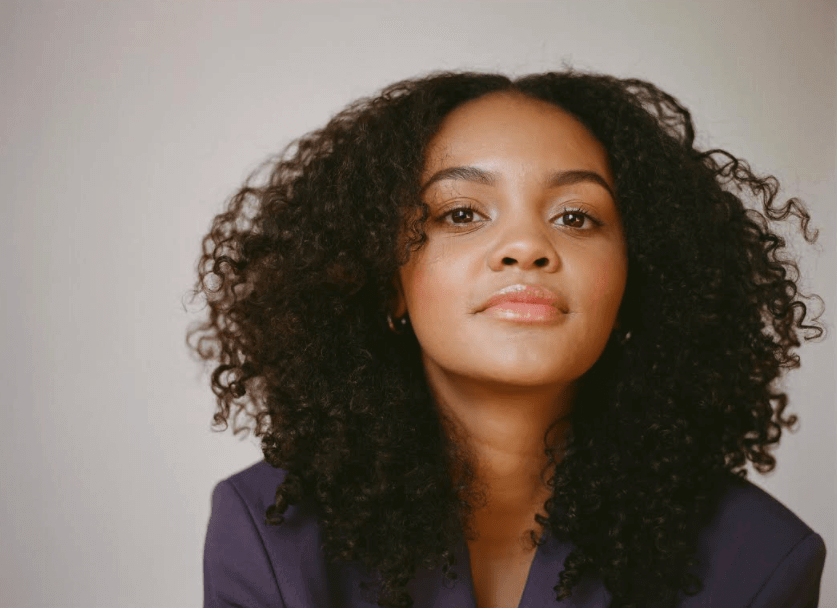 Freaky and Ghostbusters: Afterlife actress Celeste O'Connor is on the rise, representing Black women and women, in general, in the climb up the entertainment ladder.
Celeste is a prime example of how one can complete dreams and aspirations while at the same time, continuing her education.
Celeste O'Connor, a young actor, shares the details of her long-earned success in the film industry and talks about her upcoming college degree in public health and pre-medicine.
You're fairly new to the public eye as an actress, having completed the independent film, Selah and the Spades (2019) directed by Tayarisha Poe, Freaky (2020), and the upcoming Ghostbusters: Afterlife (2021). How did you jump from an indie film to a leading role in the Blumhouse Productions of Freaky?
Yes, I auditioned for Freaky. I actually shot Ghostbusters first, so I went from a smaller indie film right to Ghostbusters which was a big adjustment. It was really fun to go from a smaller set to a huge one. I didn't realize film sets could be that big and intricate honestly. I was definitely overwhelmed at first but the director Jason Reitman was so welcoming and encouraging I felt at home pretty quickly. It was also a challenge to be working on one character for four months because the longest I'd ever worked on a character was one month. It was challenging in the best way. But my agents sent me the Freaky audition and I did a self-tape. I wore a black tank top and cool baby blue eyeliner just because I felt like it. 
Not being a previous horror fan, it must have been quite an eye-opener to work on Freaky. Who on set did you learn from the most? What lessons did you learn?
I definitely learned a lot from everyone I worked with. Obviously, I learned so much from Vince Vaughn who's a comedy legend. He really showed me that the funniest parts of the movie were when we committed fully to the stakes of the situation and didn't look back. I think Vince also helped me learn to loosen up and try different things even if they might not work. 
We improvised a good amount and some of those takes ended up in the final movie which was really cool. Like the handshake that we do at the end of the kitchen fight scene wasn't scripted, we came up with that together on the day. So, that was really fun. 
I learned from Chris Landon (our director) how to be more open and vulnerable with everyone. Chris was open with us from the beginning and that made us all feel so comfortable being vulnerable and trying different things. And then Misha Osherovich and Kathryn Newton taught me so much too, those lovely people. Together, we really learned how to make those long night shoots fun.
You weren't born yet when the original Ghostbusters film was released in 1984. Most of the original cast is in Ghostbusters: Afterlife, such as Bill Murray, Sigourney Weaver, Dan Aykroyd and, Ernie Hudson. Tell us about your character.
My character is a friend of Trevor's (Finn Wolfhard's character). She basically welcomes Trevor to this new town that he's just moved to. She's sarcastic and confident which I love.
What was it like working with the original cast?

They were all really lovely. Bill was just making everyone laugh on set. Dan was really sweet, he sat and talked to us all and welcomed us to the Ghostbusters family. When I left the set he gave me a book about ghosts and signed it. When I met Ernie, he immediately gave me a big hug. It was so cool to meet all of them.
Who was the first actor you met from Ghostbusters: Afterlife? How'd that go?
The first actor I met was Finn. He's so sweet. I was definitely nervous to do the chemistry read but he was super nice and made me feel super comfortable.
You're currently a senior at Johns Hopkins University in Maryland, where you're majoring in public health and pre-medicine. What do you plan to do with your degree? Did you plan on being an actress when you started applying for and was accepted into college? Did winning these huge roles begin to make you think about changing your career path?
I always planned on going to college. I love learning and studying things to be honest. When I was applying for colleges I didn't know if acting was something that I would be able to do as a full-time career. But after I booked Ghostbusters, that really allowed me to consider acting full time more seriously. Now, I'm really excited to be graduating soon so I can act full time. I am still really passionate about public health and I think a lot of my political organizing and activism work will stem from my experiences at Hopkins as well as my degree.
You were born in Kenya but grew up in Maryland. Why, and when, did your family move to Maryland? Give us some family background.
My mother is Burundian, my father is American and they met in Burundi. They moved to Kenya to have me because of the political instability in Burundi at the time. And then they both just wanted us to have as many opportunities as possible so they moved to the States when I was really young so I could grow up here.
In your teen years, you studied singing and violin through the Peabody Institute's preparatory program. You were approached by a casting director at a talent showcase who put the acting bug in your head. What were you doing at the talent showcase? Was it through school? Why was a casting director at a school talent show?
I was at a talent showcase through a separate company called Shine where I performed a song and monologue. Casting directors and other entertainment industry people are invited, and you have the opportunity to connect and network with them.
You're signed with Paradigm Talent Agency. At what point in your career did you sign with them? What process did you go through to get Paradigm to sign you? 
I signed with Paradigm in 2015 I believe, that's really when I started acting. The casting director I met at Shine basically set up meetings for me with a couple different agencies and I chose Paradigm and Authentic. I realize now how blessed I was to be able to just choose who I wanted to represent me.
You can be seen as a role model for young Black women and girls. What advice do you have for them?
Don't be afraid to go after exactly what you want. I think Black women are taught to shrink ourselves and accept less than what we want or deserve. But we are the blueprint for basically every form of art — singing, dancing, acting, visual art. The best thing about Black people and Black women in particular is that we are creators, we create full beautiful lives out of nothing, we create new forms of art out of thin air. So, dream big and go after what you want without apologizing for it, because the world needs our creativity.
Being that you're growing in popularity in the entertainment field, is there anything you find overwhelming?
I have been acting and doing schoolwork at the same time for almost four years now, so I am pretty used to the workload of juggling both. I try to keep my work life and personal life kind of separate. I feel like actors tend to blur those lines but I think it's really healthy to have a full, fulfilling life outside of the entertainment industry. So, I'm not too overwhelmed with anything at the moment.
After you graduate, you plan on moving to California to further your acting career. Why did you choose CA over New York? What are your plans once you get to CA?
I've spent a lot of time going back and forth between Baltimore and New York. I've been on the East coast my whole life so I'm definitely ready for a change of scenery and no winters. I've saved money which I'm grateful for, so I'll use that to move. And I'm planning to live with my friends from college so that will be really fun.
What tips and recommendations do you have for young performers looking to break into show business?
In my experience, it's really important to remember that this journey is a marathon. It requires you to be really patient with yourself. I auditioned for three years before I booked Selah and the Spades. What helped me stay encouraged was just understanding that I love acting and therefore I love auditioning. Something I'm still in the process of fully learning is to be present in the work I do as I audition and detach myself from expectations and outcomes. We act because we are artists and every audition is an opportunity to perform your art and express yourself. Sometimes I get really wrapped up in goals I set for myself or wanting to book a project by a certain time and I've found that this attachment to where I "need" to be in the "future" just distracts me from the joy I find in acting in the present moment.
—
This interview has been edited and condensed.
---
Written by Ilana Rapp
Ilana Rapp is a media-savvy Generation Xer with instinctive wit, quick humor and a taste for deep human emotions. As a former (child) actress with Broadway, film and television credits, she is adept at, well, lots of things. She blogged on The Huffington Post and writes entertainment pieces for Casting Networks, Casting Frontier, NYCastings, Mupo Entertainment and New Jersey Stage. She is a huge fan of the television show V. Ask her why her favorite number is 22. Follow Ilana on Twitter @IlanaSpeaks22