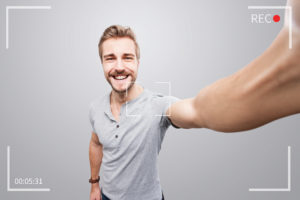 The biggest draw of online casting is the ability to put your best foot forward. Take a break from crowded casting calls and hurried auditions to let the perfectionist in you take control. Film as many takes as needed until you feel confident uploading the perfect video to your casting software. Digital casting also lets you submit from hundreds or thousands of miles away, expanding your possibilities exponentially.
Self tapes are an industry staple, on all levels. In possibly the coolest example ever, Josh Brolin had the Coen Brother's shoot his tape for Oliver Stone's W during the filming of No Country for Old Men. While you might not be that lucky, it is important to put time and effort into creating a polished, professional looking self tape to stand out to production companies and casting agents. We get it, you aren't a technical filmmaker. All the gear and accessories can be intimidating. The good news is your cell phone shoots such great video that they're widely accepted for film, tv, and commercial auditions. But what else can you do to stand out? We researched the best, and most affordable, pieces of equipment that will help you book that role you've been eyeing.
You're obviously naturally talented. It's time to make a self-tape that proves it to casting directors and producers. And they're busy people. Show that you value their time by going the extra mile. They'll remember it, even if it feels like they don't. And maybe one day the Coen Brother's can shoot YOUR audition tape. Break a leg!
Comments
comments