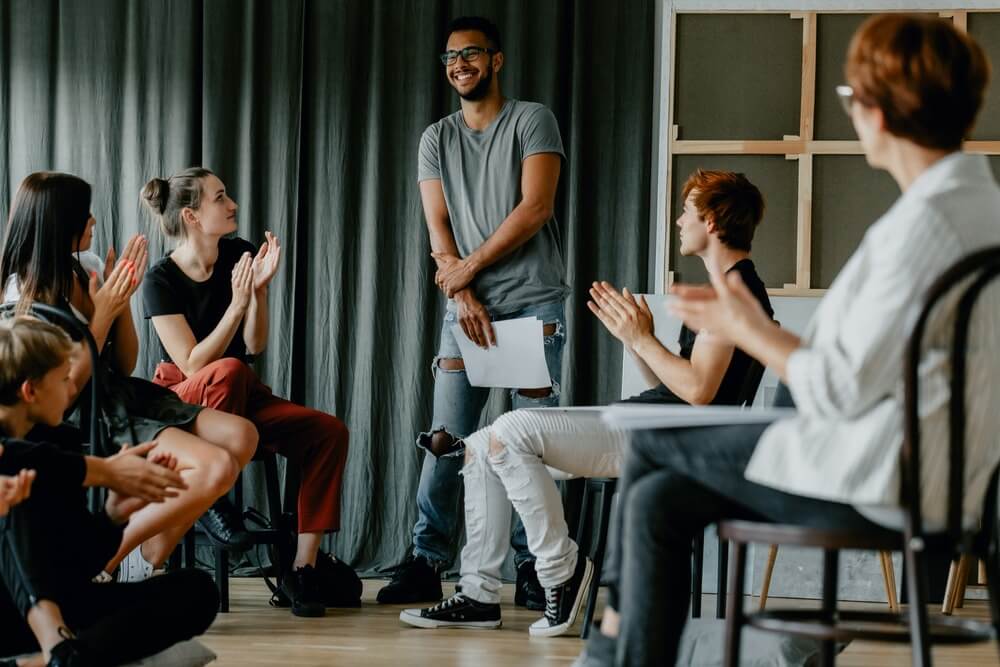 What's the Point of Having a Talent Manager?
In today's fiercely competitive entertainment and creative industries, having a talent manager by your side can be the defining factor between obscurity and success. Now is a great time to start investing in the people who can help further your career, and Casting Frontier aims to assist performers in finding prominent roles, as well as helping to form talent manager and actor relationships.
Let's dive into the critical role that a talent manager plays in shaping careers, unlocking opportunities and guiding talent toward the peak of success. Securing a talent manager is not just a wise choice, but an essential one for aspiring and established artists alike.
The Role of a Talent Manager:
Even the most well-trained actors don't fully understand the critical role a talent manager can play in their careers. Not only do they help an actor build their portfolio, but they are there to guide their clients through all that the industry may throw at them.
With a talent manager, an actor will have an easier time making sure their talent is not only recognized but maximized as well. Talent managers have been trained to develop talent in a way that presents their actors in the best light possible. They know how to form connections and open doors that might have otherwise stayed closed if not for them. With their eye for detail, talent managers will craft career strategies that align with an actor's unique goals and the entertainment industry's ever-changing environment.
Despite what some actors may say about talent managers not being necessary, they are actually what sets a serious actor apart from others. In this industry, it is important to realize that some people are indispensable, and a talent manager is one of them.
Difference Between a Talent Manager and an Agent:
A common misconception is that the talent manager and talent agent are synonymous—two different names for someone who completes the same job with the same responsibilities. Nothing could be further from the truth.
A talent agent finds and books gigs and auditions for creative professionals, while the talent manager will take on the responsibility of ensuring the talent is more than well-prepped for it. Talent agents are good for credibility, especially if they are well-known in the industry, and these are the people that casting agencies will go to when looking for specific talents.
When contracts come up, performers look to their talent manager to negotiate the terms and to ensure fair compensation. Talent managers will oversee the talent's day-to-day affairs, advise on professional matters in the entertainment industry and help them make personal decisions that may or may not affect their careers. A talent manager can also help performers find, or even change, a talent agent.
Also, consider the difference in compensation. Talent agents have been notoriously referred to as "ten-percenters" as they receive up to 10% for any union work their client may do. They do not receive compensation unless the client books work. A talent agent is typically paid by the production company. They will receive the payment, take their commission and then cut their client a check for the amount they earned.
A talent manager also earns on commission. A talent manager will receive a 15 percent commission on all bookings. This means that if you are working with both a manager and an agent, 25% of your earnings will go to representation.
The talent agent and talent manager relationship is a very strategic partnership, where they must work together if they are hired by the same actor. Ideally, they will collaborate as teammates and use each other as a sounding board for ideas that will best represent their shared client. This means they should coordinate who will make the call to the casting agency when they feel their client is right for the part, or go through scripts that they feel best represent the artist.
If the chemistry is good, the talent manager, talent agent and artist will be a leading force in the industry. Instead of considering the roles as two of the same, think of them as a ladder the casting agencies need to climb before they reach you—the talent.
Long story short: Talent agents are given the authority to make deals for their clients. Talent managers are the people who can establish connections and guide the talent artistically, personally and professionally.
How to Get a Talent Manager:
Securing a talent manager is a strategic process that will require you to be proactive and persistent. Focus on building a portfolio that shows off your talent, versatility and commitment. It should be a reflection of your best work.
Next, you will need to begin networking within the industry. This means attending industry events, acting workshops and making connections with other professionals. It will be easier to find a manager if you know more people—connections make the web of opportunities much wider. Also, attend casting calls and events as these are the best times to display your skills and attract potential managers.
Finally, make the most of online talent manager directories and blogs. They will serve as valuable databases to find potential representation. Be diligent in your research and reach out to managers who best align with your goals.
Keep in mind that securing a manager isn't as easy as waiting for the phone to ring. Be proactive, take control and start actively pursuing your dreams.
How to Find a Talent Manager:
Identifying a reputable talent manager will also require a strategic approach. Do your research and look into their track record, client testimonials and their success stories.
Seek recommendations from the connections you've made, as well as mentors who can vouch for their credibility. Once you've narrowed down your list, don't be afraid to interview potential talent managers. Ask questions that will showcase their approach, vision for your career and their connections within the industry, Then, check for industry affiliations. This means memberships in reputable associations and/or organizations.
Reputable managers will often have affiliations that show their professionalism. Remember, you will be entrusting your career to this person. Do your homework to ensure your career and goals are in capable hands.
Great talent managers make great artists even better.
Conclusion:
If you are considering acting as a professional career, a talent manager is a great step toward success. Talent managers build credibility and confidence and will guide you through the entertainment industry. Talent managers are a force to be reckoned with if you both believe in each other's work. Hiring a talent manager is one of the most important decisions you could make as a professional actor.
If you're ready to take your acting career seriously, start connecting with industry professionals who can help you at Casting Frontier.
You may also like:
---
Written by David Fang