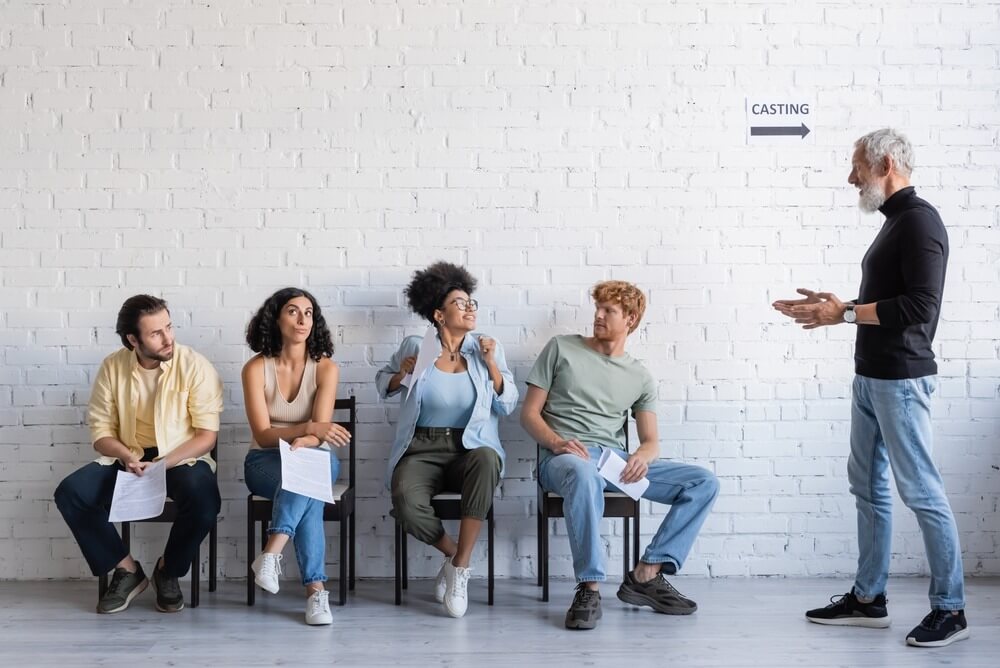 Four-time Emmy Award-winning casting director John Frank Levey has had a hand in the success of many of Hollywood's celebrated talents, such as George Clooney, Allison Janney and Anthony Edwards. With 35 years of experience casting iconic television shows, Levey's work includes ER, The West Wing, Shameless, Southland, Animal Kingdom and China Beach. He is a five-time winner of the Casting Society of America's Artios Award, and is the author of the book Right for the Role.
In a SAG-AFTRA Foundation career retrospective interview, Levey shares valuable insights into the business and offers advice for actors. Here are some of the highlights:
Growing as an actor
Levey takes the pressure off of actors who don't yet have representation. "First of all, there's no shame in it," he says. "Everybody was born naked and without a SAG card. So everybody started there. If you want to be an actor, you've got to take every opportunity to be an actor. You've got to realize that it's a self-realization and a journey."
Being an actor requires continual growth in both skill set and life in general. Therefore, Levey encourages actors to broaden their experiences and social circles. "If you're a big baseball fan like I am, go to the opera. See what that is like. If you find yourself sitting at a dinner table with six people, and everybody has the same political beliefs, the same religious background and the same whatever—attractiveness or education or whatever—have dinner with somebody else. Since your imagination and your experience is pretty much all you got, you've gotta spend your days expanding your experience and your imagination. Do stuff you're not comfortable with."
Casting ensembles is like making mobiles
In his book, Levey describes how he would make mobiles using shells and driftwood during his childhood summers in Martha's Vineyard. He likens this pastime of balancing natural materials to selecting talent for ensembles. "I know what you are when I'm sitting in a room with you. I get you, and I see a sense of where to put you," he writes. "I understand aesthetic balance. When you've got a fiery, passionate wild child George Clooney in one corner, you have to balance him out with a level-headed, pragmatic Anthony Edwards in the other."
Levey's bottom-line advice to actors
In "Right for the Role," Levey urges aspiring talents to: "Keep figuring out who you are so you can be yourself with honesty and delight, humor, and absurdity." To clarify what it means to "be yourself," he explains, "You have your experiences; you have your training; you have your body; you have your voice; and you have your imagination. A lot of acting is what-iffing yourself into the circumstances and emotional state and experience of the character."
Greeting the actors
When there was a line of actors waiting to audition in person, Levey liked to step outside the audition room and greet the performers in the waiting area. He hoped this brief interaction would ease their nerves and help them give their best performances. "It wasn't because I was the nicest guy on the planet Earth," he admits. "I wanted to go home and have dinner with my friends, my family, or be with my children. And I didn't want to be in the office setting up [for] tomorrow because today was a failure. But also I understood organically that you needed to feel welcomed, comfortable, in order for you to do your best work. I was committed to the project and committed to you."
On failure
Along with his many successes, Levey has experienced his share of failures. "Failure is such an amazing teacher," he says. "And it's also such a constant part of an actor's life that you have to turn it into an opportunity to learn and grow and change. Otherwise, it will beat the living hell out of you." Every disappointment reveals life lessons, and an actor must find a way to turn the mishap into motivation. "I think you have to find a way to make it into food, so that you can triumph over it—so you can see it as an opportunity. It's brutal. And as many actors as I've hired, and as many people as I've brought joy to, it's probably tenfold the number whose hearts I've broken. And I had to figure out a way to make that feel okay, too."
If you want to be a duck…
Aspiring actors must find ways to act, one way or another. Levey jokes, "If you want to be a duck, you've gotta spend a lot of time quacking, I guess." He encourages actors to view auditioning as an opportunity to do what they love to do: act. "Also, you can get together with friends and read a script and then have a beer. Or you can make a movie on your phone." Each effort an actor makes leads to new relationships, new opportunities, and learning from others. "One thing really does lead to another. The knee bone really is connected to the thigh bone. It really is the truth," Levey says.
Want to get booked for delivering your most authentic performances, sign up or log in to Casting Frontier and get personalized notifications directly to your inbox!
Related articles:
Actors on Dealing with Failure
How to Seem Natural When You're Acting
5 Tools For Actors to Stay Sharp