Many folks enjoy a Thanksgiving tradition in which they go around the dinner table and ask each person to name one thing for which they are thankful. Doing so allows others to hear what's most important to their loved ones at that particular time, fosters a sense of togetherness, and it warms the heart as well. But now that Thanksgiving has come and gone, it's time to consider keeping this momentum of gratitude alive and well every day of the year. After all, being in the habit of perceiving the world through a lens of gratitude is a powerful tool in maintaining a relaxed, healthy, and vibrant life.
The Tremendousness video above discusses the many benefits of nurturing a spirit of gratitude. In fact, research shows that practicing an "attitude of gratitude" measurably improves a person's psychological and physical wellbeing. For example, a thankful heart promotes happiness and reduces depression; it can lower blood pressure, take the edge off of chronic pain, boost energy, strengthen one's resiliency, and even lengthen a person's life span. Gratitude is also credited with improving people's relationships as well as their performance at work.
"Gratitude actually rewires our brains, kickstarting the production of dopamine and serotonin. Like antidepressants, these feel-good neurotransmitters activate the bliss center of the brain, creating feelings of happiness and contentment. This appears to be self-perpetuating. Research suggests that with regular practice, you'll train your prefrontal cortex to better appreciate and retain positive experiences and thoughts and to deflect the negative ones," the video states.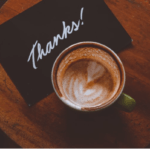 You can cultivate your gratitude by simply reflecting on the things you're most grateful for before falling asleep. As an added bonus, this practice promotes an improved quality of sleep. Other beneficial habits include celebrating minor accomplishments and thinking about what you do have rather than what you don't. Also, is there a person who told you about a great class, introduced you to someone, gave you a gift you really appreciate, or was there for you at a critical time? If so, reach out to that person via phone, text, or a thank-you note to express your appreciation. Be genuine. And remember that gratitude has a ripple effect.
Gratitude Journals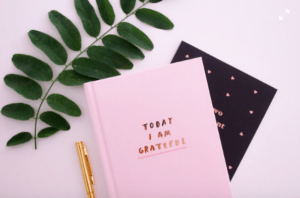 Another great way to tap into your gratefulness is to create a gratitude journal. The world's leading scientific expert on gratitude, Dr. Robert Emmons, professor of psychology at the University of California, Davis noted that those who write about the things for which they're thankful demonstrate significantly higher states of well being than those who do not. There are many journaling strategies to consider: 
Some people simply write down three things they're grateful for each day.

Others take one minute to think about things they appreciate, then they take a minute to jot it down in a journal, and then they take a minute to quickly text someone a thank-you text or email.

Health wellness and weight-loss coach

Dani Spies

encourages people to take their time and reflect more deeply as to

why

they are thankful about aspects of their lives. "I find the best way to [actually feel grateful] is to list one thing you're grateful for and then five reasons why you're grateful for that thing." She continues: "Another great prompt for journaling is to think of something that you have or you use on a regular basis, and then take a moment to consider not having that thing. That will also shift you into gratitude very quickly." 
Regardless if you make journal entries every day or once a week, deliberately focusing on the things you appreciate is bound to do you good and inform your decision making. Ultimately, the key to a life of gratitude, Emmons argues, is to see all of life as a gift.
Comments
comments