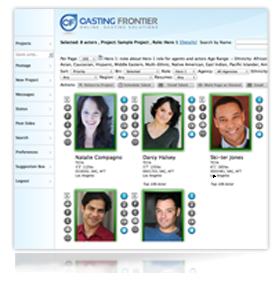 Did your agent create your Casting Frontier profile? Or did you create your profile yourself?
In either of these instances, it's important to note that your profile is considered the talent's property and thus it's your responsibility to maintain it. In other words, regardless of who created your account, it belongs 100% to you, the actor. So, if you've developed a new skill, have an additional credit to add to your resume, have fresh headshots, or switched to a new agent, please take the initiative to update your profile on a regular, as-needed basis.
What happens to my profile if I eventually leave my current representation?
It's important that you feel able to maintain the ownership of your profile. First of all, you'll need to disassociate from any agent that you leave. Similarly, if you've added or changed your representation, it's your responsibility to make the updates on your profile whenever such a change is made. In circumstances in which an actor's agent drops him or her, then the actor's profile will automatically change to unrepresented. By properly maintaining the status of your agent on your profile, you are preventing problematic issues with bookings and avails in the future.
How can talent make changes to their profile?
To make any profile changes, talent can log into their profile at castingfrontier.com. Casting Frontier has a number of helpful support tutorials on their support web page, including how to Modify Your Profile. Also, for immediate help in updating their representation or making profile changes, talent can call (323) 300-6129 or email [email protected]
It's Casting Frontier's goal to make your online experience as user-friendly as possible.