There is a phrase that I love… "The Precision of Pain, the Blurriness of Joy." This phrase hits on a universal truth. When we are joyous (our natural state), all seems well and flowing.
The flow stops with the awareness of pain. It is often challenging to do anything without healing what is causing the pain. School is in session.
As actors, we can use this as our gateway drug into the character. Our actor's instrument, if sensitive enough and trained correctly, responds to a false moment as if it were pain. We are out of the flow of truth. This is our unconscious letting us know that we have encountered a locked door to the mansion of the character, that when opened – will reveal a whole other wing that we may not have even knew existed. Using a different intention, a different tactic, playing opposites, or building in a stronger backstory are various ways to go through the problem without skirting the opportunity.
As in all areas of our life, if a problem presents itself and we choose to ignore it, the lesson will continue getting louder and louder, more and more painful. We might as well deal with the problem in it's infancy (and before it buys a gun!).
A brilliant performance is simply the accumulation of many small brilliant moments. If one moment is false or faked, the audience loses trust in us. As one of my Gurus, Judge Judy, always says "if you lie to me once, I can't believe anything that you say."
The truth isn't casual or easy, but it is interesting. We don't get truth from our journalists, politicians or religions. The actor's job is to bring the truth to the table. We make the imaginary true, which is not the same as lying. Not the same at all. Lying is just saying words, acting is living truthfully in imaginary circumstances as if it were happening to you for the first time in the given moment (and that is much easier said than done).
My truth is different than your truth. I believe in God and find evidence of his existence everywhere. Someone else is an Atheist and finds evidence of his non-existence everywhere. Who has a stronger grip on the truth? The reason that we love certain actors is that their sense of truth aligns with ours and we REALLY believe them. Actors stock-in-trade is truth, it is our everything.
The world needs truth now, more than ever. Please share yours.
---
Jeffery Marcus has worked as an actor on television series', in features films, on Broadway and regional theaters. He has taught acting classes and coached in Los Angeles for over 25 years, and also does media coaching for celebrities and executives. Visit him at JeffreyMarcus.com.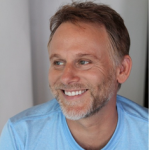 Comments
comments