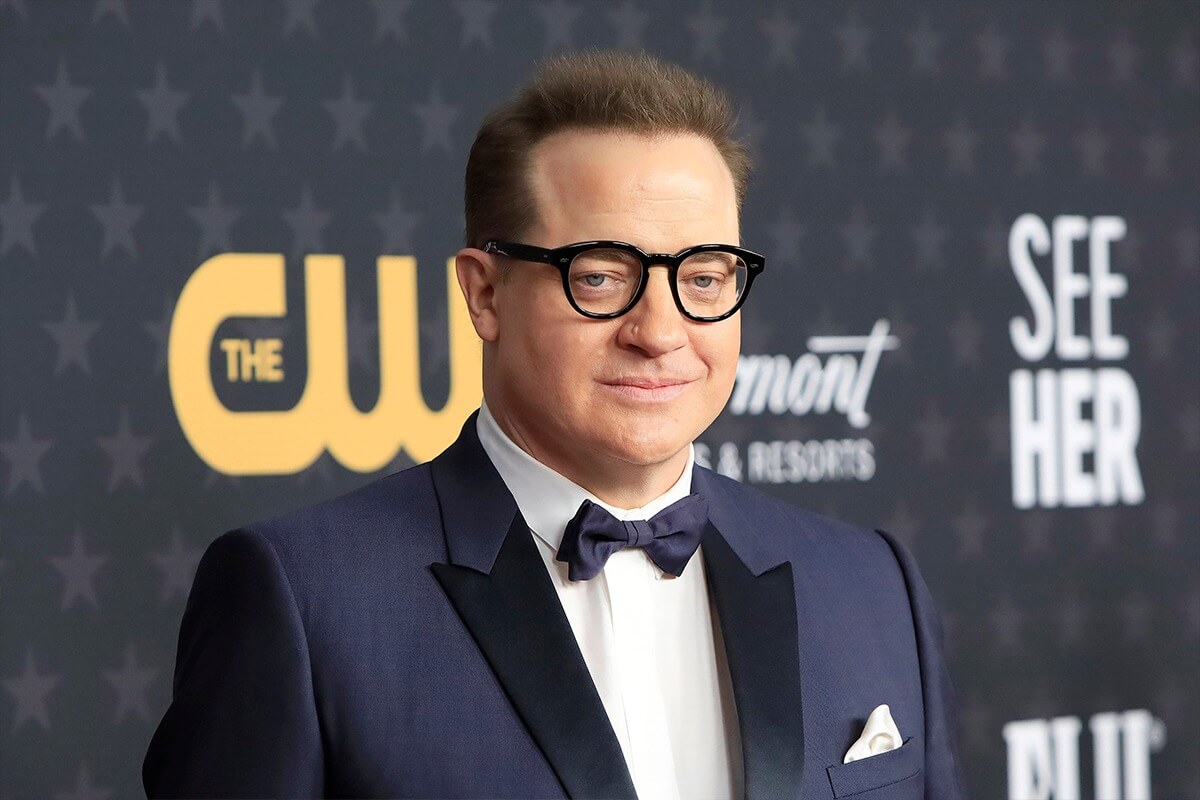 Brendan Fraser's performance in "The Whale" has been met with an Oscar nomination for Best Actor in a Leading Role, and the part represents a major comeback for the beloved actor—his first leading role in almost ten years. The story follows Charlie, a homebound English instructor who teaches remotely. He suffers from severe obesity, and is determined to make amends with his estranged daughter. 
"[Charlie] has a superpower that the writer endowed him with, and that's to see the good in others and bring that out in them even when they can't see that in themselves," Fraser shared.
At the Venice Film Festival, the crowd gave the actor a six-minute standing ovation when "The Whale" ending credits rolled, leaving Fraser overjoyed and in tears. "It was quite overwhelming for me," the Indiana native told "Jimmy Kimmel Live!" "I hadn't seen the film with an audience before." 
Fraser's past work
Fraser says he has a preference for playing "fish-out-of-water" men. His breakout roles were in the blockbusters "George of the Jungle" and "The Mummy." His other film work includes "Gods and Monsters," "Crash," "School Ties" and "The Quiet American." However, years of performing his own stunts in action movies took a significant toll on the actor, resulting in multiple surgeries, including a lumbar laminectomy—a procedure to remove vertebrae from his spine, a partial knee replacement, and vocal cord repair. Over the course of seven years, the star was a regular at the hospital as opposed to movie sets.
Casting Charlie
After seeing "The Whale" as a play in 2012 in New York, director and producer Darren Aronofsky searched for a decade to find an actor to play the role of Charlie on film. When he saw Fraser's work in the indie film "Journey to the End of the Night," he knew he'd found Charlie.
"[Aronofsky] did tell me that it would be helpful to him to hire an actor who everyone already felt they already knew, but they hadn't seen in a while and to reintroduce whoever that is," Fraser revealed. "That's what he told me in our initial meeting, and of course I was like, 'It's me, please let it be me,' in my mind, but I didn't know if I had the job or not. And I understood what he was saying because, it's fair; I was in everyone's living room for a while in the '90s there. I was like the furniture to a whole generation of young people now who have kids of their own. I'm old. But it made sense that he was looking toward someone because Charlie should feel like someone that you know. Everybody should be able to identify with him and people can do that. I can see I've learned that they can do that with me, with Brendan," he said on "The Howard Stern Show."
"It's the right actor for the right part at the right time," Aronofsky told Variety. "I considered pretty much everyone on the planet for the role. And Sam [Hunter]'s writing would attract many actors to play the role, so that wasn't the problem. It was just about getting that feeling inside of a reason to make the film, and putting Brendan in the film was a reason to make the movie."
When he won Best Actor at the Critics Choice Awards, Fraser said, "Darren Aronofsky, I was in the wilderness, and I probably should have left a trail of breadcrumbs, but you found me. And like all the best directors, you merely just showed me where to go to get to where I needed to be."
Preparation for the role
For a better understanding of the character, Fraser worked with the Obesity Action Coalition, an online organization that supports people who live with obesity. "Overall, they impressed on me that they want the story to be told with authenticity," Fraser said. "I think that it gave me a strong sense of obligation to portray this character, Charlie, with the dignity and the empathy that he deserves." He told Vanity Fair, "I wanted to disappear into [the role]. My hope was that I would become unrecognizable."
Aronofsky scanned Fraser's body with an iPad and sent the digital information to Adrien Morot, an award-winning prosthetic makeup designer. Morot created the prosthetic—designed so all of Fraser's natural facial expressions would be left unhindered. Makeup and prosthetics added 300 pounds to the actor to give him the appearance of weighing 500 to 600 pounds, taking four hours each day to prepare for the shoot. The complex costuming apparatus included bags of ice to prevent Fraser from overheating.
Transformation
Fraser said his role in the painful drama transformed him, and he hopes it transforms viewers as well. "When we watch a work of cinema, art, film, or drama, we experience a collective emotional release or something. You feel something and you may not know why, but you feel it, and it changes you," he said.
According to IMDb, the actor has two upcoming roles lined up. Fraser will be acting alongside Glenn Close and Peter Dinklage in "Brothers," as well as in the Martin Scorsese film "Killers of the Flower Moon" with Robert De Niro and Leonardo DiCaprio.