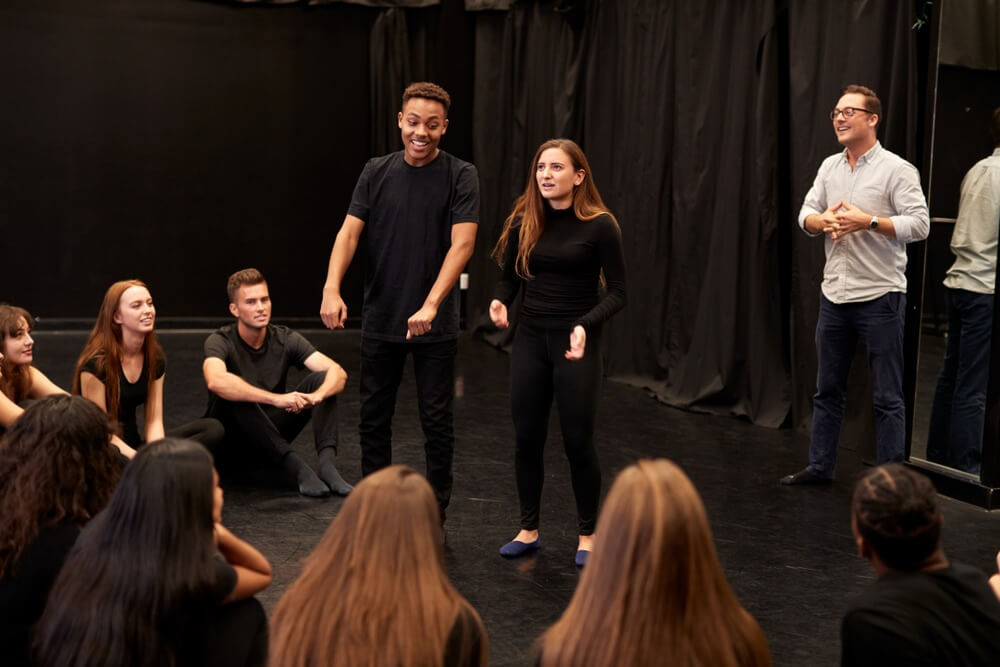 Are you ready to grab your piece of the spotlight? If you have aspirations of being a teen actor, you are in luck. Now is a great time to "set the stage" for achieving your dreams as a performer. Whether that means theater, commercial work, television, or even film, it's all up to you on how you want to start.
There are some actionable steps that you can take to make it more likely that you will have success at a younger age. The acting world can be challenging, but with the right attitude and the tips below, you'll be well on your way to getting a variety of acting jobs. Here are the essential steps to becoming a successful teen actor.
Start Local With High School and Community Theaters
Local productions are a great way to start building your skills and comfort level performing as a teen actor. One of the best ways to start is by taking classes, either at your high school or around your neighborhood at a community theater. Many of these community theaters offer classes that you can take from beginner to a more advanced level. These classes and workshops will get you used to being on stage, introduce you to what goes on behind the scenes and increase your skills as a performer. The more classes you can take, the better prepared you will be in your acting craft.
You will then want to get into as many local productions as you can audition for. It often costs very little to do these local productions, and it's truly how most young actors get started in the industry. So many of today's top talent in film and television started doing community theater right in their hometowns, including Hugh Jackman, Chris Evans and Adam Driver.
By doing local community theater productions, you'll be able to build up your portfolio of work and experience. Teen actors must have a variety of roles under their belt when auditioning for bigger things, like television or film roles. Community theater offers a low-stakes way to be a portfolio builder so that you'll be more comfortable auditioning for any job in the entertainment industry.
Doing productions and classes around your town also provides you with some networking opportunities. These connections within your community may help open up roles in local television work, or depending on where you live, films that are shot in your area. If you live in places like New York or Los Angeles, it's a given that many shows and films will be shot there, but film and television work takes place in other cities too, like Atlanta, Dallas, or even Cleveland. Local connections can be invaluable later on when getting into some of these more coveted roles for teens.
Balancing School With Acting
Even if you know you want to be an actor as an adult, it's vital to get a good education. There are many skills you'll need in life that you'll learn in school. The more education you have, the better off you'll be in the long run. Education is a safety net, and there are many things you'll learn in school that will help you navigate the world. Plus, it's helpful to draw on real-life experience and education in your acting craft.
Being a teen actor and performing in local shows, commercials, television or film takes time away from your school and personal life. You need to learn good time management tips so that you can juggle it all successfully without getting too overwhelmed. It's important to prioritize eating well, getting enough rest, and self-care.
If you find that you are getting behind in school, there are resources available for online schooling or tutoring. Don't be afraid to ask for help if you are falling behind. The sooner you get back in step with your studies, the easier it will be to catch up, especially when you are working consistently.
The Many Legal Considerations
As a teen actor, you also have to be very careful about missing school for projects. There are attendance requirements to graduate, so make sure you speak with your school's administration to make sure you're on the right track. To make sure you aren't absent too often, your guidance counselor can help you with checking your school credits and days missed.
There are employment laws that affect school and work for teens, which aren't a factor for adult actors. The U.S. Department of Labor specifies "child entertainment laws" for each state on its website. It's a helpful resource to look over to make sure that you are following the federal laws for children working in the entertainment industry. This resource goes over specific laws in each state regarding child entertainment rights, and teens fall into this category.
What Teen Actors Need to Know About Employment Laws
There are age-related work restrictions to consider. These guidelines will cover the breakdown of working hours, whether a teen needs a permit or not, and age restrictions. For example, in some states, a teen is required to have written permission from a film office to work on-set.
Plus, there are specific hours that a teen may work, and they are not allowed to go over that amount. Most of the professional productions that a teen will work on will be aware of the laws and permits required in the state from the Labor Commissioner.
There are also legalities around contracts and pay for teen actors. You should expect fair pay for your work and not get taken advantage of for your time. With child actor laws, the contracts are very specific on where the money goes. For example, in California, all of the money that a teen actor makes goes into a "Coogan Account," which was established based on the Jackie Coogan Law. This helps to ensure that a child actor doesn't get taken advantage of financially by a parent or legal guardian.
The Important Role of Parental Involvement
For teen actors, a parent or legal guardian must be involved to a certain extent. It won't matter so much in local theater productions, but once you start doing more professional work, a parent will need to be involved. Your legal guardian will have to sign paperwork on your behalf and make sure that your work permits are in order. Plus, for teens under a certain age, having a legal guardian or parent is required when you are on-set.
Being a teen actor is a challenging experience. You'll be dealing with rejection and situations that can affect your emotional health. Parents can be helpful with emotional support and career guidance. Don't be afraid to open up to them when you are having difficulties in your performing life, or when a casting call doesn't go as planned.
There is a reason that most famous actors thank their parents for their support when they are achieving their dreams and accepting honors, like an Oscar or Emmy. Your parents are the ones who will be right there behind you, helping you become successful in a very difficult industry.
Final Thoughts and Takeaways
Start with local productions to build a great teen acting portfolio
Balance school and acting so you don't get behind
Be aware of child entertainment employment laws
Have your parents or legal guardians involved for emotional and career support
Now that you have some idea of how to become a teen actor, all you have to do is step up and get to the right casting call auditions. Build experience with each role you do, whether that's on a local stage in your community, or for your first big film role.
Enjoy the journey to becoming a successful teen actor! Before you know it, with the right experience, you'll be well on your way to Hollywood.
Ready to book your first role as a teen actor? Sign up or log in to Casting Frontier today!
You may also like:
---
Written by Kelly Reising