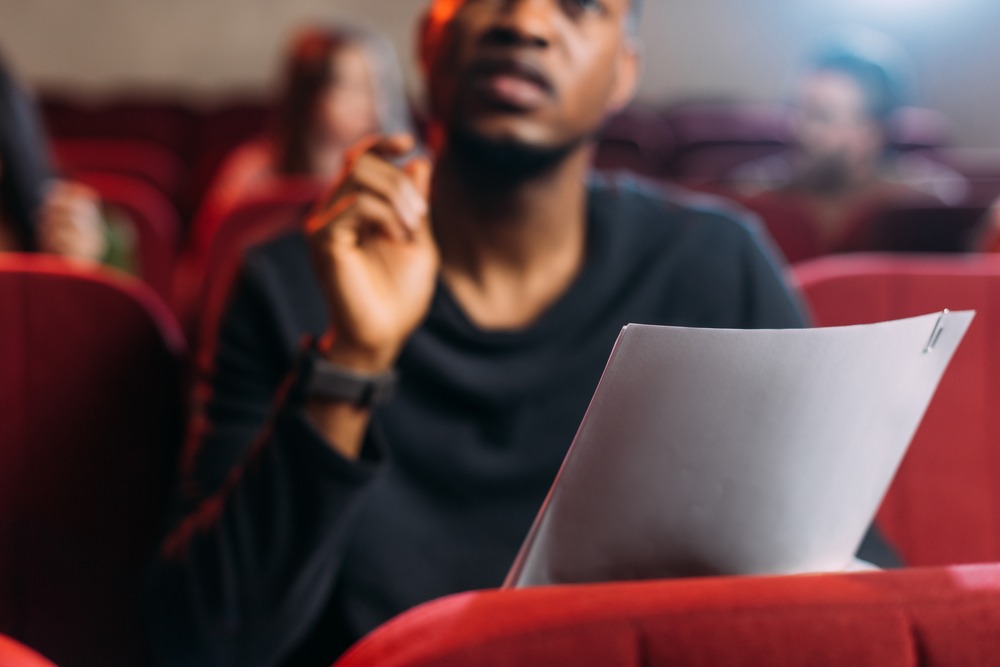 Casting director Seth Caskey is known for his work on the Emmy-nominated Netflix series "GLOW," "What/If," "Siren," and "Blood Treasure." Working with Elizabeth Barnes and Jen Euston on "GLOW," he earned Artios Award nominations in both 2019 and 2020. Initially, Caskey was drawn to casting while pursuing a career as an actor. Now from a casting director's vantage point, he offers the following insights about auditions during a Hollywood Pro Acting Tips interview.
What personal quality stands out the most in talent?
The person's energy or the vibe is what Caskey first notices about performers whether it be an in-person or a virtual audition. "I think it's the actors, that there is a confidence to them — not in a cocky or arrogant way, but in a I'm-owning-my-time-and-my-space-in-the-room [way] — really treating that self-tape like they would treat a take. And they are presenting, 'Here's my version of this character based on the script analysis I've done. Based on the breakdown I got, this is my version of it.' Actors who can really sort of stand in the confidence and own themselves, I think that's what stands out. Those are the actors that sort of spark you or you pay attention to because they just bring something with them that's intangible but is very much recognizable."
The performances that stand out
While each character is unique and can be portrayed in a number of ways, Caskey is on the lookout for two main elements. "As I am watching an audition there are really two questions that I'm asking myself … One is: 'Do I buy this person in this part?' Like if it's a teacher or a cop, do I buy this actor with the essence and energy they're bringing in right now as this character? Do I believe them as this character? And then: 'Do I believe the words that they're saying?' Are they speaking truthfully as a real human being and not auditioning and not acting in the moment, but really being a real person that I believe? And if both of those are yeses, then that's an audition that I want to put forward."
Caskey will remember a quality audition, regardless of the outcome. When actors are able to be both believable as the character and bring authenticity to the dialogue, even if they don't book the part, he says, "I'm going to say, 'You're someone who is a good actor that I will bring back to give the same opportunity again, and then what's for you is for you."
Should actors be off-book while auditioning? Different casting directors have various opinions about requiring actors to be off-book while auditioning. Caskey took the time to spell out his expectations.
Small roles
"If you are coming in or self-taping one or two lines, a page at the most, and you've had more than 24 hours with the material, I do feel you should be off-book because there's a chance you could show up on set and get new pages, and in four hours, you're shooting it and have [to have it] memorized. So you're not memorizing chunks of dialogue, you're not memorizing a bunch of blocking; you're memorizing two, three, five lines. Those you should be able to come in and do off-book. That being said, it's an audition. I'd much rather you have the paper in your hand and be off-book and have the page there if you need it than you not have it and forget your line … That way, you could just go down and get the line. Personal tapes, you can have the page or not — it's up to you."
For a series regular or guest-starring role
When talent receives over one page of material or is cast in more than one scene, the size of the part allows for more leniency in Caskey's eyes. "In my opinion, and the way our office works, I think up until you're testing, have the pages. On a pilot, the script that you get at the beginning of the pilot or the script that we make available today is oftentimes very different from what they end up shooting," he acknowledges. "And I can't tell you the number of times that I've put out appointments for two days from now, then we get new pages, and then we're rushing to get those actors those new pages. And then hopefully the rest have got them, but they may or may not." Caskey understands how challenging the situation can be for actors so finds that holding the script in hand can be assuring to performers, if needed. However, as time progresses, his expectations rise. "By the time you're testing, absolutely, 100-percent off-book. It's performance level at that point because you've got all of the studio execs and network execs in there saying 'This is the person we're willing to spend this money on and hang this show on.' You need to show them a performance-level performance."
Comments
comments