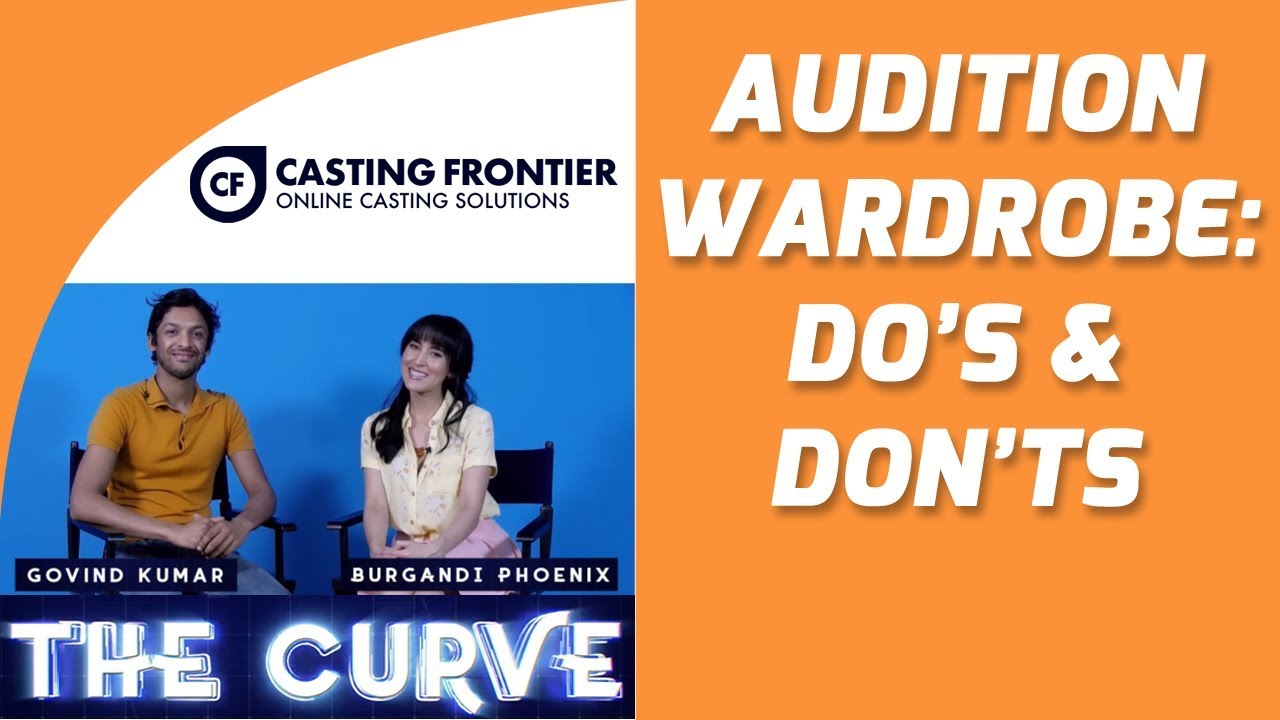 On Casting Frontier's 17th episode of The Curve, Burgandi and Govind discuss what to wear to auditions. First impressions matter and an actor's wardrobe choice can make a big impact—hopefully for all the right reasons. Here are some tips to consider when selecting your next audition-room attire. 
1. Dress appropriately for the role
"The number one thing to always do before you start to pick out what you're going to wear to the audition is to read the description, the breakdown, because that's your guide," Burgandi and Govind assert. Dress the way the character would dress. It doesn't make sense to come in wearing a T-shirt and shorts, say, if you're trying to look like a lawyer. Rather, a long-sleeved, button-down shirt is more fitting in this instance—or a suit. When it comes to commercial auditions, it's helpful to observe what characters in specific categories are currently wearing in commercials and incorporate those looks into your wardrobe. Also, make sure your attire matches the time period in which your character lives.
2. Don't dress too specifically for the part
The idea is to keep your image open-ended. If you wear a bonafide pilot's uniform, you risk only being perceived as a pilot; whereas if you choose an ironed formal work shirt, casting professionals—who are always on the lookout for not just the part at hand but future roles as well—might consider you for the role of a doctor or lawyer as well. Generally speaking, casting will inform actors if they want them to wear highly specific costume choices. However, actors are usually asked to wear a labcoat when called in for doctor roles.
3. Reveal something distinct about you as a performer
"Have something that sticks out a little bit," Burgandi suggests. Each person is unique and there's always a little room to play around with self-expression. But whatever you decide, it's much more important to stand out for your performance instead of your clothes. "You don't want yourself to be defined by your outfit, but you also want to have it add to your personality," Govind says. 
4. Wear flattering colors and styles
Consider getting your clothes altered so they fit properly and flatter your figure. Solid colors are recommended as opposed to high-contrasting patterns, polkadots, and stripes. Choose colors that match your skin tone. Blues, for example, are known to be flattering on most people, and they look pleasant on camera as well. Neutral tones like gray or light pastels are pleasing on camera too. Generally speaking, actors are encouraged to wear darker colors for dramatic roles and brighter colors for comedic parts. Avoid graphics on T-shirts and anything that features logos, wording, sparkles, or distracting images. Stay away from flashy or dangling jewelry as well as it can distract from your performance. Wearing too much white is visually overwhelming on camera; too much black can age an actor. And if you're auditioning before a green screen, make sure not to wear green or else you will blend into the background.
5. Focus on comfort
Wear something that makes you feel confident and comfortable. Pay close attention to shoe choice. If wearing high heels is painful or you're a bit shaky while walking across the room in them, then make a different shoe choice. Also, everyone in the room is comfortable when actors are clean, smell fresh, and are well-groomed.
Most importantly, let your excellent acting take center stage over whatever wardrobe choice you make!
Casting Frontier's YouTube series The Curve is hosted by Burgandi Phoenix and Govind Kumar. Stay ahead of the curve by learning more valuable tips and stories from an assortment of industry insiders each week.
Want to get your acting career started? Sign up or login to Casting Frontier and start auditioning today!
Related articles:
What is Timing for an Actor? Bring It: Episode 18
3 Tips for Commercial Auditions
Understanding Fi-Core