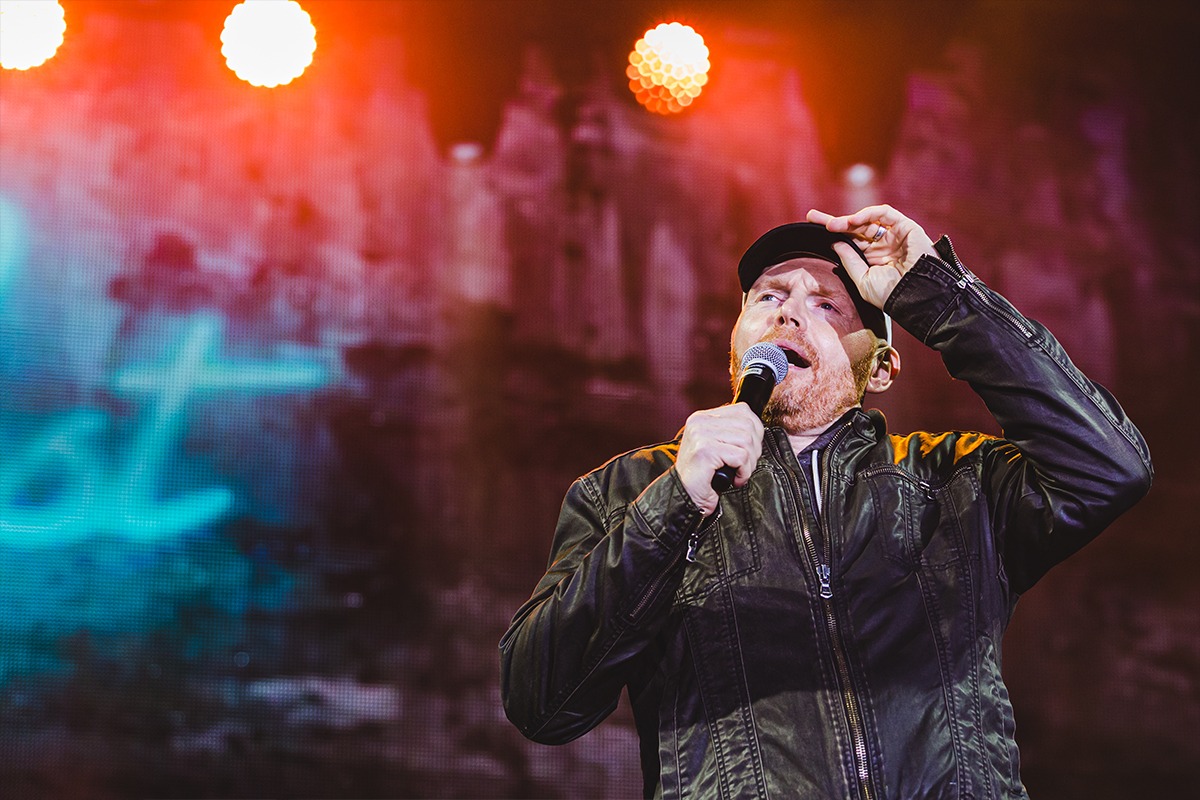 Aspiring actors, comedians, singers, musicians, and dancers alike are faced with the significant and worthwhile challenge of learning their crafts. Even when a level of mastery is reached, performers then face heavy competition, as well as any number of obstacles that can be frustrating to navigate. Perseverance is a quality that tends to receive less credit than talent or genius when it comes to success in the entertainment industry—after all, talent and genius suggest an impressive effortlessness in achieving one's goals. But, it's the less-glamorous grit that pushes most performers past the finish line. Here are three of the countless performers who displayed a noble refusal to give up on their aspirations, despite years of setbacks:
Richard Jenkins
Character actor Richard Jenkins might not quite be a household name, but it's pretty certain most people have seen him in TV or film at one point or another, whether it be in "The Shape of Water," "The Cabin in the Woods," "Silverado," "Hannah and Her Sisters," "Six Feet Under," or "Step Brothers." In a MarketWatch interview, the now 75-year-old actor recounted his acting roots, and how he honed his skills slowly, but surely over the course of 14 years in repertory theater work. 
"I was awful for much of it, and started to realize I was awful and wanted not to be awful," he revealed. Determined, Jenkins took on a more purposeful attitude toward acting. He now appreciates his incubation time saying, "I had a chance to really fail as a young actor. Just doing it over and over again and saying, 'I'm not happy with this. How do I get better?'"
Jenkins always dreamed of being an actor. He insists, "It was the only thing I wanted to do." In particular, he wanted to be in the movies. To keep moving forward, he took whatever small, low-paying roles he could get. He asserts, "That's the way it works. You have to do things sometimes that you don't totally believe in, but you approach everything as if it has a chance to be really wonderful. I remember doing stuff way in the beginning of my career, some TV stuff that was not fabulous, but I was thrilled to be able to act. It was great." When he reached the age of 35, Jenkins' film career started to pick up with roles in '80s films like "Silverado" and "Hannah and Her Sisters."
Bill Burr
Stand-up comedian Bill Burr has performed to sold-out crowds in several venues, including Fenway Park before 35,000 people. He received a Grammy nod for his comedy album "Paper Tiger," as well as an Emmy nod for his acting performance in the dark comedy series "Immoral Compass."
However, things were not always so easy for Burr. In an interview with Howard Stern, the funnyman talked about plying his trade for twelve years, and having nothing to show for it. 
"I had just done the third show at The Funny Bone in St. Louis. It was the first time it hit me," he recalled. "I was about 12 years in, and I had nothing going on—I didn't have a manager, didn't have an agent. And I remember sitting there having a beer, and I was watching the waitresses counting their money, everybody smoking cigarettes. And I'd gone to the club like five years in a row. Everybody looks older. I look older. And all of a sudden this thing hit me. It was like, 'Am I that guy who doesn't make it? Am I that guy? And I had a … panic attack."
So how did Bill make it through this dark time in his life? He fought hard to keep pushing forward. "I kept doing it, I kept doing it, I kept doing it," he said. 
Adam DeVine
At the age of 11, actor and comedian Adam DeVine experienced a brutal and life-changing event that nearly killed him. Young Adam was on a quest for candy, walking his bike across a street in Omaha, Nebraska when he was suddenly struck by a cement truck. The impact pulled him under the two front wheels of the 42-ton vehicle, and poor Adam ended up sliding 500 feet. He was knocked unconscious and put in a medically induced coma. 
Two weeks later, Adam woke up in intensive care only to discover his alarming condition. He recalls, "I broke everything except my right femur from the waist down—crushed my legs from the knees down." It was so bad, he came close to needing to have his legs amputated. But that wasn't all. The child suffered broken ribs, punctured lungs, was fighting infections, and was at very high risk of having multiple organ failure. Medical experts were questioning if he'd ever be able to walk again. 
First, Adam had to relearn to stand, which was now an overwhelmingly painful and difficult task. At one point, he started to cry and wanted to give up—when his physical therapist smacked him in the face. "Yes, you can!" she yelled. "Never say no! Never give up! Always one foot in front of the other!" 
That punch shocked him into focusing on his recovery. Besides extensive scarring, DeVine regained full movement to his legs, even being able to play football by the eighth grade. "I think that experience helped me realize that anything is possible," he reflected in an Off Camera interview. More specifically, DeVine says, "I feel like I had a good perspective on how short life is and how, if you have goals, you should work hard to achieve them. And also take things one step at a time. That's the lesson. Because I truly had to take it one step at a time—relearning how to walk." 
Years later, in pursuit of his dream to become an actor and comedian, DeVine moved to Los Angeles. A longtime fan of A&E's "An Evening at the Improv," he immediately sought work at the Hollywood Improv, but there were no positions available. "I came back every day—every day for a month and was like, 'Is there jobs?' Until finally I just wore them down. They were like, 'All right.'" 
He worked the ticket booth, answered phones, attended improv classes, and took some hard knocks doing stand-up comedy. In 2006, he and his close friends (Blake Anderson, Anders Holm, and Kyle Newacheck) started a sketch comedy group, touring live and uploading one video per week onto Myspace and YouTube over the course of two years. Together, the four friends went on to create, produce, and star in the Comedy Central series "Workaholics" from 2011 to 2017. DeVine has continued performing ever since, including starring in Peacock's "Pitch Perfect: Bumper in Berlin" series, which premieres later this month.