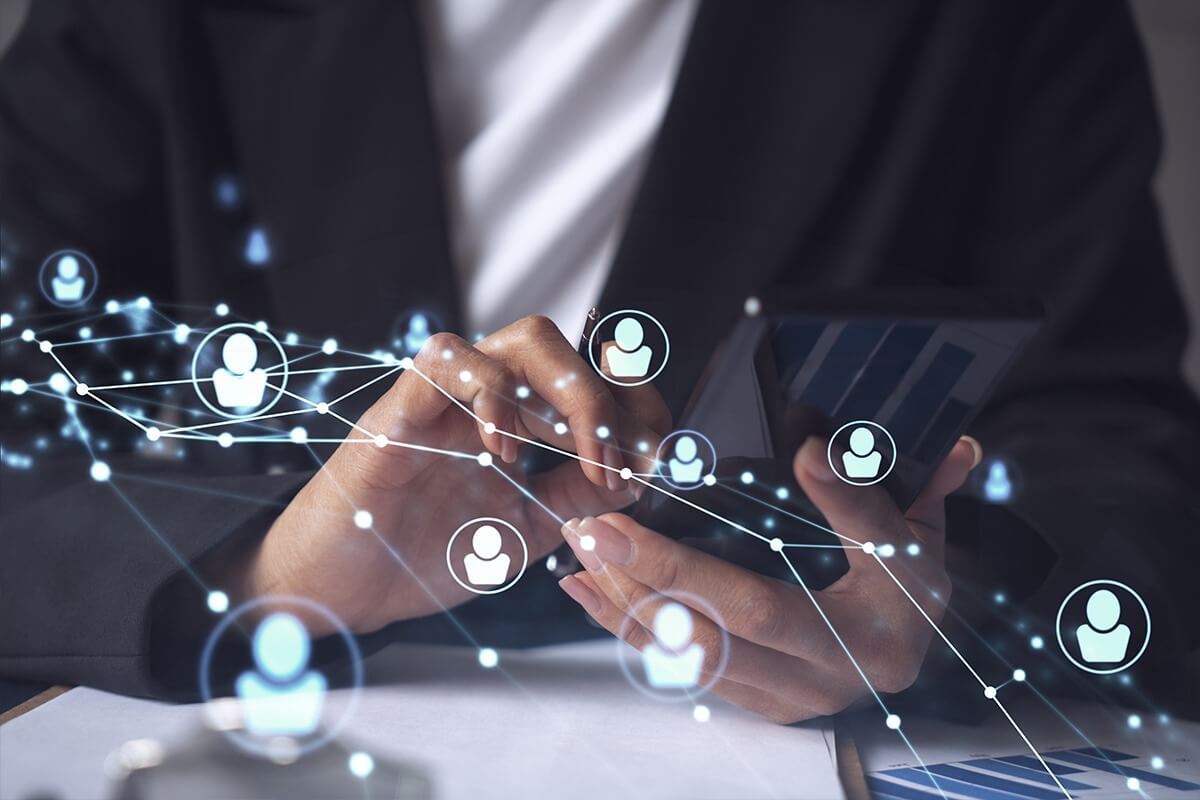 Described as a "master networker," UK-based producer and writer Farah Abushwesha shared valuable tips to help make connections in the entertainment industry. Abushwesha launched her own production company Rocliffe in 2000, and her credits include the Netflix original "Irreplaceable You," "The ABC Murders," and "The Singapore Grip." She was named an American Academy Gold Fellowship for Women finalist in 2021 and is the author of "Rodcliffe Notes – A Professional Approach to Screenwriting & Filmmaking." During a BAFTA Guru Live interview, Abushwesha detailed useful ways to perfect one's networking skills.
Although Abushwesha is exceptional at working a room, it still requires effort on her part. "Even though I've got this reputation of knowing everybody and networking, I hate going into the room," Abushwesha admits. "I have to literally lean in and take a deep breath and just walk into a room and just go 'Hi' to people." She likens the task to a senior executive who goes home with 50 scripts and each one he picks up he thinks, "Maybe this is the one." "That is the attitude that many of us have to have about everybody we meet—just an openness of spirit and not think that everybody else is a waste of time," she says. 
The purpose of networking
Networking, Abushwesha says, is about "connecting with people that you might have something in common with." In social situations, she encourages people to "Just turn around and have a conversation. It doesn't have to be 'What do you do? How can you benefit my career?' It's literally about finding out who somebody is, finding out about their work, what do they like to do? And seeing if there's a connection there. You know, no man is your friend, no man is your enemy, and every man is your teacher."
Come prepared with questions
Before attending a social event, Abushwesha advises people to make a list of potential questions to ask. Here are some examples she uses:
How did you get into the business?

 

Who helped you most when you first started out?

 

What would you do differently now?

 

What do you do?
What do you like in a project?
If somebody asks a question at a Q&A, Abushwesha suggests telling that person, "Oh, I loved what you said about that." While attending a Q&A at a festival or a screening or other event, she'll ask what the development process was or what was their breakthrough job, or "'How do you keep your voice in your work?' … or 'Where do your ideas come from?' and 'How do you cope with procrastination?' and 'How do you cope with writer's block?' and 'How do you cope with a confidence crisis?' and 'How do you network?'"
"You'll be surprised at what people come back with," she insists. "Most people are interested and comfortable talking about what they know, so just draw them out and don't forget to breathe as you ask questions."
When someone monopolizes your time
In the instances when you prefer not to engage further in a conversation, Abushwesha suggests, "Just go, 'Do you know, it's been lovely talking to you, but I'm going to go and get a drink at the bar.' Or 'I'm going to go to the toilet.' Or 'You know what? I've seen somebody over there; I really want to catch up. But it's been really lovely to talk to you.' And that's an easy way to [exit the interaction]. 'Are you on Insta?' 'Are you on Twitter?' (Or whatever social media is the thing of the day.) And say that you are on LinkedIn or whatever else. Those are the kind of easy ways in and easy ways out."
Network online
"The internet is your best friend," Abushwesha declares. "It's filled with friends and lots and lots about the industry. So get online. You can network without even having to leave your bed, if you want to." For example, many comedians post skits and routines onto social media platforms, which have the potential to go viral.
Volunteer 
Volunteering can be a great avenue to make connections. Abushwesha says, "Volunteering at a festival, an event, an organization, holding your own screening—it's a great way to get an inside track of what's going on and meeting like-minded people." 
Ask to go out for coffee
To increase your chances of making a genuine connection, Abushwesha offers some do's and don'ts. "Don't bombard people when approaching them and pitch to them, but ask for coffee. Don't ask somebody to read something; ask them for coffee. People will—once they've made that connection with you and they like you—they will think about you and think of ways to try and help you, by and large people do." According to Abushwesha, if you're interested in or currently involved with a project, be able to speak about it briefly. "Don't go on about it," she asserts. "Just be really concise in what you say. And give them the space to ask you whether they can read it. They'll read it or not. Or if it's something you want to read or watch, don't assume that they will." 
Importantly, when inviting someone to coffee, she urges people to be up front about what their intentions are: "Be really clear about what it is. Is it that you're looking for advice on agents? Are you looking for feedback? Are you looking for connections? Are you looking for introductions to get work?"
Act professionally
What if a new contact leads you to believe they'll watch your reel or read your script, but they're not getting back to you? "Don't bombard people," Abushwesha cautions. "They don't get back to you, they're entitled to not get back to you. If they take a long time to read something, you know, they're busy. So just don't get rude about it. Don't have an expectation that they will meet you or that they will look at your work or they will get you work. It's not a given. Just be pleasant. Honey is better than vinegar." Just keep moving forward with a sense of purpose. "Don't be put off by one rejection. Keep applying," she urges. "It's all about just getting into the practice of applying and putting yourself out there, and that's part of the network."
Thank-you's
If someone graciously gives you their time, encouragement, a contact, or resources, let them know you appreciate it. "Big, huge thing that I've said before is when you've met with somebody and they've given you their time, write to them and thank them," Abushwesha says. "Thank-you's go a long, long way. Because once you've bonded with somebody, it's really great, and you do want to help them if they're nice."