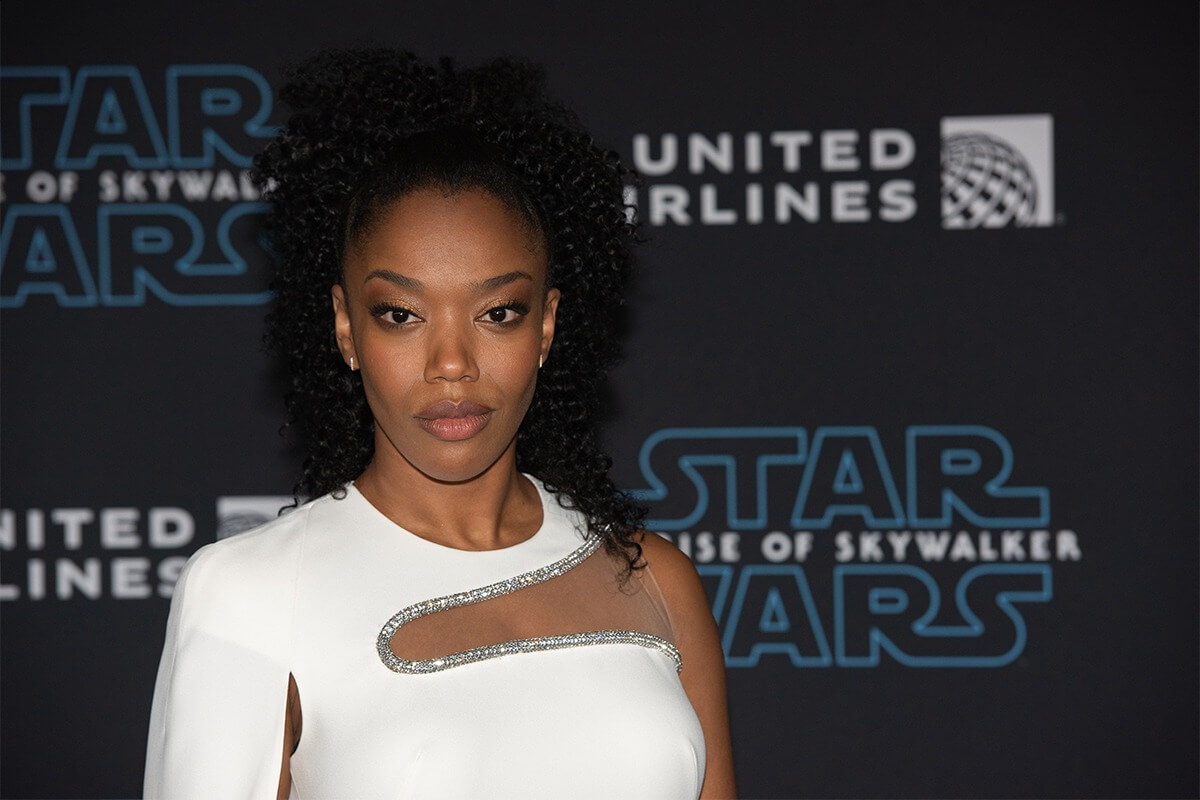 The much-anticipated Whitney Houston biopic "I Wanna Dance with Somebody" is set to be released in theaters this December with rising star Naomi Ackie as the lead. The British actress is known for playing the warrior Jannah in "Star Wars: The Rise of Skywalker," and she won a BAFTA for her performance in the television dark comedy series "The End of the F***ing World." Some will recognize the 30-year-old actress as Alicia from the comedy drama "Master of None" or Arabella from "I May Destroy You." But Ackie is sure to catch the attention of a wider audience for her portrayal of the beloved R&B superstar upon the movie's release. 
Besides being styled with Houston's trademark curly brunette bob and donning prosthetic teeth, Ackie sought to capture the joyous, emotional, and heartbreaking story of the chart-topping singer's life, which tragically ended at the age of 48. The film's producer Clive Davis insists the film strives to tell a "very realistic, very honest story."
Ackie sat down for a candid, down-to-earth interview with The Whitney Houston Platinum Club to discuss her experiences with the role, and how it felt to be cast as a real person for the first time.  
The pressure of portraying a global icon
Houston is adored by countless fans worldwide who are fiercely protective of her legacy, and Ackie understands this as she considers herself to be one of them. However, her anxiety about meeting the challenge served as a catalyst. She explains, "There's the normal stuff: Learn the accent. How does her lips move around a song? What does she physically look like? How did she present herself? But the biggest thing I can remember from this last year is managing my anxiety around what I want to create and what I think other people want to see … There is this kind of struggle about being a people pleaser when you're a performer, and I constantly have to be reminding myself: Tell the truth of the story. The biggest thing for me was going, okay, once you're 70-percent with the accent, and once you're 70-percent there with the body, and 70-percent there with the character work, the rest of it can't be perfect. It shouldn't be perfect. This is an affectation, you are pretending and so allow yourself the freedom to do that. That was maybe a lesson that I just got to learning two weeks before we finished!" She laughs, saying how much she wishes she understood that from the get-go.
Ackie felt she had to surrender part of herself during the process
The BAFTA-winning actress found her experience on the film to be very transformative. She revealed, "I had a big ego because I always work hard. This was one of the first times where something wasn't easy; it was a daily grind. You know, I said no to a lot of work [over] the last year, and I said I just want to focus on this one thing. There was a lot of inner work for me about not instantly feeling like I had it and it not coming so quickly." In turn, she struggled to surrender her ego. "Ego is a big one," Ackie explains. "And tied in with that is this idea of being perfect— perfectionism is a dangerous thing. And I kind of had to let go of some of my restrictive personality that set some rules and didn't think that I could break them in order to serve the story." For example, Ackie struggled with the idea of showing Whitney crying or yelling in a certain manner because, in all of her research, she'd never seen evidence of the singer acting that way. "But then actually it's like wait, wait, wait! What are we doing here? I'm not servicing a YouTube video; I'm servicing the life of a human being that none of us really will ever know. It's an imaginative exercise," she explains.
What Ackie sought to capture about Whitney
After an exhaustive search for an actress who could portray Whitney, producers were moved by Ackie's ability to capture the stage presence of the famous singer, as well as her ability to express the humanity of Houston's inner life. To represent Houston properly, the actress was determined to tune into Houston's vulnerabilities. "A part of me was leaning initially into this kind of like 'Diva!' kind of thing. And then I was like, wait, if they wanted that type of performance, they wouldn't have hired me because that's just not what I do. I found myself being magnetized more towards showing her inner world on screen. Everything else, people can see. They can see her beautiful performances, they can see when she's been a bit snippy to a journalist, they can see her interviews … [But] we don't know about her inner world, and that was a place where I felt imaginatively that I understood exactly what she was going through." 
On the other hand, the film's vocal performances are all Whitney, with Ackie lip-syncing. As Clive Davis told USA Today, "We were very impressed that Whitney's persona was being captured. The [singing] voice, of course, will be Whitney's. When it came to Whitney, we just didn't think anyone could capture her vocal genius, so it will be the Whitney voice in the film."
The changes Ackie noticed in herself while playing the role
Ackie explains, "I found myself having the same feelings and pressures that I imagine [Whitney] would have felt looking after a huge amount of people, holding a heavy part of the industry on your back and seemingly sometimes by yourself. I found myself becoming more assertive off-set, just like in my life, saying what I needed because I was tired, you know, like yeah! And that stuff was new to me because as a performer I'm usually so grateful just to be hired that I'm like, 'Yeah, whatever you need, I can work 14 hours without a break—absolutely fine!' But this time, I was like, no, if I'm doing this, if I am servicing this story, then I have a right to say what I need."