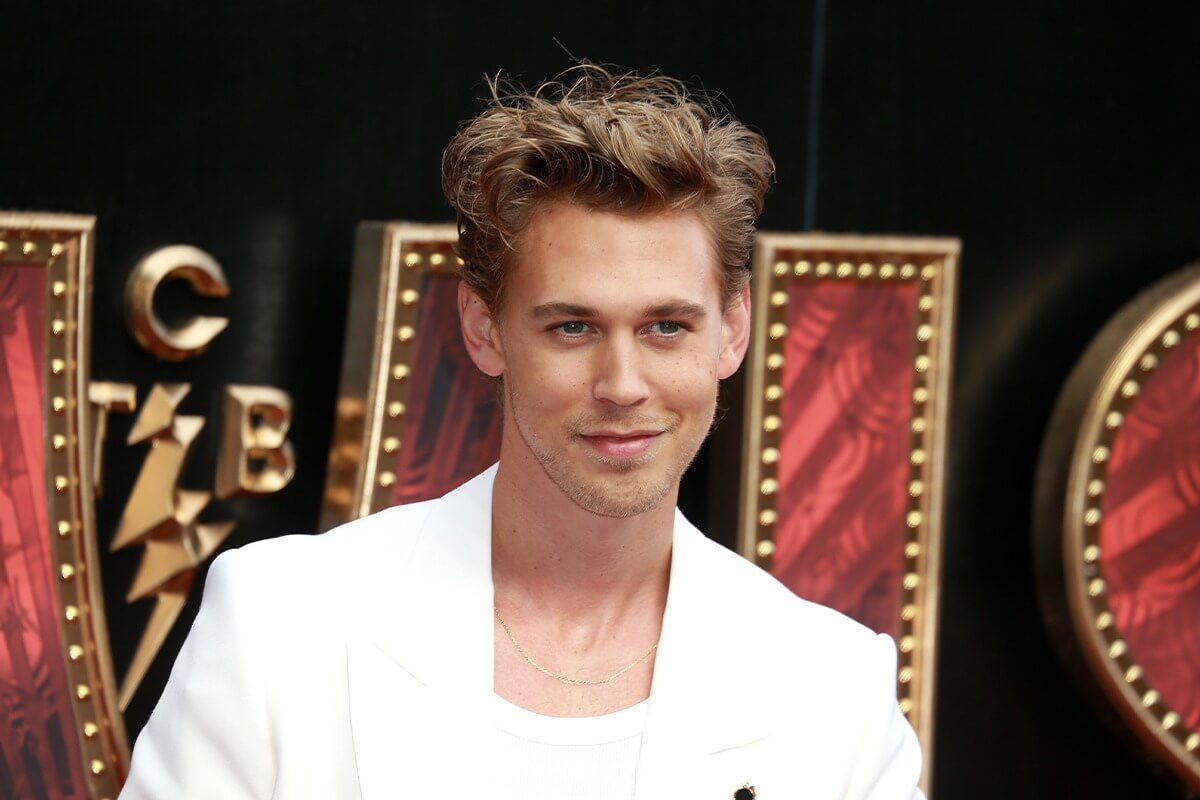 Austin Butler won Best Actor in a Drama, Motion Picture at the 80th Annual Golden Globe Awards for his remarkable portrayal of the rock 'n' roll icon Elvis Presley. The biopic explores Presley's life starting with his childhood in Tupelo, Mississippi to his rise to rock 'n' roll stardom. 
"I owe this to a bold, visionary filmmaker who allowed me the experience to take risks, and I always knew I'd be supported," Butler told the audience while accepting the award. "['Elvis' director] Baz Luhrmann, I love you. Thank you for believing in me in those moments that I didn't even believe in myself. I'm so grateful to you."
Butler's "Elvis" audition tape 
Upon hearing the "Moulin Rouge!" director was searching for an actor to portray Presley, Butler sent in an audition tape of himself wearing a bathrobe and singing "Unchained Melody" while playing the piano. What was the reasoning behind that creative choice? Butler explained it all to the Gold Derby: 
"The thing for me was my agent had said we can send badass clips of you acting, but we don't have anything of you singing, so see, maybe film yourself singing something and send it in to them. So I'd been watching all these documentaries and trying to figure out what I would send. I ended up trying to send a tape of me singing 'Love Me Tender.' When I did it, I watched it back, and I just saw all the external things. You know, I saw me trying to force the muscles in my face to look like Elvis, and it just felt very surface."
Knowing the tape wasn't ready to be submitted, he put it aside and wondered if he could find an approach to play the beloved musical icon. "What is the way in? How would I want to, if I was the guy who [Luhrmann] gave the job, how would I even want to do it?" he asked himself. "A lot of it was me trying to figure out my own belief."
Upon learning that he and Presley both lost their mothers when they were 23 years old, Butler discovered a more meaningful way to tap into the role. "I ended up waking up from this dream one night where my mother was dying again in this dream. And so I just had all this pain inside, and I really thought that Elvis would have woken up from this similar dream I'm sure. And suddenly, in that moment, it was so human. It was like it wasn't about anything external; it was about the grief of a young man. 
And so I thought Elvis would put this [emotion] in the song. So what if I just sit down and sing a song right now with all this emotion? And I had just woken up, hence the bathrobe, my hair was a mess—I had this bed head. And I sat down at the piano, and the first song that came to my mind was 'Unchained Melody.'… I just sang that song to my mom, and it was just the truth of that emotion. And I just kind of let myself cry, and I let myself play the music, and I just filmed it once. And I kind of thought I had no idea if this is for Baz at all, but it's the most truthful way that I think I can approach this at this moment—take all of my own soul and pain and everything into this. And thankfully that was something Baz also resonated with."
Crafting the King
Butler was given a year and a half to experiment with techniques to prepare for the ambitious role, including singing all the live performances of young Elvis. "It's all sort of wrapped together," he explains. "You have a speaking voice and a singing voice, his physicality onstage and offstage, and then also how that changes over the years—how he walks differently later on than he does in the early days or how he speaks differently. And so it was figuring out a way to break those down into bite-sized pieces." 
Working with singing and dialect coaches was pivotal, and he credits a movement coach named Polly Bennett as being "massively helpful for me" as she guided him in meticulously matching Elvis' physicality from his filmed performances. "I tried to live his life as much as I could because it helped me to not feel like I was some fraud when I got on-set. I was speaking in the same voice that I was on my day off when I was ordering coffee or that sort of thing. I don't approach every role like that, but with this it felt more necessary," he told Cosmopolitan UK. What was particularly helpful was being given home-movie footage of Presley showing his speech and mannerisms when relaxing with friends and family. 
Butler's insecurities and doubts
Consumed with "near crippling anxiety," Butler doubted if he could convincingly portray such an iconic figure, and he was convinced a lukewarm performance would mean he'd never work in the industry again after all that had been invested in him. So now all the accolades, including a Golden Globe Award, are not just tremendously rewarding, but are an enormous relief as well.