Get Premium Plus for 20 cents per day!
Enjoy 50 headshots, unlimited role submissions & headshot changes, a video & voice reel and link to any website!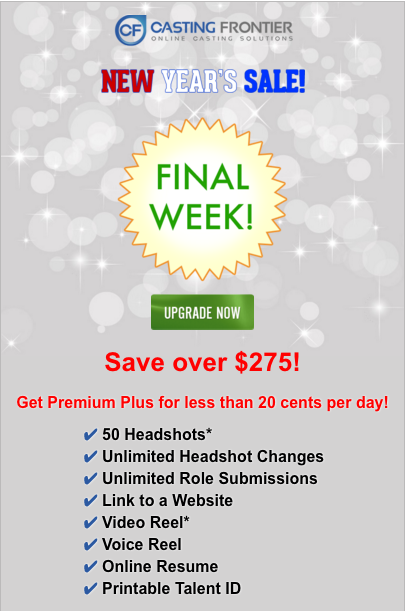 Now is the time to enjoy great savings with Casting Frontier's New Year's Sale!
Start the year off right by showing casting directors all of your talent! You, your representation and any potential casting director need the most updated materials possible to get you into the auditions that keep your career moving.  With a rich assortment of photos, a video and voice reel and a link to any website, having a Premium Plus or Premium profile will immediately give you the competitive edge to thrive.
Casting Frontier already offers one of the most affordable pricing packages for talent profiles in the marketplace and we are doing it again this year with our valuable New Year's sale during the month of January.
Remember, your profile is immediately accessible to casting directors as well as the clients (namely commercial executives, producers, and directors) associated with your audition, as well as your agent — or even potential agents with whom you wish to share your profile.
Enjoy the greatest savings with our Premium Plus or Premium 2 year packages.  You may also choose from monthly, 6 month, and 1 year options.
Our upgrade options are available to current and new Basic Casting Frontier members. *Premium Plus profile. Offer expires 1/29/16 at 11:59 p.m. The savings reflected are for a 24-month period compared to monthly subscription.
Well, 2013 is in the books. It's history. Old news. All said and done. So what did you accomplish? Did you take the advice I gave in the past to try something new for a 30-day period of time? Think of it: if you had, you might be fencing like Errol Flynn, or you could be dominating at beach volleyball (or at least well enough to enjoy yourself and get a tan), or you could speak enough Portuguese to travel efficiently, or you might have learned to tango, or have authored a book–or even all of the above!
All of the credit for this simple yet brilliant idea goes to Google's Matt Cutts who suggested we follow his lead and try something new for 30 days each month of the year in his three-minute, inspiring yet practical Ted Talk. That could mean adding a new activity that you believe would enrich your life (like learning to play a few songs on the guitar); or, it could mean excluding a specific behavior that you feel holds you back in certain ways (like drinking caffeine or playing too many video games). When Cutts found himself in a rut, he decided to take a high-quality photo each day, bike to work, author a book, and omit sugar, to name a few examples for 30-day periods of time. What he found was that his time became "much more memorable," his self-confidence grew, he felt more adventurous overall, and he realized if you want something badly enough, you can do anything for 30 days.
Now, while Cutts' talk is a couple years old, it's certainly worth revisiting. Because, after all, if his words inspired you to make positive changes in your life, then that is fantastic: you've probably made all sorts of personal strides that you will own for the rest of your life! On the other hand, if you opted to ignore his words, returning to his idea now and reconsidering its merit might be that eureka moment you need just about now. After all, as Matt says, "I guarantee you the next 30 days are going to pass whether you like it or not."
So why not think of something you've always wanted to try, and give it a whirl for the next 30 days? Consider what would enrich your acting career: Maybe do something to reach out to your network every day for 30 days? Take an improv class? Improve your technological skills to make the most of your reel footage? Take up rollerblading? It's completely up to you, and the skies the limit! It's your dream; live it to the fullest!
It's no secret the last few years have been tough on the American economy. Many businesses have fallen or been shipped overseas, unemployment has flatlined at 9 percent, and big banks are stubbornly holding onto their money. Watching the news has been pretty dire. But there is a silver lining in this dark economic cloud. The entertainment industry is booming! That's right, the business you are in as an actor or are aspiring to be in is doing just fine. It's a well-reported fact more people are watching TV than ever, and add to that the inestimable amount of content people are watching online and through sources like Netflix, and you have a veritable boom in the acting field. All this bodes well for you, humble thespian. Production is happening at this very moment all over the world. Think of the amount of films, pilots, commercials, videos, industrials, reality TV shows, shorts, etc. going on right now. Are you going to get in on it? Why not?! The table's set; sit down and eat! Make 2012 your year. Everyone's always talking about unkept New Year's resolutions. Make this the year you make good on the resolution to become a working actor.