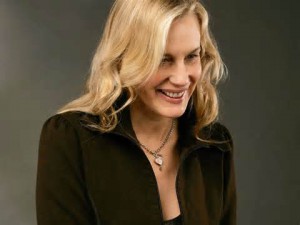 Daryl Hannah recently revealed to People magazine that she has struggled with autism since she was a child. In the interview, Hannah acknowledged agonizing during her years starring in movies. The problem? She hated being in the limelight due to shyness–that is, extreme shyness resulting from autism. While the blonde beauty was captivating audiences for years, whether as a mermaid in Splash or Steve Martin's sweet love interest in Roxanne, she now admits, "I've never been comfortable being the center of attention. It's always freaked me out."
As a child, when her autism left her suffering from painful shyness, she needed to rock back and forward in order to soothe herself. When she was diagnosed with the disorder, medical professionals recommended that she be medicated and institutionalized. Her mother refused, and eventually allowed her daughter to move to L.A. at the age of 17. But even when Hannah's Hollywood career was going strong, she was still "terrified" to tell people–especially producers–about her autism. And Daryl's condition kept her from doing promotional interviews and talk show appearances for movies in which she starred. "I wasted so much time scared, self-conscious, and insecure," she said.
Most of the research on autism addresses patterns observed in boys. While the latest CDC figures show about four times as many boys are diagnosed with autism than girls, some experts argue that girls with the disorder are going undetected. Higher-functioning girls may fly under the radar by clinicians who are not experts in diagnosis for a number of reasons. In particular, autistic girls often appear to have better social skills than higher-functioning boys with the condition because they are better at copying what they see in others, which makes them blend in even though they are working exceedingly hard to do so.
Indeed, Daryl Hannah's ability to have a successful Hollywood career demonstrates her ability to compensate for the social deficits that accompany autism, and to hide it from others. At 52 years old, she has learned to cope with the disorder over the years, and says the best thing in her life now is growing comfortable in her own skin. She now focuses on environmental activism, enjoys living in a rural setting near Los Angeles with her boyfriend of three years, and has a rescue pet pig named Molly. "Life is too short to stress the small things anymore," Daryl said.
Daryl Hannah succeeded and rose to the highest levels of this business with autism. Think about that. You have a medical condition that makes it extremely difficult to overcome shyness and interferes with communication. Isn't it in an actor's job description to express freely, deeply, and communicate in many styles effectively? People overcome obstacles every day. They address their weaknesses, especially anything that might mitigate their careers. What are some of your own personal challenges or disadvantages that you work at overcoming? Daryl Hannah struggles with autism, Michael J. Fox suffers from Parkinson's disease, and RJ Mitte is challenged with cerebral palsy. Those happen to be medical obstacles, but challenges come in all shapes and sizes. And the takeaway is to not let anything get in the way of your dreams, goals, and aspirations!