In part one of 'We All Need Affirmation!' we discussed the power of positive affirmations and the exercise of changing negative thoughts to positive ones. Next is an exercise on how to counter those negative ideas and thoughts that can linger.
Exercise: I am good enough to be great.
Of course, remnants of your negative thoughts will still linger. Let me show you how to counter those nagging negative thoughts with an even more positive thought.
This next Affirmation will be all encompassing to your life as well as your career. Once again, write this down in your Actor's Journal:
I am good enough.
Now clear your mind, close your eyes, take a breath, and say it out loud five times:
I am good enough.
As you repeat this Affirmation to yourself over and over, some flashes of a past negative event may play out in your mind like a home movie. You might become emotional as this negative experience runs through your mind. You might see someone telling you that you're not good enough, not smart enough, not good looking enough or that you're too fat, too skinny, too small, too tall. Or the event could have been much more specific, like you forgot your lines in a play, which left you feeling embarrassed or humiliated. It's something that left a deep scar.
Acknowledge this negative event, and the thought and emotions that go with it. Exhale and let the negative thought start to evaporate. Counter this negative thought with a more passionate, positive thought. Open your eyes and say:
I am good enough.
Say it as many times as you need to wash that negative thought away. Feel it and experience it slipping from your mind. You should feel relief as you allow yourself to be rid of the negative thoughts that surround that negative event. Hear the words come out of your mouth. Listen to that single voice, that single Affirmation. Say it again, say it louder and stronger:
I am good enough.
Let's take it one step further. Now, you're going to say it directly to yourself. Walk over to a mirror, look yourself in the eyes, take a deep breath and say:
I am good enough.
Keep saying it until the person staring back at you believes it. Once you feel it in your body and you truly believe that you are good enough, take another deep breath and say:
I am good enough to be great.
You should feel stronger, exhilarated and more empowered. You have triggered the positive energy that you possess. You should feel a belief building in yourself. You have embraced your potential and you are ready to move forward and be great.
---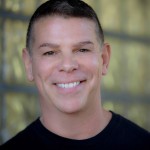 Whether you're auditioning for a co-star or a series regular on a half hour comedy, sitcom guru and acting coach Scott Sedita will teach you The Sedita Method of sitcom acting, which comes with it's own terminology, coined phrases and unique glossary.
Scott's internationally best-selling book, "The Eight Characters of Comedy. A Guide to Sitcom Acting & Writing, 2nd Edition" has sold over 100,000 copies and has become a "bible" to Hollywood comedy writers, directors, producers, and actors and is used as a textbook in over 100 colleges and universities. Find Scott and his staff of professional actors, teachers and coaches at ScottSeditaActing.com.
Comments
comments