"How do I unwatch the 'Cats' trailer?" 
"Every frame of this trailer makes me uncomfortable." 
"The most frightening horror movie of 2019."
These quotes reflect just a tiny sample of the overwhelmingly negative comments on social media sites pertaining to the 2019 musical fantasy film Cats and its trailer.
It surely wasn't the kind of response that Universal Pictures was going for when they released Tom Hooper's 2019 film adaptation of the smash-hit Broadway musical Cats. Indeed, the movie is proving to be a box-office catastrophe; so far it has grossed $42 million globally on a $90 million budget, and another $115 million was spent to market and distribute the feline production. Keep in mind, Hooper is an Oscar-winning director (The King's Speech, Les Miserables, The Danish Girl) and the film is stocked with big names including Idris Elba, Taylor Swift, Ian Kellen, Judi Dench, Jennifer Hudson, and Rebel Wilson. So what went wrong?
According to brutal reviews from many critics, the extensive CGI effects were off-putting with its "digital fur technology." Used to transform cast members into human-like cats, the bodies of the live-action actors were rendered with digital fur which was then blended with the actors' actual faces. Variety's chief film critic Peter Debruge, who has fond memories of seeing the Broadway musical Cats years ago, said he went to see the film adaptation with an open mind but found, "From the first shot, you know you're in trouble on this movie. It is ugly; it is badly directed; it is an eyesore, and these cats look terrible. It's bad CGI; it's bad design making it look like fur is sprouting out of their faces and bodies." 
Another problem was, in a mad dash to get the film in theaters by its December 20 release date, the editing was never fully completed. Actor's human hands, for example, are visible in certain scenes rather than being modified to appear more paw-like. And many critics highlighted shortcomings with the plot, although some had words of praise for the performers.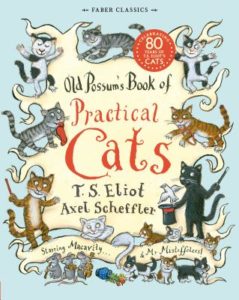 Based on Andrew Lloyd Webber's beloved stage musical of the same name, Cats features felines from the Jellicle tribe who compete against one another as only one of them will be granted to ascend to the Heaviside Layer and be reborn into a whole new Jellicle life. The original premise for the production and its lyrics was inspired by T.S. Eliot's 1939 poetry collection Old Possum's Book of Practical Cats. The stage musical ended up being one of the longest-running shows in West End and Broadway history, first showing in London in 1981 where it played for 21 record-breaking years. Hooper and Lee Hall adapted it for the screen, where the musical numbers take on a more serious tone than the play, and the characters tend to emote more. 
It should be noted that many people who actually saw the movie genuinely enjoyed it. They admire the performances and the filmmakers' commitment to the creative vision. And while some people remain ambivalent about the film, they often encourage others to go to the theaters to watch the spectacle for themselves. David Sims from The Atlantic wrote, "Whether you think the imagery is beautiful or nightmarish, this is a film that demands to be looked at." Filmweek's Christy Lemire similarly notes, "It's just baffling and yet it must be seen … It's bad, but you've got to experience it." And Sandra Hall from Sydney Morning Herald wrote, "While it's far from being perfect, or even purr-fect, it certainly doesn't warrant the abuse that has been heaped upon it. At the very least, it deserves a chance."
Do you plan on seeing Cats in the movie theater?
For comparison, here is the Grizabella played by Elaine Page performing "Memory (Reprise)" in the 1998 production of
Cats
. 
Comments
comments