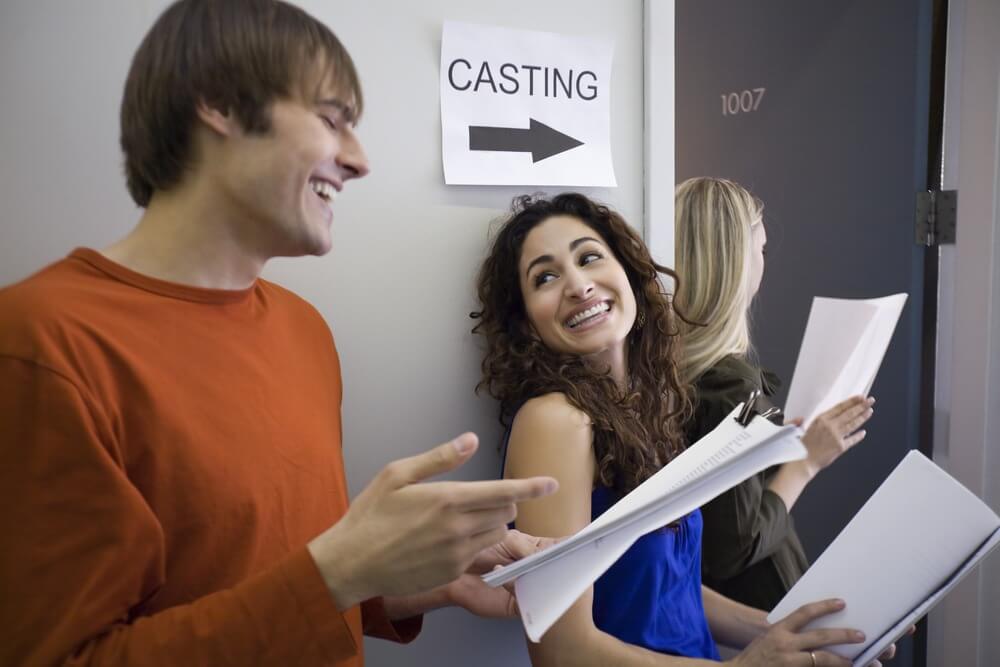 Thanks to a global pandemic, the entertainment industry has gone through quite a shakeup in the past three years. Everything changed from auditions to production itself in 2020. And 2021 saw a radical adaptation to the shift in the way actors search for work, audition, book jobs, and sometimes even perform. And 2022 saw the industry adapt and evolve. Now, in 2023, we're entering a new normal, which means more acting opportunities than ever before.
That also means more ways to find those auditions. And although you might not know how to find auditions, or where you might even find open auditions in your area. To save you time from Googling "acting auditions" or "casting calls near me" for the umpteenth time, we've put together this updated guide to help you discover all the best ways to find open casting calls, theatrical, and commercial auditions in this new day and age. 
How to Find Casting Calls Without an Agent
In 2023, you can find plenty of acting auditions even if you don't have representation. Online casting calls have become more abundant than ever in the past two years. Here are some of the best ways to get your foot in the door for open casting calls, TV, film, and commercial auditions.

Follow casting directors on social media.

Search hashtags like #castingcall and #opencall. 

Browse legit casting call websites regularly. 

Connect with other actors, directors, writers, and creatives to build up your online and IRL network.
With the audition process continuing to move online in 2023, it's become commonplace to find, submit, and book jobs on national TV without ever leaving home. So it's time to double down on your online presence — and there are two main ways to do that: social media and reputable casting call websites. 
We're answering some common questions about how to find casting calls on social media and the best casting websites for theatrical and commercial auditions. 
How do Actors get Discovered on Instagram (or TikTok)?
Most casting directors connected on Instagram in 2021, and 2022 saw the rise of acting auditions on TikTok. And although some are still posting on Facebook, TikTok is becoming a force of nature in 2023 (Twitter, not so much). You'll find loads of casting calls on TikTok as well as casting and audition advice from casting directors and actors alike. Pick whichever platform you like the best and commit to building relationships there. 
Make sure your profile is professional but still has some personality. If a CD does decide to check out your profile, you want them to know you're more than just an actor – you're a real person (and definitely not a bot). Share moments from your personal life, pets, hobbies, adventures, or anything else you're passionate about. Make sure you have a link to your website or acting reel in your bio and don't be shy about promoting your work — especially your successes! Aim for about 50% personal content and 50% work-related posts.
Once your profile is in good shape, start following and interacting with casting directors in your area. Just like in the real world, it's important to create a genuine authentic connection and build a relationship. Who knows, you might even score some acting auditions!
Is it Okay to Contact Casting Directors on Instagram?
Yes — but it must be in response to something they've posted. This is the difference between building a meaningful relationship and coming across as desperate. For example, if a CD posts a picture of her dog, it's totally cool to leave a comment like "What a good boy! Does he like to chase tennis balls or just chew on them?" It would be tacky to leave a comment like, "Hey, just booked a role on Netflix. Check out my profile." 
Be careful about sending direct messages. Unless a CD has specifically asked for it, stay out of the DMs. That's where creeps, bots, and wannabes hang out. You don't want to be in the same category as them. Keep it public unless they're asking you to reach out via DM.
Follow and search hashtags. These are a great way to find casting calls, but be sure to do your research and watch out for scams. Here are a few hashtags to check out:
#castingcall 
#nowcasting 
#opencastingcall
#actingauditions
#castingcallNYC 
#losangelescastingcall
*Swap out NYC or Los Angeles for your city to keep your audition search local. 
How do you Find Casting Calls Outside of LA and NYC?
Remember, your dreams aren't over just because you don't live in and can't access New York or Los Angeles casting calls. Building your network of actors, directors, producers and other creatives is even more important outside of the big cities. In smaller regions, it's easier to connect with the people making decisions. Take an acting class or audition for local theater. As you build relationships, you'll meet other creatives and learn about new opportunities.
Many casting directors outside of the big cities have physical files or online databases for local talent. Check out who does casting in your area and find out how to get in their files. Local talent agencies frequently have open talent submissions as well. Look into their submission procedures. Legit casting websites cover smaller cities too. Check out a few and see if they have any opportunities in your area.
A lot of actors find the best way to get started acting is to do it in their hometown. Try to see what acting auditions are in your area, get some experience under your belt and build up your resume before moving to a big city with lots of competition. These are some of the best ways for how to find casting calls without an agent, and sometimes how to find casting calls for free.
How do you get Into Commercial Auditions?
Commercial casting directors are usually looking for a very specific type of person. If you have special skills like archery, rock climbing, or stone carving — make sure that information is on your resume, online casting profiles, and social media pages. Often, casting directors will search for actors with these skills through hashtags, Google, or on the casting websites. 
You can find commercial auditions the same ways we've already shared — check out casting websites, social media, and through your network.
How do you Audition for Netflix?
How do you audition for Netflix, Hulu, HBO, or any other major network or streaming service? Most acting auditions for the roles in your favorite TV shows are posted on professional casting websites. Having an agent is the best way to get an audition for these shows, but if you use the information we've shared here you may have some luck on your own!
If you're dying to be on a certain Netflix show, follow that casting director on social media. You can find out who casts the show on IMDB. Stay informed so you know when the show is in production and when you should be looking for casting calls. 
What Is the Best Website for Casting Calls?
A trusted way to find legit casting calls is through professional casting websites. Casting Networks and Casting Frontier are websites for professional casting directors. On Casting Frontier, you can get started for free. Set up a profile and browse the casting calls without making a financial commitment.
Kick off 2023 with a bang. Sign up or login to Casting Frontier to find casting calls and start auditioning now!
Related articles:
Commercial Audition Tips: What Casting Directors Want You to Know
How to Create a Great Self-Tape Audition
How to Make Your Self-Taped Auditions Stand Out
Killian McHugh's Guide to Acting Jobs & Commercial Auditions
9 Audition Tips From Michael Shurtleff