One of the biggest problems for actors are how to combat nerves. It can derail even the most prepared actor. I've had dozens of actors ask me how to quash this audition killer. The answer is manifold. When I studied in conservatory, we had relaxation classes, complete with visualization exercises, including lying on the ground pretending we were hollow and filled with liquid.  This liquid would slowly drain from our body, pulling the tension along with it. We would start at the tips of the toes, working through the ankles, the legs and so on. By the end of the 45 minute class, half of the students were either asleep or very relaxed. Which is great – IN THE CLASSROOM! But what are you going to do in an actual audition situation?
When they call your name, are you going to tell the casting director, "Oh, I'm sorry, I have to lie down for a little bit. I'll tell YOU when I'm ready … " It's just not going to work. So here are a few practical tips for battling this Nerve demon.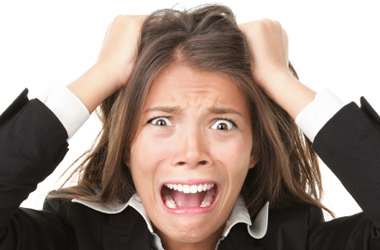 1.  PREPARATION:
Nothing is better at battle nerves than by being super prepared. If you go into that room and you know you are going to do something that no actor is going to do. If you have found profundities. If you have found a contradiction, a duality to play. In short, if you know you have a kickass performance to do, that no one else will approach in scope, there's a good chance that you will be sitting in that waiting room chomping at the bit to get in there.
2.  THE MOMENT BEFORE:
We all know about the moment before. If we are shooting a scene, where we have to kick down a door to fight ten evil ninjas, then while the assistant director is saying, "Lock it up. Very quiet, we are rolling," we are preparing outside that door, pumping ourselves up, ready to engage those ninjas. We are not standing there passively waiting for the director to call, "action!" Why then, in an audition, do we feel we have to shortchange our process? If you actually play that moment before in the room (yes, inside the room, in front of everybody) by the time the actual scene starts, they (producers, writers, casting director, etc.) will not exist to you anymore, and they will be vapor. Furthermore, playing that moment before in the room, gives you the opportunity to play something unique and profound that another actor may not.
3.  PERSPECTIVE:
I know as actors that we feel we are being judged in the audition. We are being judged as artists. We are being judged in regards to our abilities as actors. We think the casting director is sitting there thinking, "Hmm, is this guy any good? Because if he's not, I am going to call his agent and tell them they suck!" In reality, nothing could be further from the truth. The casting director is pulling for you. When you walk in, he or she is praying, "Please Dear God, Jesus, and Mohammed. Let this next actor, 'get it' and make my job that much easier. I have to find somebody to bring to the producers today and I haven't seen anyone worthy since lunch."
You see, dear actor, their butts are on the line too. They have a job to do. They brought you in because they believe that you can play this role. You are being given an opportunity and when you are given an opportunity to step up and impress, it's time to do just that.
Always remember why you started acting in the first place. Whether it was singing songs at your dear Grandma's birthday or playing all the parts from a Saturday Night Live skit at the breakfast table for your family, it was just for the love of performing. There was no pressure, no judgments, just joy. Try to get in touch with that love and that innocence once again. Try to find that young artist without guile, without pressures and say, "I'm going in there anyway. I think this time, I'm going to get out of my own way. I am going to give myself permission to win." Give yourself permission to win my brothers and sisters, then go and do it.
---
David Gray is the master instructor and co-owner of Gray Studios. A longtime student of acting, David Gray grew up on and around the stages of New York City. He is a graduate of NYC's High School of Performing Arts. He studied extensively after high school with his prime mentor Anthony Abeson. He also attended H.B. Studios where he had the pleasure of studying with such teachers (and actors) as Herbert Bergoff, Carol Rosenfeld, Bill Hickey and Uta Hagen. As an actor, David has performed on and off Broadway. Most notable was his critically acclaimed portrayal of Rodolpho in the Tony Award Winning production of Arthur Miller's A View From The Bridge. David most recently played Todd Palin in the critically acclaimed HBO movie, Game Change. Checkout out at GrayStudiosLA.com – 818-582-3943
Comments
comments