Emmy and Globe-winning actor Gary Sinise, who played Lieutenant Dan Taylor in the 1994 film Forrest Gump, treated a thousand Gold Star children to a free Disney World vacation this holiday season. In honor of the sacrifice their parents made for the country, his nonprofit, the Gary Sinise Foundation along with partners, gathered over 1,700 Gold Star family members and picked up the tab for a five-day visit to the famous theme park. Indeed, Sinise organizes this kind of trip annually, and he calls it Snowball Express.
Thirteen years ago, the star was shown a letter that a fallen soldier had written to his wife; the military man said he had a wish that his family would visit Disneyland. Sinise, in response, created Snowball Express hoping to gather the grieving children and surviving spouses together in one place—a joyful place—to promote healing.
"I've gotten to know a lot of these families. I love them and I want to just do something to help them through it," the 64-year-old actor says.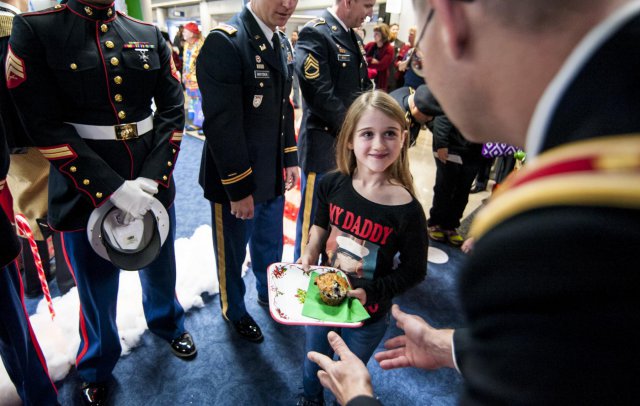 The trip provides an escape around the holidays as it's often a challenging time for mourning families. But it's also a therapeutic retreat with inspiring programs and ongoing support. "The important ingredient is that these kids meet each other and they know they're not alone," Sinise says. "They make friendships that last a lifetime."
"Sometimes you feel you are forgotten," one Gold Star spouse shared at last year's event. "And that your loved one is forgotten. So, this just shows there's a lot more of us out there than we would have ever known." 
Another said, "Being around the others that I know have been through the same thing, it made me open up and kind of come out of my shell a little." A child simply stated, "It makes us feel special."
A longtime connection with veterans
Sinise worked in support of Vietnam vets in the Chicago area during the 1980s as both he and his wife, actress Moira Harris, had several veterans in their families. "So when the opportunity came along to audition for a Vietnam veteran in 'Forrest Gump,' I very much wanted to do that," he shared on Pickler & Ben. Indeed, Sinise attributes his invitation to audition for the part of Lt. Dan on his performance in Of Mice and Men, a film based on the novel by John Steinbeck; not only did he star in the movie, but he directed and produced it as well. 
"I was lucky to get the audition," he continued.  "Heard about three weeks later I got the part, We shot the movie … the movie came out and changed the course of my career, and it also began a relationship with the Disabled American Veteran's Organization." In fact, the group wanted to present him with an award for portraying a catastrophically injured veteran in a positive manner—something rare in Hollywood.
After starring in Forrest Gump, Sinise made appearances at military conventions and in June of 2003, he went on a USO tour in Iraq. He recalls, "Everywhere I was going on that trip, nobody knew my name—they just knew 'Lt. Dan.'" In turn, he created a band and decided it fitting to call it the Lt. Dan Band, and it continues to perform at military bases across the globe to date.
The Gary Sinise Foundation
Sinise spends much of his time raising awareness for the memorial and other veterans' service organizations. Each year, the foundation raises over $30 million, 90-percent of which benefits military veterans whether it be building smart homes for severely disabled military heroes, organizing care packages for American troops, or funding Snowball Express. This year's Disney trip was funded through donors and in partnership with American Airlines, as well as corporate partners Owens Corning, ATD, Aerotek WoodmenLife and Highland Capital Management.
Gary Sinise's other notable roles include the portrayal of Harry S. Truman in Truman (1995) which earned him a Golden Globe Award, Ken Mattingly in Apollo 13 (1995), and Detective Jimmy Shaker in Ransom (1996). 
Comments
comments