In the open-ended, playful world of acting, an element of unpredictability and risk persists. Props can break, lines can be forgotten, costumes can rip, and sunshine can turn into rain. Another problem is that actors can become sick—even deathly ill—while preparing for their roles or while on set. Here are four actors who battled various illnesses due to roles they were playing. 
Zac Efron 
Most recently, The Greatest Showman actor Zac Efron had a medical scare while shooting his new Quibi reality show ironically called Killing Zac Efron. The series follows the 32-year-old star as he's stranded for three weeks on a remote, dangerous island "to carve his own name in expedition history." But along the journey, Efron contracted a life-threatening bacterial infection, which the Australian media said was typhoid. According to the World Health Organization, the infection is usually spread through contaminated food and water, and it claims the lives of up to 161,000 people each year. Fortunately, Efron was quickly flown to an Australian hospital and was treated. In an Instagram post over the weekend, he wrote, "I did get sick in Papua New Guinea but I bounced back quick and finished an amazing 3 weeks in P.N.G. I'm home for the holidays with my friends and family. Thanks for all the love and concern, see you in 2020!" 
Ashton Kutcher
Another actor who had a serious health scare that landed him in the hospital a few years back is The Ranch actor Ashton Kutcher. While preparing to portray Steve Jobs in the biopic Jobs, Kutcher felt compelled to consume the same kind of diet that Steve Jobs was known to eat—he followed a fruitarian diet and drank a lot of carrot juice. But as it turns out, drinking vast quantities of carrot juice proved to be a major mistake for Kutcher. "Two weeks before we went to start shooting, I had this pain in my back," the actor recalled. "Through the night it got worse and worse and worse and worse. I ended up in the hospital on the maximum dose of Dilaudid [painkiller]. My pancreas was crazy out of whack. I was getting freaked out like 'Oh my god, I've become Steve Jobs. He died of [pancreatic cancer]. I [felt like] the ghost of Steve Jobs was taking over. I was freaking out. And it just turns out, it was the carrot juice causing this crazy pancreatitis." Thankfully, Kutcher's medical problem cleared up, but now he warns others: "Don't drink too much carrot juice."
Jonah Hill
During the shoot of The Wolf of Wall Street, Jonah Hill's character Donnie Azoff was supposed to snort an excessive amount of cocaine lines. On top of it all, the film's director Martin Scorsese needed Hill to do multiple takes of the gluttonous snorting scenes. Obviously, real coke could not be used for the shoot, so the producers arranged for safe-to-ingest vitamin powder to be used in place of the addictive drug. However, the new substance was actually only safe to ingest in small quantities. "I had to be hospitalized," Hill shared. "If you ingest that much matter into your lungs, you'll get very sick, and we were literally doing fake coke for like seven months, every day." Fortunately, the doctors were able to nurse Hill back to health.
John Rhys-Davies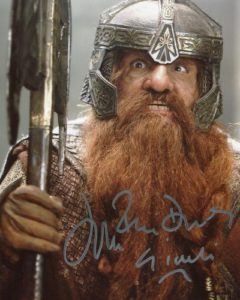 For The Lord of the Rings trilogy, John Rhys-Davies required five hours of makeup and prosthetics to be layered onto his face so he could portray the dwarf warrior Gimli. But within the first week of filming, the prosthetics caused such a bad allergic reaction that he got a rash on his skin, and it even burned off the skin under his eyes. With so much suffering involved with getting into character, the Welsh actor opted not to return for the making of The Hobbit. "I've already been asked [to be cast in 'The Hobbit'] and to be honest with you, I wouldn't," he said. "I have already completely ruled it out. There's a sentimental part of me that would love to be involved again. Really, I am not sure my face can take that sort of punishment anymore."
Comments
comments