The digital landscape has changed all of our lives, from how we stay connected with each other to how we create and build our careers. But with the tremendous opportunities now available to both have a voice and to build an audience also come the dangers of having too loud a voice and the risk of brand damage, which can be nearly impossible to dial back.
I have a tremendous interest in performance for social change. How an actor's participation or involvement in that process can potentially benefit tremendously or damage irreparably that person's brand and reputation is one of my favorite topics in my college curriculum. But studying this academically, when it is someone else's client, is very different when the person under fire for a comment, action or misdeed is your client- or you.
Controversy can stall or kill a career, which is why I urge actors to avoid public displays of opinion that could, inadvertently, cost them an opportunity or even a career. Exhibit 1: Roseanne Barr.
Having an opinion and wanting to have a voice in a matter that you have great passion for is an American tradition- and, of course, our right to speak out is guaranteed to us by the First Amendment of the United States Constitution. But, as Oliver Wendell Holmes,Jr. argued in a 1919 Supreme Court case, while we have that right, we cannot yell "fire" in a crowded theatre.
Holmes was not a talent manager. He was a free speech advocate who served as an Associate Justice of the Supreme Court of the United States from 1902 – 1932. While his position, of course, had nothing to do with a "social" media that would not arrive until nearly I00 years later, it is applicable to the means of communication we now have that was unfathomable in 1919.
Your social media platform of choice or your website is your theatre. Do not yell "fire" from any of these spaces. While it might get you the attention of an audience you seek, there are also steep, potential consequences as a result.
It is never a good idea to mix your politics with your business, particularly online, and particularly now … unless you have earned the stature of a (Exhibit 2) Meryl Streep, Oprah Winfrey, Susan Sarandon, Angelina Jolie, Leonardo DiCaprio, George Clooney or others on the A-list of stars for whom speaking out has, to date, worked for their brands. They have earned those platforms and strongly believe that there is more to gain from speaking out than there is to lose from staying silent in fear of offending a fan who disagrees with their politics.
However, as a new-to-the-business actor or as someone working on a career rebranding, your business presence on the World Wide Web is intended to grow your business, not promote your personal agenda. lnstagram, Snapchat, Twitter, Facebook … they also all offer tremendous opportunities to create platforms for your brand. But, words of caution still apply: Use these platforms for building and growing your professional career by only posting content that reflects positively on you and your brand. Never post content that could be potentially off-putting or controversial to a site visitor. Instead, build your online presence in ways that support your journey, not your opinions.
If you are passionate about being able to publicly express your personal views on topics that matter to you, then express those views on a separate personal, not business, social media platform. But activist beware: proceed with caution, at least until we can add your name to Meryl's, Oprah's, Susan's, Angelina's, Leo's, George's and the others on that list. Then we can discuss it again.
---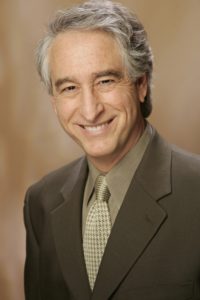 Brad Lemack opened Lemack & Company in 1982, following his stint as a publicity executive at pioneering producer Norman Lear's TV production company, housed on the lot at Universal Studios, in Hollywood.
In addition to Brad's leadership at Lemack & Company Talent Management/Public Relations, he has also been a member of the faculty at Boston's Emerson College Los Angeles campus since 1995, where he created and teaches courses in entertainment public relations, the business of acting and entertainment industry career development through the College's acclaimed internship program.

In 2010, Brad added to his academic responsibilities when he joined the faculty of North Carolina's Elon University Los Angeles Program, where he created and teaches entertainment PR and film unit publicity. In 2013, he also created and taught a strategic acting for the camera class at California State University, Northridge.
Brad received his Bachelor of Science degree from Emerson College in communication studies and his Master of Arts in theatre arts and dance, with a concentration in performance for social change, from California State University, Los Angeles.
Brad is the author of three popular books for actors:  The Business of Acting: Learn the Skills You Need to Build the Career You Want, The New Business of Acting: How to Build a Career in a Changing Landscape and The New Business of Acting: The Next Edition. He also co-authored, with Emmy Award-winning Jeffersons star and decades-long Lemack & Company client Isabel Sanford, her autobiography, titled You Can Call Me Weezy. 
He also developed and edited the book Acting and How To Be Good At It and Acting and How To Be Good At It: The Second Edition, by noted character actor, acting coach and another long standing Lemack & Company client, Basil Hoffman. 
Comments
comments